Mattress Topper Types: The Ultimate Guide
The characteristics of a mattress play an important part in achieving a good quality sleep. Mattress toppers are a handy addition when dissatisfied with the comfort of an existing mattress because they enhance the comfort level of the mattress.
Mattress toppers for beds come in a variety of materials such as wool, cotton, or latex to meet a range of needs. Some mattress topper types have different coatings such as waterproofing or temperature regulation. It's possible to buy mattress toppers with different densities ranging from 3-6 lbs per cubic ft and thicknesses ranging from 1-4 inches.
Different mattress toppers are designed for different purposes, so it's important to choose the right one to meet specific needs. Some can dramatically change the feel of a regular mattress to make it firmer or softer, or even add targeted support, depending on the unique preferences of each person. If a mattress is already old, a mattress topper can help smooth over the lumps temporarily until the mattress can be replaced. A mattress topper can also help ease painful joints or assist in recovery from injuries with the correct level of comfort and cushioning. Read our article about mattress toppers for hospital beds to learn about their features and benefits.
Most mattress toppers will extend the life expectancy of a mattress by giving it that added layer of protection. Some include a waterproof membrane for even more protection from liquids and moisture.
Choosing the right mattress topper is important when wanting to achieve a good quality sleep and support the body well whilst assisting to maintain a neutral spine during sleep. Before buying a mattress topper, make sure to pick one that is made of good quality and durable materials, is sufficiently thick to withstand body weight, and dense enough to provide the right level of comfort, firmness, and support. This high density memory foam mattress topper from Amazon boasts superior support to assist with spine alignment.
Mattress topper types include memory foam mattress toppers, gel foam toppers, wool toppers, microfiber mattress toppers, down mattress toppers, and egg crate mattress toppers. Look for toppers that are made by specific brands like Tempurpedic, Lucid, and PlushBeds.
Related Articles:
The Difference the Mattress Topper Thickness Makes
One thing to consider before buying a mattress topper is what thickness is needed. As a rule of thumb, the thicker the topper is, the better its ability to change the feel of the underlying mattress. Thicker mattress toppers offer the most cushioning, support, and warmth. However, it is not always the best choice to go and buy the thickest mattress topper on the market. Read our in-depth guide to choosing a mattress topper thickness to help understand the varying thicknesses and how they alter the feel of a mattress.
The thickness of a mattress topper makes a difference to the overall feel of the mattress. Mattress toppers generally range in thickness from 1-4 inches or more. Buy a topper with a thickness of 3 inches or more for a significant change in the level of softness and support from the mattress under it.
With this in mind, choose a thickness according to individual needs. Buy a topper with a thickness of one or two inches if seeking to add a little extra cushioning to a firm mattress or integrating coolness to a hot bed. This thickness is adequate for lighter weight individuals—like this 1.5 inch green tea mattress topper. When looking for a higher level of support or wanting to substantially alter the feel of the mattress beneath the topper, go for a four inch thick topper. This thickness works well for side sleepers as it relieves pressure points while keeping a neutral spine alignment—like this 4 inch gel and bamboo charcoal infused mattress topper.
There are two important points to consider before opting for a specific thickness of mattress topper: the extra height added to the existing mattress and the sleeper's body weight. The choice of mattress topper shouldn't only take into account adjusting the firmness of a regular mattress but also how much it will change the height of the bed and how well the topper can withstand the sleeper's body weight. If the existing mattress already delivers the ideal comfort level, it's best to avoid buying a mattress topper that is too thick, as this will drastically change the feel of the mattress. For more information about the correlation between a mattress topper thickness and the hardness of a mattress, read this article from the International Journal of Industrial Ergonomics.
The thickest mattress toppers are ideal for heavier people who weigh over 250 pounds, particularly when the toppers are firm to very firm, to be able support the sleeper's weight without allowing them to sink too far. These mattress toppers will add more height to the bed, and will probably need deeper sheets to properly cover the mattress and topper. We recommend these deep pocket sheets from Amazon to help keep the topper secure on the mattress. For more information about how to choose a proper mattress for people with a high BMI, read this article titled "Development of Methodology for Choosing the Best Mattress-A Subjective Evaluation Study."
Summary of Mattress Topper Thicknesses Available
Density of Mattress Toppers
The density of the mattress topper is an important thing to consider before settling on the right one for a particular bed. As a general rule of thumb, the higher the density of the topper, the more support it can provide and the more weight it can handle on it. Read our article about the benefits of mattress toppers where we also present a table detailing the different benefits of the various topper densities.
The density of mattress toppers ranges between 2-6 pounds per cubic foot. Buy a mattress topper with a density of 4-5 pounds per cubic foot to achieve a noticeable level of comfort and support.
When looking for a topper that is light and transportable—or to just add a bit of softness to the top of a mattress—pick a mattress topper with a lower density of three pounds per cubic foot. Keep in mind that this density adds softness to a regular mattress but provides less support.
Choose a firm mattress topper with a density of six pounds per cubic foot for a higher level of support to keep the body aligned during sleep or to help with recovery from injuries and alleviate pain. Heavier weight people should buy a mattress topper with a higher density for extra support that can stand up to strenuous use without sagging or collapsing.
Note: When choosing a mattress topper for a heavy person, you need one with a higher density. We've discussed more tips in our article.
Summary of Mattress Topper Densities Available
Types of Mattress Toppers – Mattress Topper Materials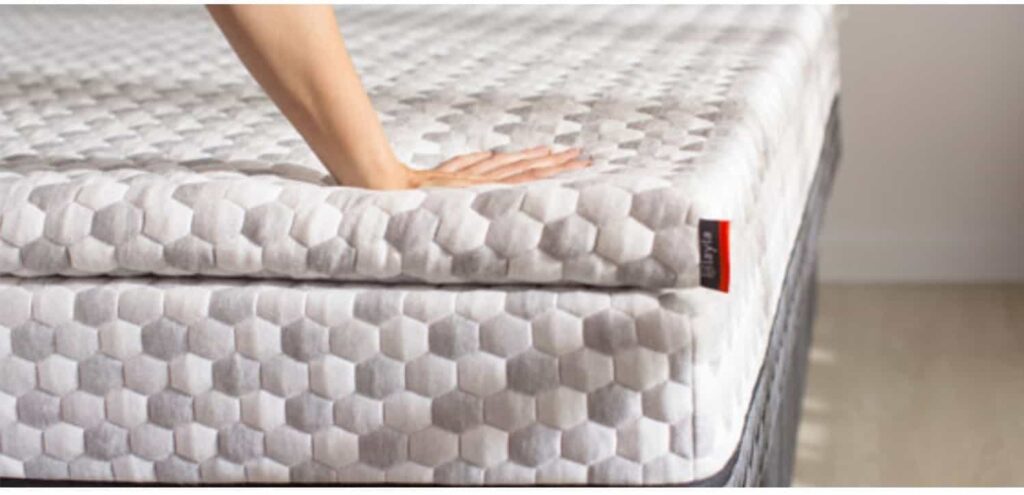 Mattress toppers can be made from a wide variety of different materials. Each offers specific benefits and has distinct limitations. Read our mattress topper hack to find out more about how a mattress topper alters the feel of a mattress, as well as prolongs the mattress' lifespan.
The different types of mattress topper materials can include memory foam, gel foam, natural latex foam, wool, bamboo, cotton, microfiber, down and feather, egg crate foam, and many others.
The mattress topper materials used in manufacturing the toppers play a vital role in prolonging the life of a mattress because they add an extra layer between the body and the mattress. If the mattress topper has an added waterproof membrane, it can also protect the mattress from moisture and spills. In addition, each type of mattress topper material offers unique benefits. Different mattress toppers will change the feel of a mattress in different ways—making it firmer or softer—as well as alter characteristics that affect temperature, air flow, warmth, moisture control, or other elements of the sleeping experience. Read our article about whether you need a mattress topper to help determine when to buy a mattress topper.
Memory Foam Mattress Toppers
Memory foam mattress toppers are known for cradling the body, and providing soft support that conforms to the individual sleeper. Memory foam mattress toppers come in a variety of densities, offering different firmness options. Read our memory foam mattress shopping guide to learn more about the wonders of memory foam.
They are also good for isolating motion from a restless sleeping partner when they are turning and tossing in bed. This motion reduction quality can make it harder for some people to get out of bed, because instead of bouncing back with springiness, memory foam gradually returns to its original shape once pressure is released.
The biggest drawback of using a memory foam mattress topper is that it will tend to hold onto heat. But solutions have been developed to deal with that. Hot sleepers, should look for a memory foam that has been infused with a cooling gel to give it the desired cooling properties. You may also find some useful information in our article about how to fix a mattress topper that's too warm.
Gel-infused Memory Foam Mattress Toppers
Like other foam mattress toppers, gel-infused memory foam mattress toppers can add the extra layer of softness or firmness needed to make a bed more comfortable and buoyant, as well as assist with cooling the bed. Gel infusions add heat regulation to the list of qualities this mattress topper can offer. Read our article comparing gel foam and memory foam to learn more about their unique features and benefits.
By mixing gel into the memory foam during manufacturing—so the tendency of the memory foam to accumulate heat is offset by the gel—the gel-infused memory foam mattress topper provides a cooler sleeping environment. The gel mixture dissipates the heat and therefore prevents overheating. This ensures people get all the benefits of memory foam—support, pressure point and pain relief, even weight distribution—without the heat. Read this article about high rebound mattresses to learn more about how they affect body temperature during sleep.
Natural Latex Mattress Toppers
Some would consider natural latex to be the best mattress topper material when looking for support, comfort, and other desirable qualities. Latex foam is naturally springy and supportive. In fact, for those who need firm support, a firm latex foam mattress topper is likely to be the best choice. A good quality latex foam is durable and will stand up to substantial use. We have an article that describes the many similarities in terms of support that memory foam vs. latex foam offer, as well as their differences in heat retention that will help when trying to decide between these to popular types of mattress toppers.
Natural latex also has a list of other desirable qualities for a mattress topper. It is naturally hypoallergenic (unless the person has a latex allergy). Latex repels bed bugs and dust mites. It is also naturally temperature regulating with good air circulation, which is usually enhanced with inserted air channels.
Environmentally sustainable green and organic latex products are also available.
Wool Mattress Toppers
Wool mattress toppers are great for temperature regulation because they have great air circulation when it is hot but also insulating properties for the cold. Wool mattress toppers are soft, comfortable, and hypoallergenic, and are a good way to soften a mattress. Read our article about using a mattress topper to soften a bed, to find out more about the fantastic ability of certain toppers to make a bed softer.
Wool mattress toppers typically soften a regular mattress and give it a luxurious feel. They tend to keep a person cool in summer and warm during winter. They are often hypoallergenic, and naturally repel bed bugs and dust mites. However, wool mattress toppers can be expensive. Many wool toppers require regular shaking to maintain their plushness and comfort because wool tends to compress over time.
Microfiber Mattress Toppers
Microfiber mattress toppers are a great option for those on a budget and looking to soften up a bed that is too firm or just needs that little extra coziness. They are affordable, soft, and hypoallergenic, but they have a shorter lifespan and can lose fluffiness over time. They will require regular shaking to stay fluffed up, and won't provide support or firmness. We recommend this down-alternative mattress topper from Amazon for those looking for a quick way to add plushness to their mattress.
Down Mattress Toppers
Down mattress toppers are easy to toss onto a bed to replicate that "light-as-a-cloud" comfort and provide a plush and cosy feel. They add softness and breathability for a comfortable sleeping experience. They don't hold heat, so they are a great option for hot sleepers. We adore this overfilled extra thick down mattress topper because it also has a gel fiber filled pillow top surface.
Down mattress toppers don't provide support, and they also flatten out— compressing over time—so they will require regular fluffing to maintain their billowy feel and comfort.
Those who are concerned about animal rights can look for certifications by reputable organizations to make sure the down and feathers are ethically sourced and farmed.
Egg Crate or Convoluted Foam Mattress Toppers
"Egg crate" or "convoluted foam" actually refers to a type of shaping of the foam rather than a specific type of foam. Egg crate mattress toppers can be made from memory foam, gel-infused memory foam, polyurethane foam, or any other type of foam.
Egg crate mattress toppers are foam sheets designed with little bumps—like an egg carton—across their surface. They can be used either with the bumpy side up or the flat side up. Higher end convoluted foam mattress toppers are available with "zones" that provide varying levels of targeted support. Generally, they do not provide firm support, though the design allows for good ventilation.
Convoluted foam mattress toppers are affordable, lightweight, and easily transportable. This 4 inch egg crate memory foam mattress topper from Amazon has a 3 year warranty and has a calming aloe infusion. The less expensive types are a great option for camping, though these mattress toppers have limited durability and are less comfortable than other types. They are, however, readily available, and a quick upgrade for a slightly worn-out bed.
Tempur-Pedic Mattress Toppers
Tempur-Pedic is a well-known brand for mattress toppers that are made of high-end memory foam materials that are more durable than regular memory foam—which can degrade and lose its shape. They use proprietary foam formulations, such as TEMPUR foam. Read our article about how long Tempur-Pedic mattress and pillows typically last to find out how to best take care of these products.
Their superior ability to contour to the body makes Tempur-Pedic mattress toppers one of the top choices in providing pain relief and exceptional support. Their mattress toppers have excellent firmness that prevents sleepers from sinking down too far into its surface. Temur-Pedic also offers cooling formulations for hot sleepers.
Lucid Mattress Toppers
Lucid is a bedding brand known for their memory foam mattress toppers. Lucid mattress toppers offer affordable pressure relief in a range of varying thicknesses. In addition to standard memory foam, they feature a variety of other types of specialty memory foams. One of those is gel-infused memory foam to prevent the overheating that memory foam is known for. They also have calming lavender-infused memory foam. Bamboo charcoal infused memory foam is available for those who are looking for temperature regulation, moisture wicking, and odor control properties
PlushBeds Mattress Toppers
PlushBeds mattress toppers offer a variety of comfortable toppers in a variety of firmness options to select from, with most comprising natural textiles and materials. They add a soft and luxurious feel to a regular mattress. PlushBeds also offer great natural latex foam mattress toppers, wool, and memory foam.
Summary of Types of Mattress Topper Materials Available
You might also find more useful mattress topper information within our 10 tips to make a hotel bed firmer and more comfortable. Make sure to check it out!
Functions Offered by Mattress Toppers
Adding a mattress topper to a bed, can alter the feel of the bed in specific ways. Generally, adding a topper will make a mattress more comfortable—whether that means softer or firmer—depending on the desired effect and type of mattress topper chosen.
A mattress topper's main function is to alter the feel of the underlying mattress, making it either softer or firmer, depending on its design and material composition. Other functions that mattress toppers can fulfil are: motion isolation for people who share a bed with a restless partner, temperature regulation for those who sleep too hot or too cool, and waterproof barriers to protect the underlying mattress.
Before purchasing a mattress topper, think about what extra features are desired. Is motion isolation important because the bed is shared with a partner that tosses and turns during the night? Or is a mattress topper with good temperature control features more appealing? Maybe moisture-resistance or wicking is a concern because the topper will be used by children? These are all questions that need to be considered when buying a mattress topper.
Motion Isolation Mattress Toppers
Mattress toppers made of memory foam, polyfoam, and latex are generally good for motion isolation. They can absorb movement and prevent most of this motion from transferring across the sleeping surface—which prevents the other person from feeling the movement. These toppers will ensure that both partners have a restful night without potential disruptions due to turning in bed.
Memory foam is a popular material for motion isolation, but it can be prone to heat retention and respond slower to changes in pressure. The topper slowly returns to its initial shape once pressure is released, which may make it difficult for sleepers to move in bed and to shift positions. Gel-infused memory foam mattress toppers solve the problem of trapped heat and add aeration to help the toppers remain cool. Read our article on how to fix a mattress pad that is causing hot or sweaty sleep, to find out what options are available to cool a bed down.
Polyfoam molds to the shape of the body but regains its original shape faster than memory foam when pressure is released, though they are cheaper and less durable.
Mattress toppers made of latex also cradle the body well, with limited sinkage. They can isolate motion transfer, making them a great fit for couples and co-sleepers.
Temperature Regulating Mattress Toppers
Mattress toppers can be especially useful for regulating the temperature of a bed. If the bed gets too hot (or sweaty) through the night, the right mattress topper can provide better air circulation, wick moisture away, or even draw excess heat away. Gel-infused memory foam mattress toppers are especially designed to draw heat away to counteract the natural tendency of memory foam to retain heat. Natural latex has great natural ventilation properties, which is why we like this Pure Green 100% natural latex topper.
Some mattress toppers can also make a cold bed feel warmer. Wool is great for providing warmth while still providing great air circulation. Bamboo fiber is also known for its warming and cooling properties. Down and feather are traditional materials for a warm mattress topper. Read this article from Science Direct to learn more about how a mattress design can affect the skin temperature and the quality of sleep.
Waterproof Mattress Toppers
Waterproof mattress toppers are designed with a waterproof barrier to ensure that liquids won't seep through to the mattress to damage it. No one can predict when a mattress may be vulnerable to spills, accidents, illness, incontinence, sweating, or any other number of situations where a waterproof barrier could be a lifesaver. Keep in mind that, depending on the construction and materials of the topper, the mattress topper itself may or may not be easy to clean. We are so fond of this latex mattress topper because it comes with a cover which makes it easier to clean.
Examples of Who Should Buy What Type of Mattress Topper
The Difference Between Low Cost and High Cost Mattress Toppers
When it comes to mattress toppers, it pays to carefully consider the features and quality of the topper before buying it. Sometimes, there is not much difference between a low cost and a high cost mattress topper, and a person can end up paying for a brand name without much other added value. But more often than not "you do get what you pay for." What really matters is what is on the inside of the mattress topper. An attractive fabric won't make any difference in the performance of a topper if cheap material is used inside.
High cost mattress toppers include properties that add value such as: natural fibers, cotton, latex, heavy weight polyurethane foams, higher quality materials, and flippable two-sided mattress toppers. They are more durable and provide more support and features than low cost mattress toppers.
Adding extra thickness by using lightweight polyfoam does not really add value to the topper, as it may actually reduce the lifespan of the mattress topper. If considering investing in an expensive but durable mattress topper, purchase a heavier mattress topper because lightweight toppers wear out faster. Foams, especially memory foams, can vary considerably in quality and durability, so ensure the price of the mattress topper is justified by its quality. Some mattress topper manufacturers include a trial period for customers to test the topper, if this is the case, we recommend taking advantage of this offer. Also pay careful attention to the guarantee and certification that is included with the topper—as this is a good indicator of a premium product.
In a Nutshell
Because good quality sleep is important to our overall health and well-being, investing in the right products that will improve rest, needs to be thoughtfully considered and researched before buying. Also the proper use and maintenance of mattresses and mattress toppers, as well as their accompanying bedding and blankets will ensure that these products last longer. To find out how to correctly install a mattress topper on a bed read our helpful article. You may also find our article on how to hold down a mattress topper helpful to keep yours from sliding around when you sleep.
The vast variety of mattress toppers available means that customers can find a topper specifically suited to their needs and budget, as well as create their ultimate sleeping environment to ensure they get the best sleep possible.
Disclosures
This website is a participant in the Amazon Services LLC Associates Program, an affiliate advertising program designed to provide a means for us to earn fees by linking to Amazon.com and affiliated sites.