What's the Weight of a Mattress Topper? And How to Choose The Right Weight For Your Needs
Whether you want to upgrade your old mattress or need more comfort while sleeping, the best option to achieve this is by adding a mattress topper on top of a regular mattress. You can make your bed super comfy, attain a "like new" condition, and save money instead of purchasing a new mattress by using a mattress topper. Shopping online or in-store can be challenging. Noting the weight of a mattress topper is a good indicator of the product's general characteristics, thickness, or performance. The weight of a topper should positively contribute to the support of the spine, back, neck, shoulders, and hips, as explained in the linked articles. Mattress toppers are composed of a combination of different materials, densities, and thicknesses, so when picking a mattress topper, it is essential to consider these factors to ensure you find the right product.
The average weight of a mattress topper is approximately 15lbs (6.8kg). The lightest mattress toppers are made of cotton and weigh approximately 2-3lbs. Heavier mattress toppers are made of latex and weigh somewhere between 20-40lbs. Factors such as product dimensions, mattress topper thickness, materials, and density can affect the weight of a mattress topper.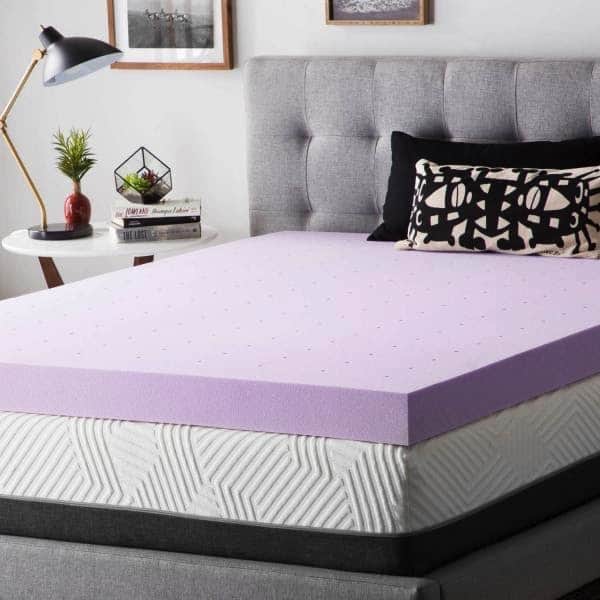 Mattress Topper Weight & Size Chart
Product dimensions will affect the overall weight of a mattress topper. Larger mattress toppers will result in a heavier product. The following table will demonstrate how product dimensions alter the weight of a mattress topper. The list includes the weight of different-sized latex mattress toppers with a thickness of 2 inches.
Here is a summary of different mattress topper sizes and their respective weights.
If you find that your mattress topper is sliding around on your mattress, make sure to take a look at our article on how to hold down a mattress topper for some tips and tricks.
How Is the Weight of a Mattress Topper Affected by Density?
The material of a mattress topper is a major factor influencing its weight. Density and material types are directly linked to each other. While every single material can be of low-, medium-, or high-density, individual materials also have an average density value that contributes to making a product lighter or heavier. Read our mattress topper hack article where we cover the various mattress topper materials.
When comparing two mattresses of the same dimensions and material, a mattress topper with a higher density will be heavier than a mattress topper with a lower density.
The difference in densities of the two mattress toppers are easily noticed when touching them. One seems firmer than the other. Typically, firm mattress toppers are made of high-density materials and are therefore heavier. On the other hand, soft mattress toppers consist of low-density materials, which makes them relatively lightweight. Read our article about different mattress topper types where we tabulate the densities of various toppers with suitable examples. Additionally, you may be interested to know that higher density mattress toppers provide more support for a heavier person. Take a look at how to choose a mattress topper for a heavy person for more details.
The table below compares two different latex mattress toppers with the same thickness but different densities and weights.
You may also be interested to learn tips and tricks on how to use a mattress topper to soften a bed. Make sure to take a look at our article for more information.
How Is the Weight of a Mattress Topper Affected by Thickness?
The thickness of a mattress topper is also a contributing factor to the product's weight. Thicker mattress toppers offer much more reliable support to the entire body. If you do not experience neck, shoulder, back, or hip pain, you might want to consider purchasing a thinner mattress topper instead. Thin mattress toppers help refresh an old mattress and provide enough support to sleep comfortably.
The thickness of the mattress topper affects the weight because, as the thickness of the material increases, the heavier the mattress topper becomes.
The table below compares mattress toppers with the same material and density but different thicknesses and weights.
If you have a lot of overnight guests, you want to make them comfortable. And the additional weight of a mattress topper on a sofa bed can be disastrous. Make sure to take a look at our article on how to choose a mattress topper for a sofa bed for more ideas.
How Can You Return a Mattress Topper?
Sometimes a product seems perfect when purchased, but doesn't meet our specific requirements as expected. Maybe the mattress topper is not comfortable enough to sleep well. Or, the product lost its shape and got wrinkly too soon. If you have received a mattress topper that is not as advertised, you have every right to return it and request a refund. Bear in mind that some mattress toppers take some time to fully expand, as we describe in our article about how to fix a mattress topper that isn't expanding, so make sure all the manufacturer's instructions have been properly followed before deeming the topper unsuitable. Additionally, if you find that you're waking up too hot and sweaty after adding a mattress topper, make sure to take a look at how to fix a mattress topper that's too warm before proceeding with a return.
Sometimes people might feel that the required return procedures seem too overwhelming, so they avoid returning the item. Instead of throwing away the mattress topper, consider returning it by following the steps below. The instructions that follow provide general guidance on how to return a mattress topper, however, every return should follow the manufacturer's instructions. Here is an example of return instructions from Avocado Green Mattress.
To return a mattress topper, first, check the warranty details and return policy of the online or local store where it was purchased. Then, make sure the mattress topper is intact, clean, and complies with all the requirements. Finally, pack the mattress topper properly and ship it back to the seller or take it to the local store.
Step 1. Check the Warranty Details of a Mattress Topper and Return Policy of the Specific Store.
The very first thing to do when returning a mattress topper is to check the warranty details. Generally, this information is found on the packaging of the product. If not, try to search for the specific mattress topper online and read the description carefully. According to Hafco Ltd, mattress toppers can last anywhere from 3–10 years. A good quality mattress topper should last at least 3 years. If you have been using a particular mattress topper for just a couple of months and it has already lost its shape, you should contact the supplier or point of purchase. If the warranty says that the product should last for 5 years, you have the right to return it.
When considering returning a mattress topper, also check the return policy of that particular store. If the mattress topper was online, go to the official website and check the section titled "Return Policy." This is where all the details about whether they accept returns will be displayed. If they do accept returns, this will also explain whether they issue a full refund, or partial refund, or a new replacement mattress topper. If the mattress topper was purchased at a local store, check the return policy on the packaging or on their official website and contact the company.
It is imperative to know what to expect after returning a mattress topper. If the company offers a full refund, then promptly return the product. In the case of a partial refund, consider whether the amount of the refund is satisfactory. If they offer a refund of less than half of the paid amount, it might not be worth returning the mattress topper. If you are offered a replacement for your current mattress topper, it may not pan out to be a good option either. Your dissatisfaction with the quality of the product may mean that replacing the mattress topper will not guarantee a better performing one.
In any case, you should be aware of the warranty and return policies of your particular mattress topper to be able to choose the best option for yourself.
Step 2. Ensure That the Mattress Topper Is Clean and Has Not Been Damaged Intentionally.
If you have decided to return your mattress topper upon checking its return policies, go ahead and inspect your mattress topper thoroughly. If the product has been damaged intentionally by any means, the store will probably not accept the return. To avoid complications, you should clean your mattress topper before shipping it back to the seller or taking it back to the local store. Read our guidelines on how to clean a mattress topper so that you don't accidentally void the warranty or damage the mattress topper. If you need more cleaning tips, take a look at our article on how to make a bed smell good too.
If you feel like your mattress topper needs to be cleaned, do your best to follow every single step mentioned on the label. There will be some information on how to clean the product without damaging it. If your mattress topper seems to be in good condition, skip the cleaning process so you don't accidentally damage the product.
Keep in mind that stores typically accept returns without any complications when the product is intact and there are no signs of intentional damage. If your mattress topper is too damaged to be returned but is perfectly fine to be used, you can always consider donating it, we cover donation and disposal tips for mattress foundations in our article which will also be helpful when donating a mattress topper.
Step 3. Pack Properly and Return the Mattress Topper
Once you pack your mattress topper properly, you're ready to go. It is ideal to use the original packaging if it is in good condition and intact. If not, you should probably ask the seller how they would prefer their product to be shipped. Typically, both online and local stores ask for the original packaging along with the receipt, so do not forget to include them in the box before the shipment.
If you are shipping the package back to the seller, you might have to pay additional fees for the return. Do not forget to pay them or your return might not be accepted.
For detailed information on how to pack and return a mattress topper, contact the seller or the manager of the local store. Read our article on how to roll up a mattress topper where we explain the benefits of rolling a mattress topper instead of folding it to protect its structure
In a Nutshell
The density and thickness of a mattress topper will also determine its weight. The weight of a mattress topper should be considered when choosing where and how the topper will be used. If the topper is to be rolled and stored away for occasional use—like for overnight guests—then a lighter mattress topper might be more convenient to move around. Make sure to check out how to roll up a mattress topper too. We have an interesting article about using a mattress topper on an air mattress that will explain how to achieve a comfortable and supportive sleep surface for visitors. We also have an article on how to choose the right mattress topper for a hospital bed that will give you some additional tips for this specific type of bed.
Disclosures
This website is a participant in the Amazon Services LLC Associates Program, an affiliate advertising program designed to provide a means for us to earn fees by linking to Amazon.com and affiliated sites.