Murphy Beds vs. Daybeds, Sofa Beds, and Futons – A Comparison Guide
Space-saving beds such as Murphy beds, daybeds, sofa beds, and futons, are all versatile and practical pieces of furniture. They are all available in a wide range of varieties and styles and are typically used in small apartments, studios, offices, and guest rooms.
The difference between Murphy Beds vs. Daybeds is that Murphy beds fold up into a wall or cabinet whereas daybeds serve as a sofa during the day time and a bed at night time. Sofa beds/sleeper beds, on the other hand, are mainly used as couches but can fold out to form a bed. Futon beds are similar to sofa beds and can unfold to convert into a bed. During the day time, futon beds also look like couches.
Any of these four options can turn a room into a multi-purpose space and can accommodate more than one person. They have a two-in-one design that can be used for different purposes such as sleeping, sitting, and storage. Each option has its unique advantages and inconveniences. Your ideal selection, therefore, depends on your needs and preferences. And in a pinch, you can always inflate a simple air mattress for your guests. Make sure you know exactly how to inflate an air bed too by reading our step-by-step guide.
A lot of people opt for Murphy beds instead of other options for several reasons. Make sure to check out our guide to Murphy bed pros and cons for some more information. You also want to consider the Murphy bed weight capacity guide before making any decisions. Additionally, you may be interested to see how you can use a Murphy bed in a closet. Below, however, we'll discuss how Murphy beds compare to daybeds, sofa beds, and futons.
You may also be interested to know what type of bed is best for a parent in a nursery. Make sure to take a look at our article for more information on our findings.
Murphy Beds vs. Trundle Daybeds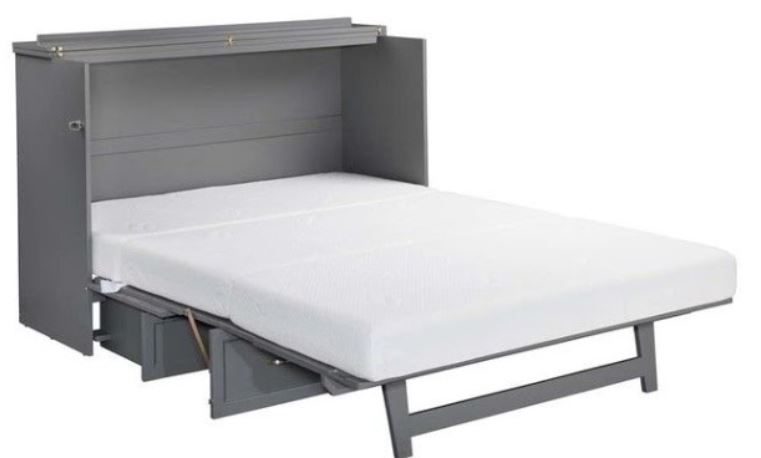 Both Murphy beds and daybeds have their pros and cons, based on their differing designs. Murphy beds fold up into cabinets, dressers, or walls, then are folded down into a bed when needed. Conversely, daybeds look like sofas, styled with pillows and throws, with a head end, a foot end, and a back. Most daybeds come with a trundle bed on casters underneath, which provides an extra sleeping area.
When comparing Murphy beds vs. trundle daybeds, Murphy beds take up less space, are more easily folded up and unfolded, and can accommodate more than one sleeper. However, they are more expensive and also require professional assembly.
A Murphy bed is a great choice if you are short on space. The bed is out of sight so you can move around the room easily. Murphy beds come in different sizes, from twin to king, and are available in a wide variety of styles, including bunk beds. Modern designs come with extra elements such as shelves, drawers, desks, and sofas. This way the Murphy bed can convert a bedroom into another useful space, such as an office. The bed easily folds closed with all its bedding in place, saving you money, time, and energy. This also makes Murphy beds a fantastic choice for tiny homes or campers. Take a look at choosing the right Murphy bed for a tiny home here!
On the other hand, you should consider its drawbacks. Murphy beds require professional assembly and installation. You may need to drill into walls or floors, which requires special hardware and a lot of patience. If you're living in a rental, you might not be allowed to mount the bed to a wall or cabinet that doesn't belong to you. In this case, you might opt for a daybed instead of a Murphy bed. If you'd like to know "why are murphy beds so expensive", our helpful guide will answer all your questions about installation and other costs!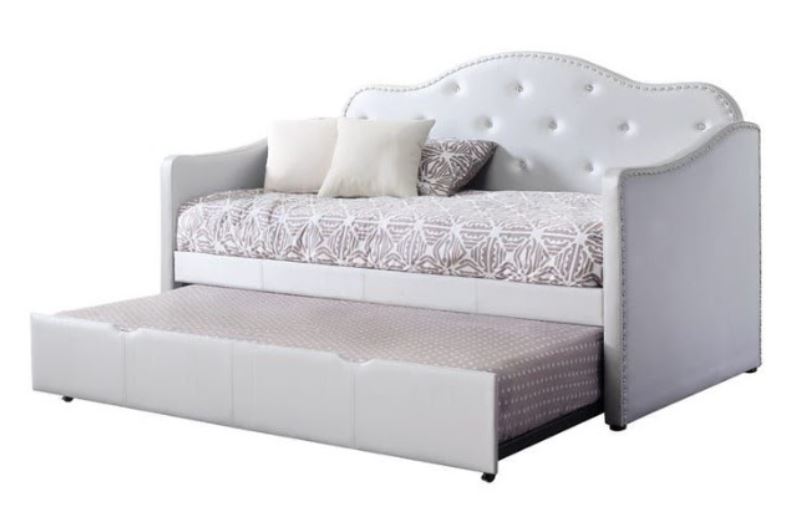 A daybed is used as a sofa during the day and a twin-size bed during the night. The unit is small, so it saves space, and is less expensive than a Murphy bed. However, it can only accommodate one sleeping individual. Daybeds come in a variety of styles and most designs include a trundle bed under the daybed. The trundle bed takes up no more space than the main sofa when rolled underneath it, and can be used either for storage or for an additional sleeping area. Some trundle models remain low to the ground, while others can pop up to the same height as the main sofa. The daybed and the trundle bed both require mattresses and bedding, so you should make up the beds every day to make the room look tidy.
Whether you are looking for a Murphy bed or a trundle daybed, check out the tables below for some options.
Examples of murphy beds include:
Examples of trundle day beds include:
Murphy Beds vs. Sleeper Sofas/Sofa Beds
Murphy beds and sofa beds are both great foldable options for small rooms. Sofa beds, also called sleeper sofas, are couches with a built-in mattress that can fold out into a bed whenever needed.
When comparing Murphy Beds vs. Sofa beds, Murphy beds tend to have thicker mattresses and provide more floor space when folded away. Sofa bed mattresses tend to be thinner and they offer less available floor space, even when folded up into the sofa.
Sofa beds are available in different sizes and come with different types of mattresses. Before making a purchase, there are two factors that you need to consider: the dimensions of the sofa bed when it is fully opened and your preferred type of mattress. A sofa bed with one seat typically unfolds into a single bed, which will measure around 54 inches wide and 85 inches long. A two-seater sofa unfolds into a full-size bed that is about 72 inches wide and 90 inches long. Finally, a three-seater sofa turns into a queen-size bed that can accommodate two people comfortably. The queen-size sleeper sofa measures around 84 inches wide and 90 inches long when fully opened. Read our article on increasing sofa bed comfort by adding a mattress topper on a sofa bed.
Murphy beds and sofa beds are very different in terms of design and comfort. Murphy beds' main purpose is to offer a sleeping area, while sofa beds are mainly designed for sitting.
Therefore, in general, Murphy beds are more comfortable, because they can be paired with thick and comfortable mattresses, whereas sofa beds feature thinner mattresses and are not designed for everyday use. You can even use a Tempurpedic mattress with a Murphy bed. Additionally, Murphy beds are easier to set up or fold away while keeping the bedding in place. They provide more floor space compared to sofa beds, because they can fold completely into the wall, whereas sofa beds take up the space of regular beds. Additionally, you don't need to move furniture around to set up a Murphy bed, as the model can incorporate elements such as shelves, a desk, or even a sofa.
Examples of sleeper sofas and sofa beds include:
Murphy Beds vs. Futons
Murphy beds and futons are both used in small spaces to make the layout of a room look bigger. A futon looks like a couch and its back folds up or down to convert it from a couch to a bed and vice versa. The futon's seating cushions serve as the mattress for both sitting and sleeping.
When comparing Murphy Beds vs. Futons, futons are less sturdy and durable and take up more floor space. However, they are lighter, cheaper, and easier to install than Murphy beds.
When it comes to choosing between a Murphy bed and a futon, consider affordability, longevity, and comfort. The two options are both space savers. However, Murphy beds are sturdier, last longer, and take up less floor space than futons because they can be folded into the wall. Additionally, the Murphy bed's pillows and blankets remain in place when folded up, saving you the hassle of making your bed every day. If you're worried about ceiling height, take a look at how to choose the right Murphy bed for rooms with low ceilings too.
Futons are made of poorer materials than Murphy beds. Their mattresses are less comfortable and less durable. That said, they are lighter weight and cheaper, and only require a pillow and a throw to be made up for sleeping. Make sure to take a look at our guide to the best futon mattress with reviews for more details.
Examples of futons include:
Sometimes Murphy beds have built-in bookcases too. For some tips and tricks, make sure to read how to hide a bed bookcase in our related article too.
Disclosures
This website is a participant in the Amazon Services LLC Associates Program, an affiliate advertising program designed to provide a means for us to earn fees by linking to Amazon.com and affiliated sites.