Murphy Bed Weight Capacity Guide with Examples
The weight capacity of a Murphy bed can vary widely, depending on frame size, material, and style. To learn more about murphy beds, take a look at our related articles, what is a Murphy bed and how does a Murphy bed work.
In general, the weight capacity of a twin-size Murphy bed is about 300 lbs, the weight capacity of a queen-size Murphy bed is between 500 and 1000 lbs, and the weight capacity of a king-size Murphy bed can exceed 1000 lbs.
Murphy beds are named after their inventor, William Murphy. They store either vertically or horizontally inside a cabinet or closet, or against a wall. Unfortunately, Murphy beds can also be expensive. Take a look at why Murphy beds are so expensive and why they aren't very popular to learn more. 
Murphy beds are mainly used in small studios, apartments, hotels, dorms, guest rooms, and offices, due to their space-saving efficiency. Take a look at our article, are Murphy Beds comfortable in studio apartments or RVs, for some additional information.  A Murphy bed (or wall bed) is tucked away when not in use, which increases your floor space and improves room layout. When the bed is needed, you can simply fold down the bed again and use it. A Murphy bed turns your room into a multi-functional space, such as an office by day and a bedroom by night. There are also several Murphy bed accessories you can buy to help utilize your space even more.
While a Murphy bed is a great investment for limited spaces, people still worry about its safety - and one of the primary safety factors is weight capacity. Therefore, it is important to consider the bed's weight limit to avoid any unwelcome accidents. The weight capacity of the bed varies according to its size, material, and style. 
Murphy beds are available in different sizes, ranging from twin to full to queen-size. The structure is made of metal or wood and can be customized to meet your requirements and preferences. Modern designs merge other elements (e.g: shelves, drawers, desks, sofas) with the bed to provide additional functionalities, such as seating and storage. The unit as a whole is meant to support both the mattress and the sleepers, so it can withstand the same weight capacity as a regular bed. You can also use a Tempurpedic mattress with your Murphy bed which makes your guests feel more comfortable.
For more information about Murphy bed mattresses, frames, and bedding or 5 Murphy bed options for rooms with low ceilings check out our in-depth guides. We've also put together a step-by-step guide showing you how easy it is to replace a Murphy bed mattress. Below, however, we'll go into more detail about the weight capacity of Murphy beds.
How Does Frame Size Affect Murphy Bed Weight Capacity?
It is important to consider the weight limit of a Murphy bed before using it. The frame of the bed is not only supposed to hold your weight, but the weight of the mattress and the weight of any partner, kid, or pet that might share the bed with you.
Twin-size Murphy bed capacities range between 250-300 pounds and have the lowest weight capacity, while mid-size double and queen murphy beds can hold 500-1000 pounds, and king-size beds can have a weight capacity in excess of 2000 pounds.
The frame size of Murphy beds is an important factor in determining the weight load and comfort level of the bed. Similar to regular beds, Murphy beds come in all sizes: Twin, Full, Double, Queen and King. Overall, a Murphy bed can support up to 1500 pounds and often more.
Specifically, frame size affects Murphy bed weight capacity in the following ways:
A twin-size Murphy bed has the lowest weight capacity: A twin-size bed is also referred to as a "single bed" because it is designed for one person. It can hold up to 250 pounds. It is lightweight and small, which makes it easier to pull out or lift up. 
Larger beds, like double and queen-size beds, have a higher weight capacity: They can accommodate two people, or 500 pounds in total, excluding the weight of the mattress. Their maximum weight limit can reach 1000 pounds. For more detail, refer to the table below. 
A king-size Murphy bed has the highest weight capacity: It is the widest frame size and offers plenty of space for a couple sleeping on it. It can even accommodate two adults and a child, without sacrificing each individual's comfort. However, king-size Murphy beds are harder to find, given the fact that they are heavy and more difficult to lift.  
Below are five examples of Murphy beds and their frame sizes + weight limits:
How Does Frame Material Affect How Much Weight a Murphy Bed Can Hold?
Another factor that determines the sturdiness of the bed - hence its weight capacity - is the material from which the bed is made, which can range from metal to different types of wood such as particle board, fiberboard, plywood, and solid wood
Murphy beds made from fiber and particle boards have the lowest weight capacities, while hardwood increases weight capacity but can warp over time; metal frames have high weight capacity and high durability.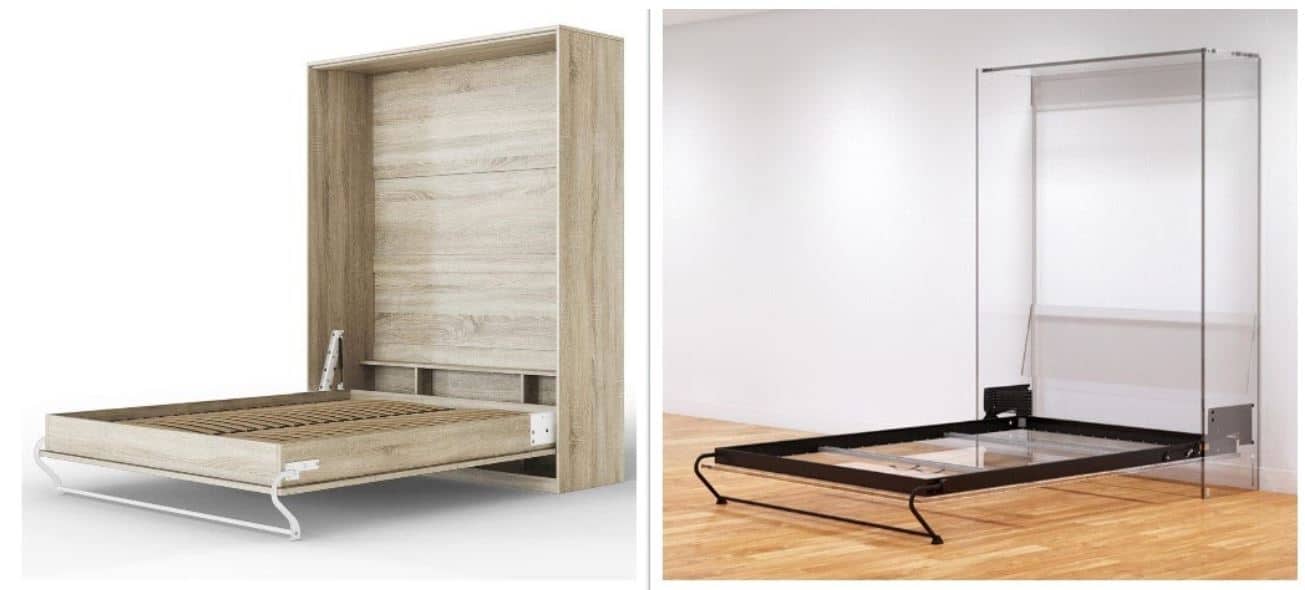 In summary, the Murphy bed frame material affects how much weight a Murphy bed can hold in the following ways:
Metal bed frames have a high weight capacity: Metal beds are lightweight but sturdy and durable. They do not rot or bend like wooden beds. Steel or wooden slats can complement the frame and add to the bed's weight capacity. Metal-to-metal construction makes a sturdier bed, because high-quality metal slats do not bend or sag as easily as wooden slats. Therefore, bed frames completely made of steel are better for heavy individuals. 
Solid wood frames have a high weight capacity but are less durable than metal: Murphy bed frames made of solid wood (oak, mahogany, cherry, pine, and cedar) are better used in your guest room, where usage is not frequent. They are constructed with wooden slats, which can warp over time and cannot withstand heavier individuals. The same applies to particle boards.
Below are five examples of Murphy beds and their frame materials + weight limits:
How Does Murphy Bed Design Affect the Weight Capacity?
A variety of Murphy bed designs have been created to make the bed a great, multifunctional piece of furniture. Make sure to take a look at our complete comparison guide to Murphy beds, daybeds, sofa beds, and futons as well.
Murphy bed design features, such as sofas, side cabinets, and additional legs, can increase the weight capacity. These features, which touch the ground when the bed is unfolded, add additional support, unlike suspended shelves or desks.
These days, Murphy bed models include beds with desks, drawers, cabinets, sofas, and other incorporated features that are displayed when the bed is folded up. The weight capacity of these various models is associated with the bulk of the whole unit and the way the bed connects to the ground when unfolded. Since Murphy beds are attached to a wall, a cabinet, or a closet, it is worthwhile to ensure that the entire entity is solid and weight-bearing.   
The design of a Murphy bed affects its weight limit in the following ways:
A Murphy bed with a sofa is able to support extra weight: The sofa serves as a supportive base under a portion of the bed when the bed folds down. The bigger the sofa, the better-supported the bed is, because the sofa will support a wider portion of the bed.   
A Murphy bed with side cabinets needs to be sturdy enough to withstand heavy weight: The whole unit needs to be on firm ground to prevent any wobbling when folded up. This user guide from Bestar provides more information. 
A Murphy bed with a suspended shelf or desk is not as supportive as the other models: Some models have suspended features that remain intact when the bed folds down, and do not touch the ground. In this case, the bed usually integrates a support rail or extra leg, which extends to the floor to provide the bed support. 
Additional legs provide additional stability: Large beds like double and queen-size beds require extra legs to provide additional support. When more legs support the frame, weight capacity is increased. The number of legs typically ranges from four to seven, depending on the bed's size. Shelves under the bed can serve the same function as legs when the bed is folded down; they counterbalance some of the unit's weight.
Below are five examples of Murphy beds and their designs + weight limits:
Summary
As you can see, the frame size, frame material, and design can all alter the weight capacity of Murphy beds. Also, note that choosing the right size is not solely about total weight capacity, but about even distribution of you and your partner's weight. Otherwise, the bed will sag and fail to provide you comfort and support. We hope that our tips in this article provide you a starting point in searching for the right Murphy bed.
You may also be interested to learn how to choose the right Murphy bed for your exercise room as well as our ultimate list of best guest bed ideas for additional information and options. Additionally, if you're not sold on a Murphy bed, take a look at our guide to the best bed for a nursery too.
Disclosures
This website is a participant in the Amazon Services LLC Associates Program, an affiliate advertising program designed to provide a means for us to earn fees by linking to Amazon.com and affiliated sites.