How To Hide A Bed Bookcase – Different Mechanisms, Tips, And Tricks
Bookcase beds are one of the best ways to maximize space in a bedroom. They come in different sizes and with various features, so you can choose the best design for your home. They can be installed in many areas of a room; the choice of location depends on the size of the room as well as on the ease of use of the design for its intended purpose. Bookcase beds tend to take up a lot of space, so it might be beneficial to hide a bed bookcase to free up more space and beautify the bedroom.
To hide a bed bookcase, use a pivoting bookcase murphy bed, sliding bookcase murphy bed, or a bi-fold bookcase murphy bed. It is also possible to hide a bed bookcase by using a large tapestry, partitioning the room with the bookcase, or using curtains.
Types Of Beds To Hide A Bed Bookcase
A Murphy bed—also called a hidden bed—is a bed that is used for space-saving purposes, much like a trundle bed, and is popular where floor space is limited in small houses, studios, and dormitories. In recent years, Murphy bed units have included options such as built-in desks, sofas, and bookcases. If you would like to learn more about Murphy beds, then read our article on Murphy beds vs. day beds, sofa beds, and futons.
The types of Murphy beds that can hide a bed bookcase include pivoting bookcase Murphy beds, sliding bookcase Murphy beds, and bi-fold bookcase Murphy beds.
Pivoting Bookcase Murphy Beds
A pivoting bookcase allows you to create an attractive hidden door bookcase that is used to conceal a murphy bed. Pivot hinges are attached to the top and bottom of a door, and to the head of the frame and the floor, and allow a door to swing in either direction. Always follow safety instructions supplied by the bed manufacturer to prevent injury when using a Murphy bed. This article from LoriwallBeds explains how correctly using a Murphy bed can prevent accidents.
This type of bed is a clever adaptation, which makes use of a smooth mechanism at the base of the unit to help you easily turn the bookcase into a comfortable bed. The whole bookcase will stay in place when you swivel the bed around to minimize effort, save you time, and make the most of your living area. Learn more about Murphy beds ideas in our article 15 Murphy bed ideas for studio apartments.
Sliding Bookcase Murphy Beds
A sliding bookcase Murphy bed is a great addition to a home office because it enables you to have full use of the room for everyday living. You get a space for your books, collectibles, and other items, and a hidden fold-out bed to accommodate visitors.
The inner door of the Murphy bed bookcase slides easily to each side, without causing any objects on the shelving unit to topple over or fall. The unit reveals a pull-down bed that transforms the room into a comfortable place to sleep. Murphy beds are available in a variety of sizes depending on space and can be stored vertically or horizontally. All with an array of accessories to match your style. If you want to convert your bed into a Murphy bed, read our article on how to convert a platform bed into a Murphy bed for handy tips. This Murphy bed kit from Amazon comes in various sizes and a horizontal or vertical configuration.
Bi-Fold Bookcase Murphy Bed
Bi-fold bookcase doors fold out of the way to reveal a hidden and comfortable bed when it's time for sleeping. The folding doors are split in half and open sideways to reveal a Murphy bed that can be pulled down when needed. You can display your book collection or other decorative pieces on the shelves that make up the facade. You can also opt for extra side cabinetry if you'd like additional storage.
What makes the bookcase Murphy bed so convenient is that the shelves face forward at all times. This video demonstrates how opening up the bookcase reveals the Murphy bed which can then be easily folded out. You can also find a variety of videos of how to install murphy beds that are hidden away from HideAway Beds.
Make sure you also read our 15 bookcase bed ideas to add utility to your bedroom for more ideas.
Alternative Methods To Hide A Bookcase Using Decorations
Shelves are a fantastic way to add storage to a room without taking up a lot of floor space. Unfortunately, since they're open, they can start looking cluttered and can accumulate a layer of unsightly dust. To prevent that, there are decorative ways to hide clutter on shelves and keep the room looking neat. Read our 10 bookcase nook ideas article for more inspirational ideas to decorate your bookcase bed.
Methods to hide a bookcase using decorations include using a large tapestry to partially or completely cover the shelf, using the bookcase as a partition, or using curtains in front of the bookcase.
Idea 1. Use A Large Tapestry
A large tapestry can cover parts of the bookcase that you don't want to display while also incorporating a way to hang art on a bookcase and still have easy access to the books. The easiest way to hang a tapestry is using nails or pushpins. Pin one corner of the tapestry to the top corner of the bookcase. Then decide if you want to drape your tapestry or if you want it to be spread out.
If you want a softer drapey look then put the pins slightly closer than the width of the tapestry. But if you want a spread out look, then you are going to spread out the tapestry completely and pin it. If you don't want to leave small holes in the bookcase, use a picture hanging strip like this one from Amazon to hang your tapestry.
Idea 2. Use The Bookcase As A Partition
Freestanding bookshelves and shelving units with cubbies are the perfect way to divide a room. They create physical depth and visual separation while offering additional storage surfaces for books and decor. If your kids share a bedroom, then a partition bookcase like this one will enable them to each have their own personal space.
Make sure you add decorative pieces that double as attractive storage to keep the mess out of sight. Baskets come in all sorts of styles and sizes, so you are sure to find something that will suit your space. Pitchers and vases like these are also attractive items to add to your shelf decor and use for storing craft and office supplies. These items can make your bookcase look more appealing and orderly. For more tips on how to decorate your bookcase, check out this video.
Idea 3. Use Curtains
Curtains aren't just for windows. They are a great way to hide clutter on shelves that you also want to be able to easily access. Leave them open to get to the shelf contents really easily—close them and the mess is completely hidden. Simply install a rod across the width of the bookshelf with some curtain ring clips. Then clip on a hemmed piece of fabric and you have some covered storage and a stylish living area. This geometric semi-blackout curtain from Amazon can brighten any space.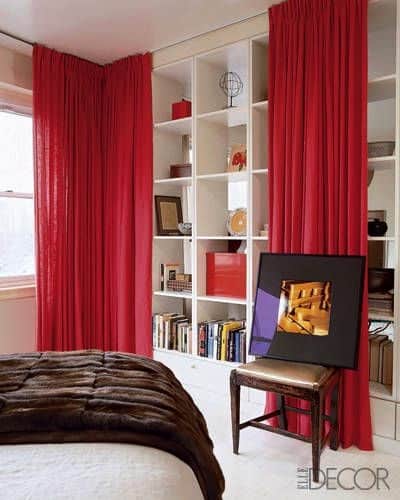 Decorative Ways To Hide A Bookcase
Murphy Bookcase Bed Mechanisms
Modern Murphy beds come with features that make them safe when used correctly. The hinge mechanism that holds the bed to the wall is designed so it doesn't unfold automatically. Most beds come with added safety features such as catches that will hold the bed upright when stored away, along with straps or ties to keep the mattress in place, and locking legs to provide extra support. Read our article about how a Murphy bed works to learn more about their mechanisms.
Murphy bookcase bed mechanisms include pivot hinges, sliding hinges, or bi-folding hardware to fold the bookcase away. A pivot hinge allows the bed bookcase to spin from one side to the other. A sliding hinge works by sliding the doors apart, allowing space for the bed to fold out. A bi-fold murphy bed has bookcases on each side that fold together to allow space for the bed.
How A Pivoting Bookcase Murphy Bed Works
Pivot hinges are attached to the top and bottom of a door, and to the head of the frame and the floor and allow a door to swing in either direction. The reinforced iron frame provides a smooth and secure bed rotation. When you gently pull the front side, the bookcase will reveal a comfortable pull-down bed. Read our article about how to secure a mattress to a Murphy bed so that your mattress stays in place when it is folded away.
How A Sliding Bookcase Murphy Bed Works
The inner door of the Murphy bed bookcase slides easily to each side, revealing a hidden pull-down bed. The bookcase and Murphy bed configurations make it possible to place a full size bed in a limited space. Read our article about Murphy beds for a tiny house to learn how to choose the right one for your living space.
How A Bi-fold Bookcase Murphy Bed Works
Bi-fold bookcase Murphy beds work by flipping vertically into the wall with a bookcase to hide the bed. Their convenient fold-away mechanism will allow you to use extra space in your room. If you have high ceilings and enough floor room, we suggest choosing the vertical option. On the other hand, if you have low ceilings and a tighter space, you should decide on a horizontal one. Read our article on 10 Murphy bed accessories for more ideas of ways to improve your bookcase Murphy bed.
Disclosures
This website is a participant in the Amazon Services LLC Associates Program, an affiliate advertising program designed to provide a means for us to earn fees by linking to Amazon.com and affiliated sites.