Novosbed and Douglas are the highest-quality Canadian bed brands when purchasing a new bed. The Novosbed and Douglas Mattresses provide distinctive resting experiences and unique features. Whether looking for pressure relief, firmness, or co-sleeping, comparing and evaluating all the mattress's qualities is the most crucial stage. In this Novosbed and Douglas comparison, we'll examine how both beds compare and what qualities set them apart.
Despite this, we recommend the Douglas Mattress, which is the most popular due to its exceptional qualities. It is suitable for most sleeping postures and effectively releases pressure to prevent pain. It is a high-end mattress that entirely isolates motion and is ideal for couples. Furthermore, it comes with a 20-year warranty and a 365-night trial period, significantly better than rival mattresses' guarantees and trial periods.
Douglas Mattress (#1 in Canada)
Comparison Table
 
Novosbed
Douglas
Best for
Pressure point sufferers.

Individuals with varied body shapes.

People tend to wake up when their spouse moves throughout the night.

Those who like the memory foam embrace

Sleepers on their sides and backs.

Couples seeking complete motion isolation.

Shoppers seeking an eco-friendly all-foam mattress.

Warranty
15 years
20 years
Trial Period
120 nights
365 nights
Price Range
799 CAD – 1199 CAD
599 CAD – 1298 CAD
The Key Differences Between Novosbed and Douglas Mattress
Who the Novosbed Mattress Is Best for
It's an excellent bed for those searching for low-cost luxury. The same premium memory mattresses cost many more dollars in stores, but this firm can deliver the same quality for less online.
This mattress comes in various firmness levels, making it suitable for those with a wide range of body shapes and preferences.
This memory foam mattress should appeal significantly to sleepers seeking discomfort and stress alleviation.
It's excellent for anybody seeking a detachable mattress cover. The cover of the Novosbed zips onto the mattress surface, making it less likely to fall off, as other coverings do. The cover may also be machine-cleaned, keeping the mattress top fresh.
May Not be Best for
The mattress has three firmness settings, but none will likely accommodate huge persons above 230 pounds.
Novosbed Mattress design does not prioritize temperature management or feature many active or passive cooling regulations. Those who overheat while sleeping will likely have to find alternative accommodations like the Douglas Mattress.
Who the Douglas Mattress Is Best for
The Douglas Original is ideal for those who want mattresses that conform to their body yet do not sink. This medium-firm, slow-moving mattress provides the optimum balance of support and comfort.
It is an excellent choice for those who love global comfort beds. This bed is a worldwide comfort model; it caters to all sleepers and sleeping styles.
This bed is designed to keep you cool while you sleep. It consists of soothing gel foam, which helps regulate body temperature, which is a pleasant feature for individuals who sleep hot.
The Douglas bed deviates from the general norm that foam is an effective material for absorbing undesirable motions. This bed is ideal for light sleepers and couples.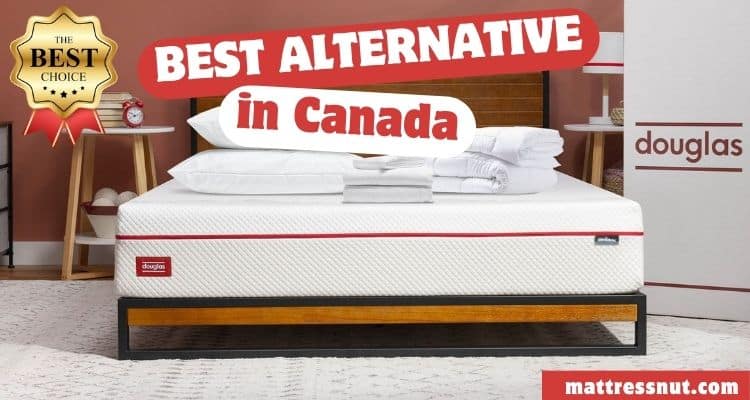 May Not be Best for
The Douglas can't be the best option for stomach sleepers because of the lack of hip support.
This mattress may be too soft for heavier sleepers weighing over 250 pounds, making it a bad option for them. It will collapse early because it cannot sustain the immense weight of the body.
A Comprehensive Comparison of Novosbed Vs. Douglas Mattress Features
Construction
The Novosbed Mattress features a basic three-layer foam design. Tencel, an eco-friendly, pleasant, and breathable material, makes up the Novosbed cover. The top cover may easily be unzipped and machine-cleaned for convenient cleaning.
Next-generation memory foam serves as the comfort layer. Like regular memory foam, it adheres to the body to disperse the sleeper's weight and decrease pressure building.
However, it intends to be more breathable than typical memory foam to keep the sleeping surface less warm. A transitional memory foam layer divides the cushioning layer from the base while conforming to the sleeper's contours more thoroughly. Finally, the last layer is a thick polyfoam layer. This layer gives the bed structure and durability while supporting the softer memory foam layers above it.
The Douglas Original Mattress is a 10-inch medium-firm mattress made of high-quality Canadian materials. Its cover uses long-lasting Infinitex to drain moisture away from the body and keep individuals cool at night. Its cover is removable and washable. Douglas' ecolight cool gel memory foam provides the first 2 inches of comfort layers.
This luxurious material is slow-moving and soft, yet it does not easily trap heat or cause sleepers to feel "stuck" in the mattress. The following layer consists of 2 inches of exceptional elastex foam. This substance is more responsive than ecoLight foam, allowing it to support the spine and avoid "bottoming out."
The bottom is 6 inches thick with motion insulation support foam. This substantial foam layer adds durability to the mattress and assists in movement absorption. As a result of its excellent quality and breathable construction, we suggest acquiring the Douglas bed.
Firmness
The firmness of the foam in the bed is a significant consideration since it might affect the level of comfort and support. The firmness options for the Novosbed are gentle, medium firm, and firm.
The soft Novosbed contours and provides plushness without letting you feel like you're in quicksand. The medium-firm mattress is the most popular because it balances support with luxurious comfort.
In contrast to the soft variant, which has deep contouring, this version has medium contouring. This is ideal for anybody who sleeps on their back, stomach, or side. As a result, this mattress's medium firmness level is perfect for users who shift positions at night.
The firm version has hard transition foam and minor body contouring for ideal spinal positioning and back relaxation. If none of the three firmness levels work for you, Novosbed provides an additional layer of foam to add to your selected mattress. The Comfort memory foam may raise or lower the mattress's firmness by one degree, letting you find the right firmness.
On the other hand, an overly firm mattress could be uncomfortable for certain individuals, whereas an excessively soft bed might lack adequate support. As a result, the Douglas Mattress is in the center of the firmness spectrum.
Its firmness rating of 6.5 gives most people a nice, restful sleep. It is neither too firm nor soft, providing full-body stability and cushioning. Consequently, it suits all sleeping positions and ensures proper spinal alignment.
As a result, we strongly advise you to choose the Douglas bed, which only comes in medium firmness and reduces pressure for practically all sleepers.
Motion Isolation and Edge Support
All-foam products, such as the Novosbed bed, manage motion better than innerspring beds. The mattress absorbs most movements rather than spreading them over the surface, which may help couples sleep better.
The comfort and transition layers of the Novosbed Mattress provide most of the motion isolation. Furthermore, all three firmness levels of the Novosbed offer enough border support for most sleepers. If you sit on the edge, there is no drop along the edges, making it easy to get in and out of bed. This is excellent news for couples since they need more surface space than solo sleepers.
The Douglas absorbs a tremendous amount of motion as well. Its thick foam layers work well to reduce motion transmission by minimizing and isolating vibrations. Shoppers with uncomfortable partners may be able to sleep comfortably without being aware of their partner's actions.
The Douglas Mattress features outstanding edge support. It stops you from rolling off while being on the bed's outside edge.
Temperature
With foam mattresses, there is an essential concern about overnight overheating. This is due to foam's ability to absorb and retain body heat, which may be uncomfortable. In terms of temperature control, Novosbed does not perform well.
Although this bed includes an excellent Tencel™ cover and advanced open-cell airflow foam for heat dissipation, the thick support foam may cause heat buildup around your body. This heat buildup will cause certain people to wake up sweaty in the morning. Despite its Tencel™ cover and open cell foam layer, the Novosbed may be too hot for hot sleepers.
In contrast, the Douglas Mattress sleeps somewhat cooler than climate neutral. The mattress cover's plant-derived components wick away moisture, keeping the person lying on it comfy and dry. Incorporating gel into the top foam layer leads to a cooler sleeping temperature.
As a result, we strongly advise hot sleepers to get the Douglas bed, which has more cooling capabilities than the Novosbed.
Position and Body Type
The soft and medium-firm models of Novosbed embrace the body's contours, making them ideal for light and moderate-weight side sleepers. The medium-firm mattress molds the lower back to reduce pressure building and maintain a healthy position for back sleepers.
The firm mattress is ideal for stomach sleepers who require extra support to prevent sinking and misaligning their spine. Heavy sleepers may feel confined within the Novosbed since it isn't supportive enough to maintain their body in alignment.
The Douglas Mattress is sturdy and comfortable for side and back sleepers weighing 250 pounds. Those above 250 lb may suffer joint pain from sinking deep into the softer layers and experiencing more foundation foam.
Furthermore, since foam has a low responsiveness, combination sleepers may easily transition from one sleep position to another. Lightweight sleepers will not compress the comfort layer; thus, they will feel supported and comfortable on a Douglas bed even while sleeping on their stomach. However, the Douglas is unsuitable for heavyweight sleepers since it is just 10″ tall and feels softer than average. Larger sleepers are more prone to have their hips and shoulders slip out of alignment, causing shoulder and hip pain.
Price Range
Cost is sometimes the determining factor for many individuals when purchasing a mattress. Even though both the Novosbed and the Douglas have an all-foam design and layers, their prices are significantly different.
The Novosbed bed is more expensive than the Douglas, but the variable firmness is a big reason. The Douglas Mattress is likewise the only one offered in split king dimensions, which is vital for certain consumers.
Here are the costs of the Douglas and Novosbed beds.
 

Size

 

Novosbed Price

 

Douglas Price

 

Twin

 

CAD 799

 

CAD 599

 

Twin XL

 

CAD 849

 

CAD 649

 

Full

 

CAD 899

 

CAD 699

 

Queen

 

CAD 999

 

CAD 799

 

King

 

CAD 1199

 

CAD 899

 

Cal King

 

CAD 1199

 

CAD 899

 

Split King

 

N/A

 

CAD 1298
Verdict
As two superb Canadian mattress companies, you cannot go wrong choosing between the Novosbed or the Douglas. The Novosbed is ideal for people wanting variable firmness choices, and the Douglas is perfect for warm and co-sleepers.
Nonetheless, we suggest the Douglas Mattress, a stylish, eco-conscious, proudly Canadian, and reasonably priced memory foam mattress. The Douglas is ideal for those who like a medium-firm bed.