If you're searching for a comfy mattress in Canada, you've come across the Silk and Snow (Silk and Snow) Hybrid Mattress and the Douglas Original Mattress. These two brands are popular up north and promise a good night's sleep.
The Silk and Snow Hybrid mattress is a mix, blending some soft memory foam with individually wrapped coils. They scale as a 6 on the firmness level, which suits those who want a bit of both worlds – comfort and support. It's also got cooling gel memory foam, lumbar support zones, and an antimicrobial cover. Moreover, it offers a 100-night sleep trial and a 15-year warranty.
On the other hand, we've got the Douglas Original Mattress. This one's an all-foam deal with three layers of premium foam. It's a tad firmer, about 6.5 on the firmness scale, and works well for most sleep styles and body types.
Like its hybrid friend, it has cooling gel foam and an eco-friendly cover. Its balanced support system makes it ideal for backache sufferers, and comes with a 20-year warranty. The quality and the strength are guaranteed, making it a bit better than the hybrid.
To top it all, it offers a 365-night trial, giving you one whole year to decide what's best for you.
Our Best Alternative : Douglas Mattress (#1 in Canada)
Comparison Table
| | | |
| --- | --- | --- |
|   | S & S Hybrid Mattress | Douglas Original Mattress |
| Best for | Side, back, and stomach |  Back and Stomach |
| Trial Period |  100 nights |  365 nights |
| Warranty |  15 years |  20 years |
| Price range |  $$ | $ |
Key Differences Between Silk and Snow Vs Douglas Mattress
Who The Silk and Snow Hybrid Mattress Is
For sleepers who weigh under 230 pounds. Though the mattress has good height excess weight can be uncomfortable. The heavy-weight individuals might feel the metallic coils beneath.
Couples who awaken easily when their partners move. The mattress has sound motion isolation, reducing sleep disturbances. The foam absorbs the movement to provide more diminished vibrations.
People who tend to sleep hot. The mattress has a cooling gel-infused memory foam layer and a breathable coil core. This prevents heat building, regulating the body temperature. The mattress also remains airy, fresh and odorfree because of good ventilation.
Those who are looking for a balance between pressure relief and support. The mattress has a medium firm feel and a zoned lumbar support system. This appeals to everyone who are looking for relief from backaches.
May Not Be Best For:
Lightweight sleepers who weigh less than 130 pounds. The mattress has a firm approach whereas petite individuals need more softness. The hardess will result in an uncomfortable situation as the curves will feel more pressure.
The mattress does not have dense, thick foam for extra cushioning. In this case, the Original Douglas is a great alternative. The denser and cushioned foam contours to the body's curves.
If 100 nights of trial is not enough for you. And Douglas gives you a whopping 365-night trial. This makes it easier to jusdge as you get to experience it for a whole year. You can enjoy the Douglas mattress in every season to check its coolness.
Who The Douglas Original Mattress is Best For
Those who want a medium-firm mattress. For the dual comfort and support experience for most sleep positions and body types. The foam hugs the body and provides relief to the pressure points.
People who are hot sleepers. The cooling gel absorbs body heat and keeps you cool. Though foam is known for more heat buildup this mattress works otherwise.
Those concerned with environmental sustainability. The mattress uses recycled materials and eco-friendly latex for its structure. It is good for sensitive sleepers who are at risk of allergies.
People who are looking for a budget-friendly option. The mattress has an affordable price range than many others in the market.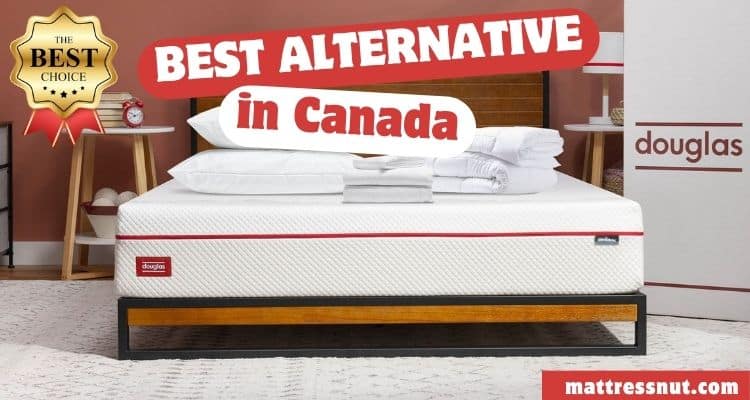 May Not Be Best For:
Those who prefer a softer or firmer mattress. The medium feel might not be the right one for everyone. The firmness is good for back and stomach sleepers though.
People who are allergic to latex. The mattress contains Elastex, a natural latex material. Though the mattress has sustainable materials but a few might be affected.
People who want a thicker or thinner mattress. The mattress has a standard 10-inch profile, which may not appeal to all types of sleepers.
A Comprehensive Comparison of Silk and Snow Vs. Douglas Mattress Features
Construction
The Silk and Snow Hybrid Mattress has two different kinds of materials inside memory foam and coils. The arrangement is as follows:
The top layer is a 1-inch cooling gel-infused memory foam layer. It keeps you cool and comfortable throughout the night. It also has a quilted cover that is antimicrobial and easy to clean.
The second layer is a 2-inch high-density memory foam layer. It contours to your body, providing pressure relief. It also has a zoned lumbar support system that gives excellent posture to your lower back area.
The third layer is a 1-inch transition foam layer. It acts as the buffer between the memory foam and the coils. It also helps with motion isolation, absorbing movement across the mattress.
The fourth layer is an 8-inch pocket coil layer. It supports and bounces the mattress with 1200 individually wrapped coils that can move independently. They conveniently adapt to your body weight, pressure, and position. It also has reinforced edges that can prevent sagging and provide edge support.
The bottom layer is a 1-inch base foam layer for enhanced stability. It protects the overall structure and coils from basic wear and tear.
But if your ideal is a simple yet beneficial construction, then Douglas may be your pick. Its foam structure has sustainable materials, which makes it more of an eco-friendly choice. Moreover, it also provides gel memory foam and a better hugging impression.
Firmness
The Silk and Snow Hybrid Mattress falls in the middle when it comes to firmness. On a scale of 1 to 10, it sits at a 6. This puts it in the "just right" zone that should work for most sleepers. However, if you're a side sleeper on the lighter side (under 130 pounds), you might feel it's a tad firmer than you'd prefer. However, this mattress can contour better to your body, offering some relief for the pressure points.
But if you are a back or stomach sleeper, Douglas will provide better support. It is firmer than S & S, providing more stability and support to those seeking it.
Motion isolation and edge support
Comparatively, the mattresses have an above-average motion isolation feature. The Silk and Snow hybrid has dual foam and coil, which favors motion resistance.
However, the Douglas mattress may be better in this aspect because of the missing coils. The bouncy nature of the coils leads to lesser resistance than all foam. The Douglas becomes better at absorbing the vibrations across the mattress.
As for the edge support, the Silk and Snow hybrid has a special encasement around the perimeter. The extra edges provide more durability towards the edges along with extended surface area. This results in particular support on the edges of the mattress. It also helps with better durability and strength.
Temperature
Silk and Snow hybrid mattresses possess some extra measures to provide a cool sleeping surface. The quilted cover, which is easy to remove, is antimicrobial. It keeps the germs away and remains crisp and airy for a clearer, fresher surface.
Secondly, the memory foam infused with cooling gel and the ventilating coils do a good job. They do not let the heat accumulate, and a hot sleeper enjoys a more temperature-regulated mattress.
On the other hand, the Douglas mattress has cooling gel foam. This helps the body release the heat and it passes on to the foam. The gel in the foam ensures that the heat remains and is cooled down.
Position and body type
The Silk and Snow hybrid mattress supports all types of sleeping positions. If you are not looking for something very soft or firm, this mattress will provide a comfortable experience. It supports side sleepers who weigh above 130 pounds and back and stomach sleepers of any size.
The firm feels it gives immense support to the back and other joints. However, heavier or bulkier sleepers might complain of uneasiness because of the coils beneath.
An all-foam mattress might be a better choice to cater to heavy individuals. As an alternative, we recommend the Original Douglas, as it supports heavyweight sleepers.
The layers of the foam cushions the curves of the body without any stress. Heavy to lightweight individuals can sleep much more comfortably.
Price range
Silk and Snow is a complex product; therefore, it has a higher price range than Douglas. This makes Douglas more affordable and reasonable, especially if you are on a budget. The Douglas is also better with a warranty and night trial compared to Silk and Snow. It provides an extra 5 years of promise and a whole year of trial.
| | | |
| --- | --- | --- |
| | Silk and Snow Hybrid | Original Douglas |
| Twin |  $650 |  C$ 599 |
| Twin XL |  $650 |  C$ 649 |
| Full/ Double | $750 |  C$ 699 |
| Queen |  $850 |  C$ 799 |
| King | $950 |  C$ 899 |
| Cal King |  $950 |  C$ 899 |
| Split King |  NA |  C$1298 |
Verdict
Keeping all that in mind, both mattresses are kind of middle-of-the-road regarding firmness. The Douglas Original Mattress is a touch firmer than the Silk and Snow Hybrid Mattress. Hence, you might lean towards the Douglas if you like a firmer feel. If you prefer something softer, the Silk and Snow Hybrid might be your pick.
But thanks to their cooling gel and breathable materials, both mattresses score well in the cooling department. However, Douglas is known for using more environmentally friendly and sustainable materials. At the same time, Silk and Snow scores better at providing edge support and Douglas for motion isolation.
But no matter what one offers, it finally comes down to affordability, and Douglas takes the lead here. The Douglas Original Mattress is more wallet-friendly compared to the Silk and Snow Hybrid. You get similar features of a hybrid mattress in an all foam with a reasonable price tag. Therefore, Douglas becomes a much better alternative and a better choice.