How to Style a Bookcase Bed and Decorate It Properly
Bookcase beds are the perfect furniture units to add a traditional or modern style to your bedroom decor, as they come in different shapes and sizes, and combine storage space with fixture style. They provide a sense of organization not just for books, but also trinkets, photo frames, small decor items, lighting, plants, and anything else you wish to display.
To style a bookcase bed first choose where it will stand, the preferred style, and the appropriate decor for this style. Next, select the height and width of the bookcase bed to ensure optimal utilization of space in the room. And finally, the color scheme should be carefully selected to impact the room's decor correctly.
Where to Put A Bookcase Bed In A Bedroom
A bookcase is a close-sided unit that literally encases books and is designed to stand on the floor. Putting your bookcase in the wrong place can completely throw your bedroom off balance; but in the right place, it will create a feeling of harmony in the room, as well as adding practicality and a way to display interesting decor items. Read our article on 10 bookcase nook ideas that will add a cozy look to your room.
A bookcase bed can be placed next to a window to create a window nook, in the middle of the bedroom to serve as a room divider, or against a wall to maximize space.
Place a Bookcase Bed Next to a Window to Make a Window Nook
A bedroom window nook is ideal for relaxing, reading a book, or admiring the outdoors. A lot of people are against putting their bed against a window for fear of blocking the sunlight. However, you can fill the space around the window with built-in shelves and install a cushioned couch or a platform bed below the window. Read our article on how to dress up a platform bed for decor ideas that will compliment the bookcase nook effect. The light can still spill through into the room and white walls can also help to add to the room's brightness. Fill the bookshelves with decorative items to add a personal touch to the entire bedroom. If the nook is set up in your kids' bedroom, you can also use their favorite toys and store them within arm's reach.
Create a Partition With a Bookcase Bed
A bookcase bed is a great way to divide a room into separate areas. It creates depth and character, and offers you extra storage space for books and decor. If your kids share the bedroom, they will each have their own personal space. A bookcase bed can also create physical and visual separation inside dorms where there is limited space. If you are using your bookcase bed in a dorm, then our other article about how to make a dorm bed more comfortable might also be of interest to you.
Push a Bookcase Bed Against a Wall
One of the most common spots for a bookcase is against a wall. It is a good space-saving trick for small bedrooms. For this placement, you'll want to use a tall, floor-to-ceiling-style bookcase to add heaps of visual interest to the bedroom, at first glance. Colorful books, framed photos, plants and even your tech bits will look great displayed on the shelves. This article about "Furniture Design Optimization with FEA Analysis" discusses the design criteria for bookcases to ensure that they are stable and safe to use in households.
You might also be interested in how to hide a bed bookcase as well as our 15 bookcase bed ideas to add utility to your bedroom. Make sure to check out those related articles to find more tips and tricks.
Different Bookcase Bed Styles
Bookcase bed designs are perfect for anyone who likes to snuggle up with a good book before going to sleep. The bed frames of these beds come complete with bookshelves in the headboard so you can easily access your favorite reads.
Bookcase beds come in all sizes and designs, and are built from many different materials to suit various decor and interior styles, like bohemian, modern, and traditional bedroom styles.
Bohemian Bookcase Beds
For a boho bedroom style, go for a woven, rattan, or bamboo bookcase. Place a few small, potted succulents throughout the shelves, stack your books horizontally and vertically, and align some stacks and trinkets to the left, right or centre of each shelf. You can use candles, glass vases, framed photos, woven baskets, bamboo and ceramic pots. This rattan bookshelf can be placed at the head or foot of the bed to lend a room a boho look.
Modern Bookcase Beds
For a modern bedroom style, choose a sleek bookcase headboard in an espresso finish like this one from Amazon. Group together a small set of books that are all of a fairly uniform size. Accessorize with streamlined vases, bookends, and metallic decor, leaving lots of open space on shelves to let the accessories shine through. Add terrazzo pots and several other vessels to display some greenery. Choose a one-color or tone-on-tone scheme for vases and figurines, and be sure to mix up shapes.
Traditional Bookcase Bed
For a traditional bedroom style, choose a tall bookcase with a symmetrical structure like this one, where you can place a carafe, an hourglass, several books, and memorabilia. Showcase travel souvenirs, flea market artwork, or treasured collectibles by displaying them as ornaments. Use natural wood accents and warm ambient lighting to help complete the cozy feel of the room. Leaving this style of bookcase unfinished or in a natural wood stain can help make it look more vintage.
Below is a summary on how to style a bookcase bed:
| | | |
| --- | --- | --- |
| Decor/Bedroom Style | What Items To Include in the Headboard | Amazon Product Examples with Prices |
| Boho | Potted succulents, candles, glass vases, framed texts, woven baskets, and bamboo or ceramic pots. | Potted succulents ~$15, candles ~$15, glass vases ~$40, framed arts ~$45, woven baskets ~$35, and bamboo or ceramic pots ~$20. |
| Modern | Streamlined vases, bookends, metallic decor, and terrazzo pots. | Streamlined vases ~$35, bookends ~$60, metallic decor ~$35, and terrazzo pots ~$25. |
| Traditional | ` | A carafe ~$45, an hourglass ~$30, memorabilia ~$10, antique encyclopedias ~$50, warm lighting ~$90. |
How to Style a Bedroom Bookshelf Headboard - 6 Bedroom Bookshelf Decorating Ideas
Headboards don't only make a bedroom prettier but they also have a practical and functional value. Read our article on why you need a headboard to learn about the important function of a headboard and ideas for headboard alternatives. Headboards can easily be turned into storage units for all your accessories and books.
To style a bedroom bookshelf headboard, include wedding day photos, scented candles, framed artwork, books, memorabilia, and frequently used items.
Idea 1. Include Pictures Of Your Wedding Day
The best place to incorporate pictures of your wedding day is on your bedroom bookshelf headboard, as this placement increases bond and harmony between the couple and creates a feeling of reminiscence. You can print the photos in colors or in black and white and frame them in different layouts and sizes.
Idea 2. Place Scented Candles
Your bedroom is a place of rest, relaxation and tranquillity, so it's important to create a space that reflects that peaceful atmosphere. Turn on the romantic vibe of your bedroom by placing scented candles and tea lights on your bookcase headboard. Lavender scented candles like these can promote a sense of calm. Just be sure to completely extinguish the flames before you go to sleep, as is discussed in this "Home Candle Fires" article from the National Fire Protection Association.
Idea 3. Include Framed Artwork
Lean your favorite framed artwork against the back of the shelves to create a layered background for other decorative objects. They make the shelves look interesting and give them dimension. You can mix in frames of different heights, shapes, sizes, and finishes, along with letters, and monograms. Examples of framed artwork include leaves or dried flowers, feathers, sketches, kids' art, printables, and beautiful cards you've received. You can easily swap and change the posters or prints as your moods or seasons change.
Idea 4. Add Books and Magazines
Display your favorite books horizontally or vertically on the shelves of your bookcase headboard. Don't be afraid to mix books of varying heights, as this setup will help create a contrasting look. Magazines can look fantastic in lucite holders like these, adding a splash of color and fun to a bookshelf, when you leave the spines showing. You can also stack the magazines on top of each other to create a clean and streamlined pile that looks casual and purposeful.
Idea 5. Showcase Your Memorabilia
Display your collection of trophies, sports memorabilia, antique jewelry, specialized items, and travel souvenirs to decorate your shelves. An easy trick to do this is to place those items on top of book stacks. If you've created a few book stacks on your shelves, simply place a small item on top to elevate your shelf styling.
Idea 6. Keep Frequently Used Items Within Reach
Keep frequently used items such as a reusable water bottle that you can refill throughout the day within reach. Choose a sophisticated, sustainable design, and a trendy color that goes with your bedroom style, to add an extra touch to your bookcase. You could also keep a trinket box like this one from Amazon on your bookcase and discreetly store your evening medication in it.
How to Style a Bookcase Bed in a Small Bedroom
For bedrooms that lack enough wall space, a plain old bookshelf used as a headboard is one of the best ways to incorporate one piece of furniture instead of two. It would be better to grab a narrower bookshelf that fits into a smaller bedroom, and push it against a wall to maximize floor space. A bookcase bed like this one, offers plenty of storage compartments and is an ideal option for small bedrooms with minimal storage and floor space.
To style a bookcase bed in a small bedroom, place the largest items on the bookshelf first and the smallest last; depth is created by placing small items near the front of the shelves. Staggered throughout the shelves decor items should be kept to a minimum and storage boxes can be used to conceal extra clutter. Keep the bedroom clean and organised to make it feel more spacious.
How to Style a Bookcase Bed - 5 Ideas to Decorate The Bed
We often see loft beds that have desks underneath them, Murphy beds with shelves and cabinets, and staircases that also serve as shelving units, storage units or desks. Another innovative and clever combo for storage units is a bookcase bed, which comes in wide varieties of designs and styles.
To decorate a bookcase bed and make it the focal point, use plain comforters, a high-contrast color scheme, add adjustable reading lights, opt for a slim headboard, and place the most attention-grabbing decorative pieces at eye level.
Idea 1. Use Plain Comforters to Make the Bookcase Stand Out
Plain comforters are favored for their minimalist design and simplicity. They offer a neat and elegant touch to enhance the appearance of a bed. They come in a variety of color hues such as pastel grey, white, pink, and blue. Choose a neutral color to make the bookshelf the focal point and to help create the illusion of a larger bedroom. Also, read our article about how to use a comforter on a sleigh bed for more decorating ideas.
Idea 2. Use a High-Contrast Color Scheme
Pairing white with a high-contrast color has a major impact on decor in a small bedroom. Sticking with just one bold color and combining it with white, creates a dramatic look. And you can use this high-contrast effect when introducing anything from bedding, wall paint, artwork, rugs, and beyond. This navy and white high-contrast bedding creates a statement in any bedroom.
Idea 3. Add Adjustable Reading Lights
Supplement your bookcase bed with recessed adjustable reading lights. Wall sconces are a smart solution for adding reading lights to a small bedroom. You can go for a modern look with these industrial metal black wall sconces, or a traditional style with these fabric covered shades, both from Amazon. Or get crazy and mix and match your sconces for an eclectic look. String lights are also a cool way to add something interesting to your bookcase.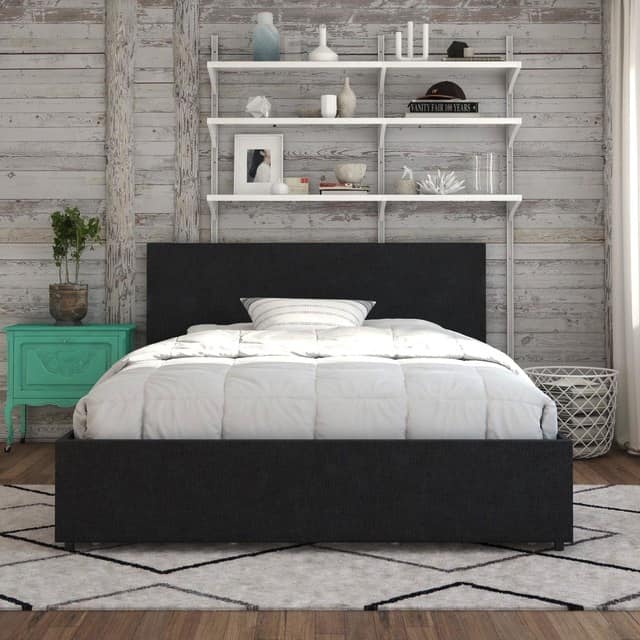 Idea 4. Select a Slim Headboard
A headboard transforms a boring bed into a stylish, eye-catching focal piece. Unlike a real headboard designed for a bed, your bookshelf doesn't necessarily have to be the same height and width as one. In bedrooms that lack ample wall space, a slim bookcase headboard serves double-duty as both a headboard that anchors the bed, and an attractive storage space. If you want to learn how to raise your headboard then read our article for helpful step-by-step instructions.
Idea 5. Place Attention-Grabbing Decorative Pieces at Eye Level
If the items you want to display on the bookcase are a similar color to the shelving unit then consider painting the back of the shelf so that your displayed items will be more visible. Also consider using wallpaper or a mirror to create a background for more decorative pieces. Try styling a bookcase with unexpected items, like an eye-catching antique, or a porcelain vase. Or choose solid-colored objects, like white ironwork or a vibrant statue. Place them at eye level for guests to peruse. If your decorative items are not tall enough, consider setting them on a stack of hardback books.
How to Style a Tall Bookcase Bed Headboard vs. A Short One
Tall headboards look best in rooms with tall ceilings. Short headboards are a good choice in rooms with lower ceilings. The advantage of having a short bookcase bed headboard is that it can make your room look more spacious and minimalist when compared to using a tall bookcase bed headboard. Read our article on headboard height and size charts to learn more about how to choose the right headboard height.
To style a tall bed headboard vs. a short one, place decorative items on or on top of a short headboard bookshelf while avoiding placing items on top of a tall headboard. Use grip pads or adhesive to keep items from toppling over or falling off the shelf, and apply symmetrical designs for an organized look.
Tip 1. Place Decorative Items On or On Top Of a Short Headboard Bookshelf
Start to fill your bookshelf with larger items to help get the scale and balance right and to give a basic layout. Large items are best positioned on top of a short headboard to make a statement. This video tutorial offers some quick design tips to style beautiful shelves. Put some artwork and framed pieces on the bookshelf towards the back and layer smaller decorative items to the left, right or center of the shelves to keep things interesting. Remember that less is more when it comes to styling a short headboard bookshelf like this one.
Tip 2. Don't Place Items On Top of a Tall Headboard
The taller and wider a headboard is, the more of a statement it will make, so avoid placing items on top of a tall headboard. If you've got a lot of books, it will be nice to stretch your bookshelf headboard as far as you can to give a strong library feel. Arranging items in odd numbers of 1, 3, 5, or even 7 items creates a more balanced bookshelf look.
Tip 3. Use Grip Pads or Adhesive To Keep Items on a Bookshelf Headboard From Falling
Use grip pads or Museum Putty to keep your items on a bookshelf headboard from slipping or falling. Simply place a grip pad underneath your valuable items to keep them in place. This will ensure that fragile decorative objects don't get knocked over and break.
Tip 4. Use Symmetrical Designs for an Organized Look
Symmetry is usually a characteristic of traditional designs. However, it can also be applied to modern decor. Although technically the headboard and the bookcases are separate features, they can form a cohesive storage unit. Don't place a ton of small items on a tall bookshelf thinking it will make up for the size, because this will just make your shelves appear cluttered. Rather opt for one or two eye-catching decor items that will complement your existing decor.
Disclosures
This website is a participant in the Amazon Services LLC Associates Program, an affiliate advertising program designed to provide a means for us to earn fees by linking to Amazon.com and affiliated sites.