If you are renting your spare room or a guest house, you probably want to provide the best sleeping surface for your guests so that you can get that coveted 5-star rating.
If you are looking for a value mattress that people will find comfortable or you want to provide a luxurious stay, we have all your options covered (check 10 amazing mattresses).
Hopefully, this list will give you everything you need to know about mattresses and what would be a good pick for your Airbnb!
What Is the Best Mattress for Your Airbnb?
10 top-rated mattresses perfect for your Air BnB guests
Sweetnight Dreamy S1 Mattress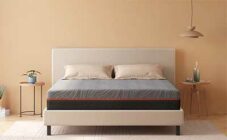 - Three Firmness Levels
- Affordable
- Perfect for every bed frames
A great affordable hybrid option for your Airbnb mattress 
The Sweet Night Twilight is one of their hybrid models that features supportive coils, high-density foams, and some great cooling features. 
It also comes in different height variants. The construction of the Sweet Night mattress has a soft, breathable knit fabric that is tufted and quilted with some soft foam.
You have airflow high-density foam that adds the perfect bounce on top of the mattress. Below that, you have a layer of gel memory foam. Finally, moving down the support layer, you have pocketed coils.
Talking about the firmness of this mattress, it has been rated to be firmer than the average mattresses. Speaking of feel, it gives you a nice hybrid feel. You get a little bit of that pillow top feel on the top, and it's effortless to move around. It also tends to isolate your sleeping partners' movements, which is always a plus point. 
Since this mattress falls on the firmer side of the scale, you might want to consider using a mattress topper to add that extra layer of comfort to your mattress.
Mattress toppers are a great option to balance out if your mattress is either too firm or too soft. You can find something that matches the kind of mattress you have easily. 
In a nutshell The Sweet Night Twilight mattress is a great option if you want something affordable for your Airbnb. It caters greatly to back and stomach sleepers. It is more likely to get you good reviews with all that extra comfort and coolness provided by the gel
memory foam
.
Emma original
- #1 selling in all Europe
- Perfectly balanced for all body types
- Medium-firm range

Getting complaints from side sleepers? Emma is the solution!
The Emma Mattress has a nice soft cover with a smooth cover. The thin cover won't affect the overall feel of your mattress that much.
Moving on to the mattress itself, you have three layers. A top Airgo cell foam layer that is similar to latex. It has a breathable, soft, springy foam. Underneath that, you get your memory foam. It gives you a classic slow-moving memory foam feel.
An interesting thing about this mattress is that it has these channels in the middle part of its construction. These are great to provide you with the right amount of pressure relief and support for your body. You get more support when you are on your back but a little bit more relief for your shoulders when you sleep sideways.
It is a very breathable mattress overall as the unique channel construction also provides a lot of room for airflow. The Emma combines latex-like and memory foam-like qualities giving your guests the best of both worlds! It will give them a springy feeling and will not make them feel stuck while giving them the pressure relief of memory foam. 
As it's a bit firmer when you lay on your back as compared to the Sweet Night's twilight, you will feel your hips sink in a little bit, but not too much. Pretty supportive feel overall. What it's ideal for is people who like sleeping on their sides. It provides amazing pressure relief leaving your side sleeping guests happy and satisfied. 
In a nutshell There are a lot of
bed in a box mattresses
similar to the Emma. What makes this one a better pick for your Airbnb? It's of very good value and has a nice zone construction. It's breathable and more supportive for combination sleepers.
Amerisleep AS3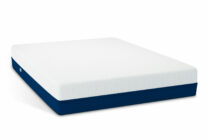 - Cooler memory foam
- Breathable
- Responsive & supportive
Amerisleep offers you multiple firmness options.
If you are looking for a memory foam mattress with multiple firmness options, Amerisleep might be something you would like to consider.
Let's take a look at their construction and see if they are a good fit for your guests. The As 3 is part of Amerisleeps all foam memory foam mattresses.
They have a whole series starting from the AS 1 to AS 5. The main difference between all these models is that they offer different firmness options. As 1 being the firmest and AS 5 being the softest. Right in the middle, you have your AS 3, the goldilocks mattress.
The construction of the AS 3 is such that it's 12 inches tall. It has a breathable soft seeding cover. The top layer is a bio-pure foam specialty of the Amerisleep. This is more breathable than the standard memory foam and also more responsive. Below that, you have your foam transition layer.
You will find it to be zoned so firm in some areas and softer in some. The idea behind this zoning is to give you and our guests the perfect balance of comfort and support. So, when you are on your back and stomach, it might feel more supportive compared to your sides, which will help relieve pressure. On the bottom, there is a very dense support foam. 
On top, you have that amazing bio-pure foam that is soft and easy to press into. It gets firmer the further down you push into the mattress. But again, it has more models in the series that offer different firmness levels.
You might want to choose one according to your Airbnb's general feel and ambiance. The mattress gives you the classic memory type feel and has more of that slow-moving feel right on top of the mattress. The bounce, though, is just okay. 
The Amerisleep A3 works great with upholstered bed frames. So if you are looking for something that gives your Airbnb a royal feel, you might want to opt for this option. 
In a nutshell All in all, the Amerisleep A3 contours your body perfectly, providing the right amount of support and pressure relief. You might want to pair this up with
memory foam pillows
to give your guests the best sleep experience.
Layla memory foam mattress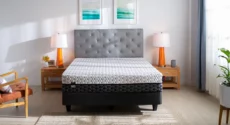 - Copper gel in the foam
- Antimicrobial
- Rapid cooling
Layla – the best flippable yet durable mattress! 
It is a flippable mattress that has two sides. A firm side and a soft side! What more could you wish for in a mattress for your Airbnb?
The cover of the Layla is infused with some cooling materials, is soft to the touch, and is very breathable.
What's unique is that it is not regular memory foam. It actually has copper infused in it. The copper helps with the cooling and also heat dissipation. Beneath that, you have the transition layer convoluted into zones and channels.
This zoning will help with that airflow, making it a good match for different sleeping positions. Next, you have the base support layer for both sides of the mattress.
The support foam is very durable and firm. Finally, on the bottom, you have the thinner layer of copper-infused memory foam on the top. It is going to make the firm side firmer because there's not a lot of it. Finally, on the bottom, another top cover. That's a lot to take in!
Let's now look at the firmness and feel of the mattress. The soft size is softer than average, and the firm side is also definitely firmer than average.
Speaking of feel, this is a memory foam mattress. Easy to sink into, it is not very bouncy, but it is amazing for all sleeping positions! You can always ask ahead and arrange the mattress according to your guests' liking. 
You will find that the Layla mattress is best used with cooling bamboo sheets placed on top of a box spring frame. 
In a nutshell Is Layla a good mattress for your Airbnb? Yes! If you think your guests would like memory foam and the option of having a flippable mattress, this should be a good option. But if you are looking for something bouncy, this might not be it for you.
Plushbeds Cool Bliss Luxury Mattress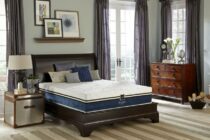 - Gel memory foam
- 5 plush comfort layers
- Optimal cooling comfort
A luxurious memory foam mattress for your Airbnb guests 
This memory foam has a patented gel technology for cooling, natural latex, and a lovely fit and finish. It is designed for sleepers who enjoy a soft, pressure-relieving feel. It also provides a cool sleeping surface. 
You definitely need to know in detail about the construction of your mattress before deciding to buy one. This is a 12-inch hybrid memory foam and latex construction. It has a 5-and-a-half-inch supportive mattress core down at the bottom.
We also have a two-inch-high density 2-and-a-half-pound airflow layer that provides more cooling for your sleeping guests.
Then, you also have 100% natural arvika latex that provides you with a bounce and some supplemental resistance against memory foam. It also has a 3-inch patented cool bliss gel, four-pound memory foam that provides a cooling layer for this entire mattress.
On the top, you have this very luxurious cover with advanced cooling properties. In terms of wicking away heat, this mattress is very well designed and has multiple layers to provide lots of comfort. 
The mattress isn't very firm; it gives you a soft feel. It tends to sink you in but beneath it. There's a lot of comfort with cooling layers. It envelops your body simultaneously and doesn't make you feel stuck. It's amazing for multiple sleeping positions.
The gel memory foam helps you stay cool at all times. Using Egyptian sheets, soft pillows, and a whole bunch of cushions will give your Airbnb a very luxurious ambiance. 
In a nutshell The Cool Bliss can also be used for
trundle beds
or day beds. It comes in different dimensions and works great in limiting motion transfer. It has a luxury touch, perfect for Airbnb beds.
Happsy Organic Mattress

- Pocketed springs
- Organic cotton & wool
- Temperature regulation

An eco-friendly organic mattress for your Airbnb
The Happsy has a couple of different options and is priced very competitively for an organic mattress. The mattress is natural latex and uses wool on the top.
It has a quilting foam and a zip convenient zip-off cover. It has a good quantum edge coil that comes to the sides of the mattress, giving you good edge support. 
The construction of this mattress is such that it has an organic cotton cover. The cover is removable and washable. Underneath that, you have wool which adds a nice cushiony softness above that latex. Next, you have two inches of latex and 8-inch coils. 
In terms of feel, you will get the traditional bouncy feel that comes off the latex. The foam is very responsive because of the latex and pocket coils. The wool layer adds a little cushion as latex tends to be on the firmer side. It Is a medium-firm mattress, not too soft, not too firm. It is soft enough for multiple sleeping positions and provides adequate back support. 
The mattress is best used on traditional solid bed frames. The mattress won't be able to do justice to huge beds as it is not that high, so nice woodsy bed frames would best compliment the mattress. Happsy also recommends using a mattress topper to make your bed plush and get that extra softness. 
In a nutshell All in all, this is a good fit for organic mattresses. It provides comfort,
back support
, and the right amount of pressure relief for combination sleepers.
Diamond Response Cool Hybrid Mattress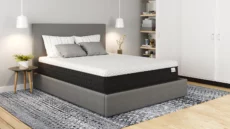 - High density support foam
- Top layer of cooling copper
- Hybrid mattress
Diamond Response mattress is a great option for soft mattress lovers.
The most important thing about a new mattress is deciding how it will make the guests at your Airbnb feel. The diamond response cool mattress is a 6/10 on the firmness scale.
It's a bit to the softer side. It does let your body sink into the mattress a little bit. The pillow top will make you feel that you are going to sink in for pressure relief on top. The pocketed coil level support does a pretty good job of keeping your hips from sinking too far into the mattress when you are on your back.
As you roll around and change positions, sometimes softer mattresses tend to give a slower response to pressure causing you to feel a little bit stuck in the mattress. This might be a problem for the combo sleepers you get as guests. Further, the mattress has a nice bounce, and you can easily change positions. 
The cover is made up of a polyester blend infused with cooling technology. It is also quilted with foam giving you a soft feeling right off the bat.
Below that, you have a top pillow section of the mattress that allows you to sink in for some nice pressure relief. Then you have convoluted poly foam that is supposed to help with the airflow and keep you cool. It's also got a graphene infusion that helps draw heat away from the sleeper.
Below that, you have a soft layer of poly foam that allows you to sink in deeper. Finally, the soft pillow top of this mattress is supported by an individually wrapped pocketed coil support layer. These are better at isolating motion than old-school steel foils you might be familiar with. 
In a nutshell Offer your side sleeping guests a peaceful good night's sleep with Diamond Response Cool Hybrid Mattress. If you are looking for something that is on the softer side, this is a good option. It is also recommended for couples because it offers great motion isolation and edge support.
Molecule 1 mattress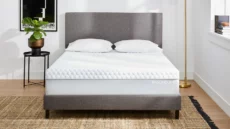 - Antimicrobial treatment cover
- Balanced body support
- Ideal for warm sleepers
The Molecule 1 mattress offers average firmness with good back support.
It's a nice medium mix of support and pressure relief. It supports your weight and gives you a slight sinking feeling into the memory foam.
It gives you a bit of contouring and offers nice support to your hips. Rolling around and changing position might give you a little bit of a stuck feeling because of the slow response of the memory foam.
You might consider this if you previously used a mattress with a bit more bounce to it in your Airbnb. It gives you a nice pressure relief, especially on your shoulders for side sleepers. It is zoned for support, giving you firmer support around the hips and good pressure relief on your sides. This isn't ideal for stomach sleepers, though. Memory foam mattresses, in general, aren't ideal for stomach sleepers. 
Next, let's have a look at the construction. It has a thick, cozy polyester cover. Below that, you have the comfort layer of the mattress and two inches of a memory response. This is what gives you the classic contour. Memory foam tends to hold in body heat, so you might consider this before buying one for your Airbnb.
Below that, you have the transition layer of the mattress. It is a poly foam and is a bit firmer than the memory foam layer. This transition layer is zoned to give you form support and good pressure relief simultaneously.
After the transition layer comes the base of the mattress, a high-density poly foam, it's a firm layer that can support the sleeper and the top layers adequately.
In a nutshell The Molecule 1 is a relatively thick mattress and would look amazing on raised beds with box frames in your Airbnb. It might be a good option if you are looking for a soft mattress for your Airbnb. It lets your body sink in while giving it optimal support for your back and shoulders.
Spindle Organic Hybrid mattress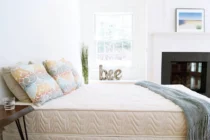 - Natural latex
- Organic cotton & wool
- Hybrid coil system
Spindle is the best all-natural latex mattress
This organic mattress comes with different firmness levels, from soft to firm. Starting with the cover, it's a natural cotton and wool blend with a really soft feel and a cozy feeling. The Spindle mattress is an all-latex construction made of three different layers.
Latex is a material known for its quick response to pressure and creates a bouncy feeling. It is also known to dissipate body heat and is a good option to keep your guests cool while they sleep.
The top two layers are of medium firmness latex; it allows you to sink in but also gives you the required support making sure you don't feel stuck in it. Finally, at the base is another layer of latex that is actually firm and acts as the foundation of the mattress, supporting the layers above it. 
You want to make sure your guests feel comfortable and cozy with the mattress. They'll first feel the classic latex feeling, that quick response to pressure.
The mattress gives a good bounce and a nice sinking feeling. It fills in the space between your lower back and does good contouring. One important thing to note is that organic mattresses need solid base support.
To best support your mattress, you might want to use a solid box frame and a good organic mattress topper to make the experience for your guests worthwhile. 
In a nutshell If you are looking for a mattress with natural materials, the latex layers and the organic wool and cotton cover are a great choice. The mattress is recommended if you are looking for something with a good bounce.
Avocado Green mattress

- 100% certified organic mattress
- No toxic solvent or water-based adhesives
- 5 distinct ergonomic zones
The avocado green mattress is known to be an eco-friendly organic mattress.
Starting with the construction of the mattress, on top, we have a layer of organic cotton that's going to be your cover. Very soft, breathable, and organic. Beneath that, you have organic wool that adds a good fluff to the mattress. It also enables a lot of airflow to the mattress. Below that, you have your main comfort layer.
A layer of thick Dunlop latex. It's going to be all-natural, organic, breathable, and also quite durable. Beneath that, you have your main support layer, coils. A lot of room for airflow gives good support to the mattress. All that rests best on top of a canvas bottom, as do most organic mattresses. 
Talking about the firmness and feel of this mattress, it's close to 7.5/10, definitely former than average. You have durable latex on the top and some very supportive coils. The feeling you get is a responsive bouncy latex feel. It is definitely a bit too firm if you like soft mattresses.
It might not be the best match as it tends to put serious pressure on your back and shoulders. However, seem to be the only mattress giving amazing support to stomach sleepers.
In a nutshell Is the Avocado really worth it? If you are looking for an organic mattress for your Airbnb but are tight on a budget, consider an Avocado mattress. It is a good match for stomach sleepers and hot sleepers.
What Type of Mattress Is the Most Durable for Airbnb?
Generally, foam-based mattresses are more durable. They last longer than the spring ones and provide a more comfortable experience overall.
Does A Futon Count as A Bed on Airbnb?
The futon is a Japanese word that means bed, so yes. A Futon is considered a bed on Airbnbs. 
Does An Air Mattress Count as A Bed on Airbnb?
Initially, an air mattress did count as an actual bed on Airbnb, but not anymore. It fails to provide the same comfort as an actual mattress and does not get you good ratings. 
How Do I Add Air Mattress Airbnb?
You cannot do that anymore. Air mattresses are not considered actual beds and will leave you with bad reviews. 
What Is a Floor Mattress Airbnb?
A floor mattress can be an air mattress or a regular mattress that you place directly on the floor without using any kind of bed frame. 
Our Recommendation
When choosing a mattress for your Airbnb, you need to look for something good for you and great for your guests.
Price point and comfort are one thing; you also want to pick something that fits the aesthetics of your Airbnb. Do you have a high bed? A high headboard? You might want a thicker mattress that gives you a luxurious ambiance.
Foam mattresses might be a better option for some as they provide comfort, and you don't have to keep rotating or flipping them as much as you would a spring mattress.
So, think about the general feel of your Airbnb, the comfort your guests would rave about, and choose something accordingly.