In this day and age, platforms such as VRBO and Airbnb have made life more accessible for people hoping to rent out space to earn some income on the inside.  
An excellent mattress for your guests will enable them to sleep well, be at ease, and wake up with a refreshed feeling (check 10 amazing matresses). The comfort of your customers can make a world of difference when it comes to earning five-star reviews and their satisfaction. Are you wondering where to start? Worry no more because the process has been made simple. 
Which Is The Best Mattress Topper For Your Airbnb?
Below, you will find the best mattress topper for Airbnb made just for you. All the options on this list are well-built, affordable, durable, and can support the needs of numerous people out there. Rest assured, you will be making an informed decision. Good luck!
8 best mattress toppers for guesthouses
Plushbeds Memory Foam Topper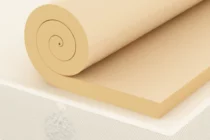 - Supportive
- Pressure relieving
- Temperature regulating
Bring In An Extra Layer Of Comfort
Plushbeds has established itself well in the mattress market with its high-quality products. It has an extensive collection of mattress toppers for you to choose from for your Airbnb, which range from all-natural wool to contouring memory foam. 
The brand carries a wide array of material choices and firmness options. These will enable you to find something appropriate and suitable for the comfort needs of all the guests at your Airbnb. 
The Plushbeds Memory Foam Topper is the best mattress topper for Airbnb because of its softness. The product's cover has been made out of 100% organic cotton, which is soft to the touch and refreshes anyone who lies down on it. It further ensures that the mattress is not too cool or warm but just right. 
Where the memory foam layer is concerned, it consists of either 2 or 3 inches of softer or medium-firm Plush foam. Its open-cell design makes it a desirable mattress topper for guesthouse products, allowing the sleeper to cool down without added infusion technology. 
In addition, the Plushbeds Memory Foam Topper is an affordable option for you to add to your cute little Airbnb and invite an extra layer of comfort. 
In a nutshell The Plushbeds Memory Foam Topper is the right choice for your guests if you are hoping to cater to their comfort needs. It is reasonably priced and will not force you to break your bank in an attempt to maximize the calming and soothing experience that you offer.
Sweetnight Cooling Mattress Topper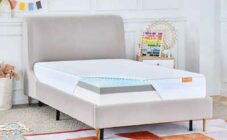 - Cooling gel
- 3 sizes
- Good option to upgrade your mattress
Flip From Soft To Supportive In A Jiffy
The best mattress topper for Airbnb, the SweetNight Mattress Topper, comes with many unique features. It has a ten-inch gel memory foam mattress, which you can flip at will. While one side is plushier, the other is firm and does not give you the feeling of being swallowed whole. You can cater to the expansive needs of your customer base and offer them an experience like no other. 
Moreover, the top layer of the SweetNight Mattress Topper is around two inches in thickness and comes with gel-infused memory foam. Meanwhile, the second layer has a high-density support foam, which is five inches thick. Lastly, the bottom layer comprises another memory foam, but its thickness measures three inches. 
The reason why this is the best mattress topper for guesthouse products is the fact that it has a couple of inches over other memory foam mattresses.
In addition, this mattress topper has been made free of any harmful substances, such as mercury and formaldehyde. The product's cover is hypo-allergenic, removable, resistant to dust mites and bacterial growth, and breathable.
The pleasantly soft material of the cover of the SweetNight Mattress Topper will have your guests sleeping peacefully and undisturbed. It will adjust to all body weights and be of additional benefit to customers who regularly experience back pain. 
In a nutshell The SweetNight
Mattress Topper
prioritizes comfort and support
. It is famous for its pleasant and well-rounded experience. Not only does the product accommodate people who want to feel like they are sleeping on a cloud, but it alleviates the back pain of those searching for a firm mattress.
Layla Memory Foam Topper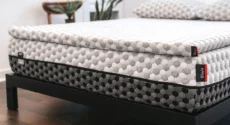 - Great support
- Naturally antimicrobial
- certiPur-US
Stay Cool And Optimize Pressure Relief
Founded in the year 2016, Layla gathered popularity because of its flappable mattresses made out of copper-infused memory foam. Since then, the brand has branched out and included several products in its line, consisting of the best mattress topper for Airbnb. 
Like the flippable mattress, the Layla Memory Foam Topper comes with copper-infused memory foam and a ThermoGEL fabric cover. It has been specially designed to keep your guests cool throughout the day and night and optimize pressure relief. 
Bringing in the Layla Memory Foam Topper is akin to adding a layer of clouds to a bed made out of cotton candy. The topper in question is two inches thick and infused with copper gel, which allows it to cozy anyone who lies down on it. Your guests will feel cradled and relaxed, which will force them to give your Airbnb a five-star rating for sure. 
Amongst the comfort and cooling features of the product is PCM, also known as phase change material. It is present in the cover and thus, helps regulate the sleeper's temperature, while the copper gel is instrumental in draining body heat away.
If your guests are sided sleepers or weigh less than 130 pounds, then they are the ones who stand to benefit the most from the Layla Memory Foam Topper. They will not sink into the mattress and prevent any pressure points on the hips and shoulder.  
In a nutshell Known for its cooling and comfort qualities, the Layla Memory Foam Topper comes with copper gel-infused memory foam. It enables the sleeper to get rid of their body heat and feel relaxed as soon as they jump in bed after a long day of having fun.
Lift by Amerisleep™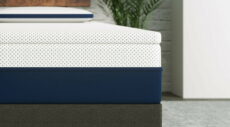 - 2 firmness options
- 5 year warranty
- Perfect for all positions
Enjoy A Cooling And Pleasant Experience
The Amerisleep Mattress Topper is the best mattress topper for Airbnb, which aims to provide its guests with the ability to adjust the feel and firmness of the bed they are sleeping on. The foam mattress has a wide array of unique features that boost the chances of a great night of sleep. 
It is the mattress you need to bring in if you want to ensure that sleepers receive a desirable and suitable memory foam feel and pressure relief. These features will help maximize the comfort of your guests and encourage them to leave you a well-deserved tip. 
Another excellent quality of this topper is its durability, which means that you will not have to break your bank time and time again to replace the product. 
The Amerisleep Mattress Topper comes with a slow-moving and classic memory foam feel. Since the foam is not reasonably responsive, it enables the creation of exceptional body contouring, especially around the lower hips and back. 
The breathable and thin cover of the product further promotes cooling and airflow, making this a terrific mattress topper for guesthouse products. Moreover, the HIVE technology used in the mattress topper gives sleepers the chance to spend day and night on a soft and firm product. It offers them the opportunity to find the right balance between support and comfort. 
In a nutshell With several unique and top-of-the-line features, the Amerisleep Mattress Topper maximizes the support and comfort it provides to sleepers. It performs exceptionally well when offering a pleasant body contouring and cooling experience.
EASELAND RV top mattress topper
- 100% cotton
- Skin-friendly
- Machine washable
No More Worrying About A Messy Bed
The EASELAND Mattress Topper is not only soft but skin-friendly. It comes with an alternative microfiber, enabling it to absorb any sweat. The breathable and deep pocket design of the product gives it enough room to stretch up to at least 21 inches. 
However, the best quality of this mattress is its ability to stay neat. You can toss and turn throughout the night, but the topper will not get messed up. 
In a nutshell The EASELAND Mattress Topper can give you a whole night of peaceful and undisturbed sleep. It has a flexible design, enabling it to stretch and make room for you to sleep in any position the sleeper desires. Moreover, what makes it the best mattress topper for Airbnb is that it minimizes the time taken to neaten it up.
Subrtex 4 Inch Gel-Infused Memory Foam Bed Mattress Topper
- Ventilated design
- Removable & washable cover
- Durability
Foster A Healthy Sleep Environment
The SUBRTEX Mattress Topper comes with a bamboo rayon cover and an inner memory foam. The latter is a gel-infused foam, boasting a ventilated design and optimizes the airflow. Consequently, it is instrumental in reducing any trapped body heat and creates a comfortable and relaxed sleeping environment. 
There is no doubt that the SUBRTEX Mattress Topper is the best mattress topper for Airbnb because it will enable you to foster a healthy sleep environment. The credit goes to the quality of the product's cover, which is made out of mesh fabric that prevents sliding. 
Moreover, the product is certified to provide sleepers with a peaceful night of sleep because of its durability and pleasant performance. 
In a nutshell
Buying the SUBRTEX Mattress Topper
will provide you with some much-needed peace of mind, and your guests will enjoy beautiful nights of sleep the entire time they are at your Airbnb. The
excellent and comfortable performance
of the topper will have them coming back for more.
Linenspa 3 inch topper
- Good for RV
- Affordable
- Fits on all mattresses
Lose Yourself In The Feel Of Memory Foam
Linenspa is well-known for its extensive range of affordable mattresses, including memory and latex foam. Its mattress topper is guaranteed to add additional thickness to your bed and completely transform the firmness level. Moreover, what makes this a desirable mattress topper for guesthouse products is that it is reasonably priced, thus allowing you to cut down on costs. 
A couple of thousand polyurethane gel beads have been used alongside a gel-infused memory foam to create the best mattress topper for Airbnb. It enables the mattress topper to distribute heat and allows the sleeper to maintain a comfortable and relaxed sleeping temperature.
The mattress topper is also resistant to too much movement, so your guests will not slip off the bed in the middle of the night. While the softness will allow them to sleep like a baby, the thickness of the foam will ensure mild resistance. 
Rest assured, your customers will find it difficult to leave the comfort of this bed, especially when the memory foam creates a cocoon around them. 
In a nutshell The Linenspa Mattress Topper is perfect for people who love being cuddled because the memory foam molds itself according to the shape of their body. In addition, with the help of gel beads, the foam keeps the temperature cool and offers a pleasant experience.
PERLECARE 3 Inch Gel Memory Foam Mattress Topper
- Softness & comfort
- Extra support
- Breathable
Snuggle Into Softness And Drain Your Stress Away
The PERLECARE Mattress Topper has been created to alleviate the stress that individuals face in their day-to-day life. It ranges from pressures of life, work, and a social exercise, causing discomfort to your guests. However, this mattress topper for guesthouse products draws away any sleep nervousness experienced by the sleeper. 
It is a high-quality mattress that comes at a reasonable price. Thus, you will not have to break your bank trying to ensure your guests' comfortable and peaceful experience. In addition, it has been lauded for enhancing the physical support received by the sleeper while keeping them cozy and calm.
In a nutshell Providing an extra comfortable sleep and draining away the stress of its sleepers are two of the top features of the PERLECARE
Mattress Topper
. It boosts the mattress's performance in general by
optimizing physical support and providing a soothing experience
.
Final Words
The best mattress topper for Airbnb keeps the guests coming back for more and presents them with a home away from home. With a product that maximizes the comfort and support of the sleeper, you can pave the way for a profitable future. 
In addition, your customers will have no choice but to leave five-star reviews and large tips after a refreshing night of sleep on your top-of-the-line mattress topper. If this sounds like something you would want, you need to pick one topper from the list above that most suits the needs of your guests.
Mattress topper for Airbnb FAQs
How do I choose a mattress topper for my Airbnb?
Figure out the essential facts related to your future guests, and pick a mattress topper that will benefit them the most. Keep in mind that you are not the one who will have to sleep in these beds. So, the products you choose should fit the needs of the majority of your guests.
Can I sleep on my new mattress topper immediately?
Generally, manufacturers recommend taking at least 24 to 48 hours before breaking into your new mattress topper. That is how long it takes for them to inflate fully. However, the time frame can vary and has not been set in stone. Every mattress topper is unique; while some may take longer, others will be ready to sleep soon.
Should I put a fitted sheet over my mattress topper?
Yes, you need to cover your mattress topper with a fitted sheet. It will prolong the lifespan of your topper and allow you to cut back on the costs of replacing it repeatedly.
Why do I need a mattress topper for my Airbnb?
Mattress toppers allow your guests to sleep throughout the night like babies, and they are also quite simple to put on. Moreover, it is a more cost-effective solution instead of replacing the entire mattress now and then. The wide variety of mattress toppers offered by several big brands further allows you to expand your choices and spruce up your Airbnb.