Endy and Casper offer some of Canada's top hybrid mattresses. Endy makes and delivers its mattresses directly from Canada, whereas Casper is an American brand that manufactures and ships from the United States and Canada. While both firms produce high-quality goods, they are separate and have distinct characteristics. In this evaluation, we will compare the original mattresses from Endy and Casper to determine their similarities and differences.
However, if you are looking for an all-foam bed, there is no better alternative than the Douglas mattress. Douglas is the most well-known Canadian mattress, offering supreme comfort and relaxation at a reasonable price. It is a luxury mattress that entirely isolates motion and is ideal for couples.
Our best alternative : Douglas (#1 in Canada)
Comparison Table
 
 

Endy mattress

 

Casper mattress

Best for
All sleeping positions.

Customers seeking a Canadian-made mattress.

People who need more lumbar assistance.

Back and side sleepers less than 230 pounds weight.

People who desire contouring as well as bounce.

Those who sleep overheated.

Couples who utilize the whole mattress, including the edge.

Warranty
10 Years
10 Years
Trial period
100 nights
100 nights
Price range
$975-$1450
$876 – $1,516
Key Differences Between Endy Vs Casper Mattress
Who the Endy Mattress is Best for:
Side sleepers: will like this bed's upper foam layers, which provide great sinkage around pressure points.
Couples and combination sleepers: should be able to move around effortlessly on this bed and use its whole surface.
Edge support: It is excellent for those who regularly sleep or sit near the mattress's edge since its unending steel edge structure offers significant perimeter stability.
Body Support: This mattress is ideal for persons needing targeted back and pelvic support to maintain optimal body alignment.
May Not be Best for:
Delivery: The fact that the company exclusively ships to addresses in Canada may cause problems for customers outside of Canada. However, Douglas Original is also Canadian-made and can be shipped anywhere worldwide; therefore, we strongly recommend this mattress for those individuals.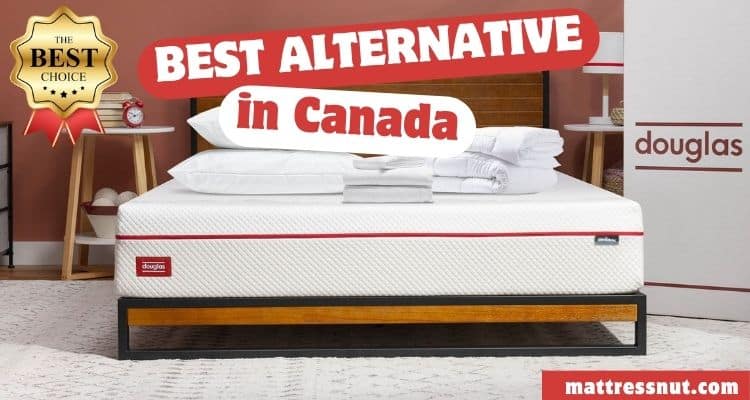 Who the Casper Mattress Is Best for:
Back sleepers: This bed might be a good choice for back sleepers. The pocketed coils elevate the hips to align with the shoulders while the upper foam layers fill the lower back. This design assists sleepers in maintaining spinal alignment, reducing strain on the lower back.
Combination sleepers: The Casper Hybrid can be an excellent choice for combo sleepers. This bed is highly adaptable, so these individuals should have no difficulty moving and changing positions during the night.
Hybrid structure: The Casper Hybrid is an excellent choice for warm sleepers due to its airy foam cushioning layer and airflow-promoting spring layer.
May Not be Best for:
Firmness: This mattress's medium-firm feel should suit a variety of sleep postures and body types, according to Casper. However, the absence of multiple firmness choices may disadvantage people who like a soft or firmer mattress.
Memory foam: It is not a good bed for those wanting a slow-moving memory foam sensation since it is bouncy and responsive. As a result, we strongly suggest the Douglas mattress to such individuals.
A Comprehensive Comparison of Endy Vs. Casper Mattress Features
Construction
The Endy Hybrid is a quilted four-layer mattress made in Canada. The bed is 13 inches tall and features multiple polyfoam layers of varying compositions that serve various needs. The comfort system begins with an open-cell polyfoam layer that increases ventilation while conforming to the body without compressing.
Underneath is a layer of transitional polyfoam intended to isolate motion and decrease pressure. It provides compression beneath heavier regions like the hips and shoulders, relieving discomfort and avoiding the formation of pressure points.
Enclosed coils of high-carbon steel serve as the support core's foundation. Each ring is meticulously wrapped to help reduce motion transmission. The final layer consists of high-density polyfoam, reinforcing the bed's structure and increasing its durability. The quilted polyester fabric covers this whole composition.
The Casper hybrid includes two layers of softer foam, a pocket coil support core, and a polyester, cotton, polyester, and Lycra cover. The cover features a knit design with lots of elasticity.
The top cushioning layer is Casper's trademark AirScape foam, which has holes to make the bed more breathable. Then comes zoned memory foam with three separate components to support various body parts. The center zone is stiffer, offering more fantastic midsection support.
This hybrid mattress's responsiveness comes from individually pocketed coils, giving it a fairly bouncy sensation. Lastly, a polyfoam border surrounds the support core, strengthening and reinforcing the bed's borders. CertiPUR-US certifies all Casper Original Hybrid foams for minimal indoor emissions and no harmful chemicals.
However, we strongly advise you to go with the Douglas all-foam bed, which provides outstanding pressure relief and complete body support.
Firmness
The firmness level of a mattress may make or break whether a bed meets your requirements. Some like softer or firmer beds, but most prefer a balanced feel like the Endy and Casper Hybrid mattress' moderate firmness.
The endy hybrid bed has a firmness rating 6/10 and is medium-soft to medium-firm. Despite its plushness, the Endy Hybrid keeps sleepers lifted on the mattress's surface rather than sinking into it. It contains pressure-relieving comfort layers to assist individuals in falling asleep faster. The coils' segmented support provides varied comfort levels for different body areas to achieve spinal alignment.
The Casper Hybrid mattress also has a medium firmness rating of 5 on a 1-10 firmness scale. Its distinctive sensation comes from the zoned memory foam layer, which makes certain parts softer and others firmer. As a result, the shoulders have a soft give to them, while the hips have supportive contouring. This medium firmness should suit most people, particularly average-weight side, back, and combination sleepers.
However, if you prefer to sleep on a medium-firm all-foam bed, we strongly recommend the all-foam Douglas bed. Its medium firmness offers a good blend of pressure-point alleviation and support for most sleepers.
Motion Isolation and Edge Support
The pocketed coil core of the Endy Hybrid offers the bed a robust overall design and excellent edge support. The coils are made of high-carbon steel and thicker along the outside edges to provide strong support. In terms of motion isolation, the isolated coil supporting core responds to movement, but the foam parts inside the comfort system prevent excessive motion transmission.
Co-sleepers who are lightweight may be able to detect their partner's movements. The upper foam layers absorb a significant amount of motion but not enough to completely isolate motion. Consequently, we highly recommend the Douglas all-foam bed, which completely separates motion and decreases interruption caused by companion movement.
On the other hand, the Casper Hybrid mattress includes individually wrapped coils to reduce motion transmission. This implies that the rings move independently, which helps to prevent vibration from moving from one end of the mattress to the other.
Furthermore, this hybrid mattress has two padding layers above the coils, aiding motion isolation. This bed suits restless, combo sleepers and couples with diverse sleeping patterns since the foams absorb movement.
Additionally, for a bed-in-a-box mattress, the Casper Hybrid has sturdy edges. A robust poly foam border protects the coils for further edge support. The sleepers must be able to lay on the side of the mattress and feel little distinction between the border and the center of the bed.
Temperature
Although hybrid mattresses sleep cool, the construction of these mattresses may make them more comfortable than others.
The Endy Hybrid contains open-cell foam for breathability. Endy mattresses sleep cool because the pocketed coils enable air to move through the bed. Overall, the Endy Hybrid should effectively prevent sleepers from becoming overheated.
The Casper bed has a lot to offer when it comes to cooling. The Casper Hybrid bed has porous AirScapeTM foam, which aids in the mattress's ability to maintain a pleasant resting temperature. The perforations enable optimal airflow, drawing heat away from the body and transferring it to the coils to prevent the mattress from heating. These cooling advantages are ideal for couples and hot sleepers.
We recommend the Douglas mattress if you want a memory foam mattress that sleeps cool. The mattress' gel-infused foam layers and plant-based cover material keep it dry and cold throughout the night.
Position and Body Type
The Endy Mattress appeals to all sleepers because of its pressure relief and support. All weights of side-sleepers can rest comfortably on a mattress unless they prefer a very plush one. This mattress would be ideal for back sleepers of all sizes and stomach sleepers weighing up to 200 pounds. The springs in this mattress are vital in helping people with back or joint pain.
The Casper Hybrid is best suited to average-weight side and back sleepers. The upper layers of foam fill in the gap in the area of the lumbar spine for some significant pressure alleviation for back sleepers. Side sleepers will also feel some relaxation in their hips and shoulders as they slide through the upper foams of the bed.
However, this mattress is too plush for average-sized stomach sleepers. Heavy sleepers can sink to Casper's coil layer, creating uncomfortable pressure spots in any sleep position.
Consequently, Endy is an excellent mattress that can accommodate all sleeping positions and individuals of various weights.
Price Range
Price is a significant consideration when selecting a new mattress. Both of these mattresses are in the same price category and are pricey. People on a tight budget will have difficulty affording any of these mattresses. As a result, we strongly recommend the Douglas mattress, a superior choice at a lower price.
Examine the following price comparison chart for Endy and Casper mattresses to see how these brands compare.
 

Size

 

Endy Mattress

 

Casper Mattress

 

Twin

 

$975

 

$876

 

Twin XL

 

$1075

 

$956

 

Full

 

$1175

 

$1116

 

Queen

 

$1250

 

$1196

 

King

 

$1450

 

$1516

 

Cal King

 

$1450

 

$1516
Verdict
Finally, we have the two most incredible and luxurious mattresses you can choose from. The Casper Hybrid mattress is ideal for people suffering from bodily aches and pains.
Zoned Support foam is a layer that offers more fantastic give at lighter body portions while providing additional support around the body's heavier areas. The end outcome is excellent pressure alleviation and spine alignment.
Endy, on the other hand, is a mattress that is especially suitable for all sleeping positions and weight ranges. As a result, you must choose what best meets your wants and desires. However, we still suggest the Douglas all-foam bed because of its exceptional qualities. It is one of the top-rated mattresses in Canada due to its excellent motion isolation capabilities and affordable price range.