Should You Fold a Mattress in Half to Move It? Tips and Tricks to Avoid Damage and Injury
Whether it's moving to a new home or donating your used items to someone, each of us will eventually find ourselves in a situation where we need to move our things to another location. During the packing process, you may realize that not all things will fit neatly into the marked cardboard boxes or that moving certain items is tricky. One of those moving challenges is likely to be your mattress, and you may wonder if you should fold a mattress in half to move it.
Do not fold innerspring mattresses or foam mattresses that are thicker than 6 inches in half. Thinner memory foam and latex mattresses can be folded in half for very short periods and secured with mattress straps when moving. Ideally, a foam mattress should be vacuum-packed and rolled up when moving it instead of folded in half. Innerspring mattresses must never be folded because this will damage the mattress construction.
How Materials Used Affect Whether You Should Fold a Mattress in Half
Every material reacts differently to pressure and physical or mechanical force. This determines whether you should fold your mattress and how to treat it when you move it. It is not only the material itself but also the construction and skeleton of the mattress which is crucial in dictating whether or not the mattress can be folded. Read our article on how to choose a mattress for a platform bed, where we discuss the different types of mattresses.
Any mattress with metal or other solid supports should never be folded. However, foam mattresses, such as memory foam or latex, can often be folded for short periods of time.
As the makers of the popular Casper mattress say, polyurethane memory foam and latex foam mattresses can be folded and will regain their original shape within a few hours of being unfolded.
Can You Fold an Innerspring Mattress to Move It?
Never fold an innerspring mattress or any other coil filled mattress, such as a hybrid mattress, which has any sort of solid structural components such as metal spirals or supports. Coils can be permanently bent, and fabric can be ripped. Layers of padding can be distorted forever. These types of mattresses will not return to their original condition after folding. Not only will folding such mattresses damage them but any warranty will also be voided.
It is unlikely that you would be able to fold these types of mattresses at all. Don't even attempt to bend it. Instead, use one of the techniques for moving them in their normal flat condition like using this mattress moving bag with handles from Amazon.
Do you notice something different with the edges of your mattress? Make sure to learn what to do if your mattress edge collapses in our related article.
Folding Memory Foam Mattresses for Moving and Storing
Memory foam mattresses can often be safely bent for easy handling. In fact, memory foam mattresses are the easiest to fold and transport. They can be folded in half but not for longer than a few weeks. Keep in mind that, with this type of mattress, everything depends on its thickness, because the thicker it is, the harder it is to fold.
But it is not just a question of whether a mattress can be bent and transported. Every foam mattress can be folded in one way or another. The real question is whether, after moving and storing, your mattress will still be undamaged, functional, and comfortable. Read our article about how long it takes a memory foam mattress to expand to find out our tips to help your mattress regain its shape after moving.
Leaving a memory foam mattress bent and stored for too long might harm the mattress. It is possible to damage its memory, affecting its ability to spring back into its original shape, and this can affect the comfort that this mattress provides. Prolonged folding can also cause surface damage, such as gouges, and wearing out of the material as well.
Folding Latex Mattresses for Moving and Storing
The characteristics of a latex mattress are very similar to a memory foam mattress, so many of them can also be bent or folded safely. Latex mattresses can be folded in half for around three to four weeks maximum. A latex mattress is perhaps less tolerant of being bent than a memory foam one. In that sense, bending it in half does pose some risk of negatively affecting its comfort and resiliency.
Summary of Mattress Materials and Whether or Not They Should Be Folded and For How Long:
How Mattress Thickness Affects Folding a Mattress in Half
Generally, folding a mattress is not recommended because it can damage it. However, if you need to do that, there are certain things to pay attention to.
A foam mattress that is less than 6-inches thick can be folded for short periods of time if it does not have any solid or metal structural components. Thicker foam mattresses can be folded or rolled. Innerspring and pocket spring mattresses should never be folded in half.
Keep in mind that If you do need to fold up a mattress on a regular basis, there are foldable mattresses available that are specifically designed to be folded. We like this foldable mattress because it has an anti-slip bottom and is easy to move around and store. Most foldable mattresses come in one of three standard thicknesses, four inches, six inches, and eight inches. Of course, most people prefer to have a one-piece mattress and rarely need to fold their mattress, unless they need to move the mattress for camping or guest rooms.
A 1 to 2-inch thick foam mattress can be folded in half quite easily. Because it is not very thick, there should be no damage to it when it is unfolded. However, it should not be kept folded for more than three weeks.
A 3-inch thick foam mattress may be folded in half, but it should not be kept in that position for more than three weeks in order to avoid damage.
A 4-inch thick foam mattress can be folded in half, and it should not be kept in that position for more than two or—at the maximum—three weeks.
You can fold a foam mattress 5-inches thick, or more in half, but it is not recommended to fold a mattress that is thicker than six inches, to avoid significant deformation to the foam. The mattress should not be left in that position for more than two—maximum of three weeks.
The thickness of the mattress directly affects its flexibility, as well as its ease of handling. The thicker the mattress, the more comfortable it is to sleep on but also the less flexible. The thicker the mattress, the harder it is to handle, and the shorter the time it can be kept folded. A thicker mattress is more resistant to folding and is heavier, which could result in more damage to its construction when it is folded.
No mattress manufacturer will recommend that you keep your mattress bent or folded for more than a few weeks. Best of all, if possible, do not fold it at all, so as not to damage its quality. There is no universal rule for how long a mattress can be held in this state, but one thing is for sure—folded mattresses will deteriorate over time, and their quality and comfort can be compromised. Read our memory foam mattress guide to find out more about the different mattress thicknesses.
You may also be interested in purchasing a mattress that can be taken camping with you. Be sure to also take a look at our related article with simple steps to make a comfortable truck camping bed for more information as well before making any decisions.
Summary of Mattress Thicknesses and Whether or Not They Should Be Folded and for How Long
| | | |
| --- | --- | --- |
| Memory Foam Mattress Thickness | Should This Mattress Be Folded in Half? | For How Long? |
| 1-2 inches | Yes | 3 weeks |
| 3 inches | Yes | 3 weeks |
| 4 inches | Yes | 3 weeks |
| 5+ inches | Yes | 3 weeks |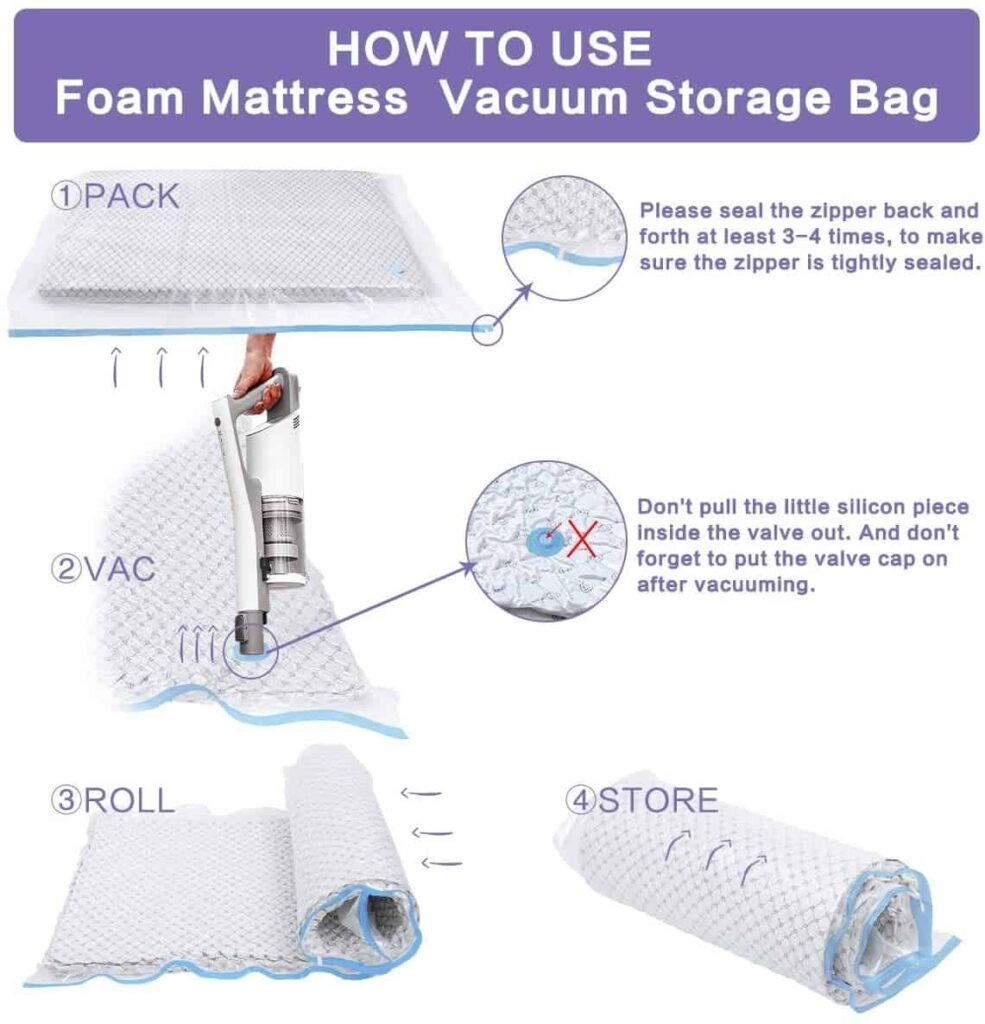 Tips for Handling a Mattress While Moving
There comes a time when every family or individual will need to move a mattress. The challenge is to move the mattress safely and for the mattress to arrive at its destination usable and undamaged.
When handling a mattress while moving, straps can be used to secure the folded mattress. Foam mattresses can be shrunk using vacuum bags, which make it easier to roll up the mattress. Specially designed lifting straps or mattress moving bags can be used to move an unfolded mattress, whilst also protecting it. A dolly or hand truck can be used to move an awkward or heavy mattress.
Before the mattress is transported, it must be properly prepared, folded or rolled (if applicable), and packed for transport. Here are some tips for moving a mattress.
Tip 1. Use Straps to Secure a Folded Mattress
If you have a mattress that can be folded to move it, you are going to want to secure it with straps or belts. When you fold the mattress, straps help make the mattress easier to remove, transport, and store. The straps hold the mattress in the desired position so that the mattress can be handled more easily and it takes up as little space as possible.
Simply wrap the straps around the folded mattress and secure them. When tightening the belts, be careful not to tighten too much to avoid damaging the mattress. If you start to notice the belt cutting into the mattress, it means that the belt is too tight. In this case, loosen the straps. Be careful not to damage the mattress during this process. Also, make sure the strap does not slip so the mattress doesn't come loose or suddenly unfold and injure you.
How many belts or straps you need will depend on the dimensions of the mattress. It is recommended to use more belts and make them less tight, which will apply less direct pressure to the mattress. Mattress packing belts like these multi-purpose extra-large mover bands from Amazon will help secure the mattress once it is folded or rolled up.
Tip 2. Use Vacuum Bags to Shrink the Mattress
Vacuum packing is an ideal way to move or store a foam mattress. Not only do mattress vacuum bags provide a way to compress the mattress but they also protect it against moisture and dust.
There can be a lot of dust and dirt stirred up during any move. The car or truck can be dirty, which will, of course, be transferred to your mattress—something you want to avoid. Also, the weather might not be on your side on the day of moving. Even a short exposure to rain or other weather elements can damage your mattress. Not all damage will show up immediately or in an obvious way, but it will eventually affect the comfort, smell, and hygiene of your mattress, reducing its durability and longevity.
Vacuum bags can be used to draw out the air, thus preventing moisture damage, preventing the spread of dust or the growth of bacteria. It also provides a protective surface layer that will help keep the mattress safe from physical damage and stains as it is being moved or stored. We recommend this mattress vacuum bag from Amazon because it has a leak-proof valve and also comes with straps.
Vacuum packing a foam mattress is a simple process. Simply get one of these affordable vacuum bags, sized for your mattress. Slide the mattress into the bag, and make sure the bag is well-sealed and air-tight. Using a household vacuum cleaner attached to the bag's valve, suck the air out of the bag, and seal the valve.
When the mattress is flattened, simply roll it up, using straps or tape to keep it rolled and compressed as extra insurance against unexpected inflation— just in case the seal accidentally opens or the bag is punctured during the move. To unpack the mattress, just unroll and remove the mattress, laying it out flat, and let it plump up over a day or two. Read our guide on how to roll up a mattress topper because the steps to safely package a mattress topper are similar to the ones to pack a mattress.
Tip 3. Use Moving Straps to Lift the Mattress
If you need to move a mattress between rooms or in and out of a moving vehicle, with or without shrinking, folding, or compressing it first, use a two-person strap lifting system, such as forearm forklift lifting straps or a shoulder strap lifting system. These types of straps keep the load in front of you whilst also preventing awkward twisting which is the recommended method of moving heavy items in this article from SunDial Clinics.
Not only are these affordable types of straps designed to help you lift mattresses, appliances, and heavy furniture more easily, helping to protect these expensive household items, they will also help protect you and your friends from strains and injuries as you lift and maneuver these awkward and heavy items. We like these lifting and moving straps because they are fully adjustable.
Tip 4. Use a Dolly or Cart To Prevent Damage to the Mattress
Whether folded, rolled, compressed, or flat, you can also safely transport your mattress to the car, truck, or to its next resting spot by using a dolly or cart. Just put your mattress onto a dolly or cart of the right size and transport it to the desired place.
Using a dolly, you avoid dragging the mattress on the floor or having it fall on the ground, dirtying it, and possibly tearing the material. This will be especially useful if it is a heavier and larger mattress.The right kind of dolly or hand truck ideal for moving your particular mattress is readily available to rent or buy from your local dealers. We like this panel cart from Amazon because it has panel bars that will keep the mattress in place whilst moving.
Products That Can Help With Moving a Mattress
| | | |
| --- | --- | --- |
| Products That Can Help With Moving a Mattress | How Does This Product Help? | Price |
| Mattress Bag with Moving Handles | Protects the mattress during transport, moving between rooms, and storage, while providing handles for easier lifting | ~$40 |
| 2-Person Moving Strap System | Makes it easier for two people to hold, lift, and move a mattress for short distances | ~$25 |
| Dolly | Can be used to transport the mattress safely for short distances, such as to a vehicle or in and out of a home | ~$85 |
| Mattress Vacuum Bags | Use to vacuum pack and shrink a foam mattress using an ordinary vacuum | ~$35 |
Tips for Moving a Mattress By Yourself
If you are in a pinch and don't happen to have special moving or packing straps, you can use a thick adhesive tape, such as duct tape, to create an alternative cheap strapping. However, make sure to either use a backing material under the tape or place two layers of tape adhesive sides together so that the adhesive tape does not stick to the mattress fabric, damaging it. This method is, of course, far cheaper than purchasing straps, but it is also less convenient, durable, or reliable. If you first wrap the mattress in plastic then you can safely place duct tape like this tape across the plastic to secure it.
If you can, consider transporting the mattress by itself, without piling up other items and furniture with it which may damage it on the journey. Otherwise, always take special care in how you load the mattress into any vehicle, or into storage, making sure that movement and shifting won't harm the mattress.
In particular, never transport a mattress in an open trailer or on a car carrier where it can be damaged by dirt, pollution, bad weather, cold, or humidity. Finally, always use some kind of protective blanket, tarp, or casing to keep the inevitable dirt away from your valuable mattress. Even a painter's drop plastic—secured in place with straps or tape—will protect your mattress so that it will be just as comfortable and clean at its new destination as it was before it was moved. If your mattress does get dirty read our step-by-step guide on how to clean a futon mattress which has helpful tips that also apply to cleaning regular mattresses.
In a nutshell
A mattress with a spring or coil inner must not be folded because it will damage the mattress, but memory foam mattresses and latex mattresses can be folded or rolled for a short time when moving house. Unfolded mattresses can be lifted with special carrying straps, while vacuum shrunk mattresses can be rolled up and easily moved. Folded, rolled, or flat mattresses can be moved with a dolly or hand truck to prevent accidental injury. We recommend reading our article on how to store a latex memory topper for more useful tips on moving and storing large bedding items.
Disclosures
This website is a participant in the Amazon Services LLC Associates Program, an affiliate advertising program designed to provide a means for us to earn fees by linking to Amazon.com and affiliated sites.