How to Choose a Mattress Topper for Camping
Mattress toppers are a great investment to help make your mattress more snug. They can adjust the level of comfort and support of your bed and help alleviate neck, shoulders, and back pains. Furthermore, they cover the lumps in an old mattress, as a short-term solution, until you can buy a brand new mattress. A mattress topper for camping is also a great way to improve the comfort of your mattress.
To choose a mattress topper for camping, first measure the tent, car or RV where you will be sleeping. Next consider what level of comfort and temperature control you desire. The ideal mattress topper for car and RV camping is a medium-high density topper with heat retention capabilities to protect against cold. For backpacking, choose a thin, high-density weight mattress topper to maximize support and minimize weight.
While mattress toppers are typically put on top of regular mattresses, they can also be used on air mattresses as discussed in our other article. If you are wondering how to select a mattress topper for camping, here are all the tips and tricks you should consider for making the right choice. Additionally, make sure you know exactly how to inflate an air bed by reading our step-by-step guide.
What is a Mattress Topper?
A mattress topper can help to alter the feeling of the mattress by improving its softness or firmness. Read our mattress topper hack to find out more about the benefits of mattress toppers.
A mattress topper is an additional bedding layer that can be added on top of your camping mattress to improve your sleep quality. It can be made of natural latex, memory foam, gel-infused foam, polyester blends, down feathers, wool, or artificial fiber with densities ranging from around 2 to 6 pounds per cubic foot and thicknesses ranging from 1 inch to 5 inches or more.
After unpacking the mattress topper and allowing it to fully expand, it should be placed on top of the camping mattress and under a mattress protector (if present). Read our article on how to install a mattress topper to ensure your mattress topper is properly positioned with or without a mattress protector.
If you're camping for extended periods, select mattress toppers made of natural latex, memory foam, or gel-infused foam because they are ideal for pressure and pain relief. Mattress toppers made of polyester blends, down or feathers, wool, or artificial fiber are fluffy and easy to transport, but do not provide sufficient body support. Read our article about mattress toppers for back support to learn more about the comfort and pain relief they offer.
When it comes to densities, you can choose between a low, a medium, or a high density, depending on how firm you want the mattress topper to be. A mattress topper with medium firmness is ideal to support your back—especially if you are a back or stomach sleeper.
When it comes to the thickness of a mattress topper for camping use, choose a mattress topper of at least 3-inches thick for making a significant change to the way the mattress feels. Thin mattress toppers of 1-2 inches are lightweight and do not drastically improve the feel of your mattress.
High Density Foam vs. Low Density Foam Mattress Toppers for Camping
Density describes the mass of a material per unit of volume—measured in pounds per cubic foot—lbs/ft3. Dense materials consist of tightly-packed molecules and are therefore heavier than low-density materials. Read our mattress topper density guide for an in-depth explanation of how to choose the right density for your mattress topper.
The difference between a high-density foam vs. a low-density foam mattress topper, is that high-density foam is heavier, firmer, has a better longevity, and provides more support. In contrast, low-density foam is relatively lightweight and soft. Low density toppers provide less support.
The density of a mattress topper can affect the firmness, the weight, and the support level of the topper. A mattress with a higher density will feel sturdier, heavier, and provide a better level of support in comparison to one with a lower density, because it conforms to the shape of your body to ensure you sleep comfortably throughout the night.
High density foam mattresses are perfect for camping, as they offer even weight distribution and cushion the pressure points. However, they are heavier and more difficult to move and transport. Read our article on how to store a latex mattress topper which offers useful tips on packing and moving a topper.
Tips to Choose a Mattress Topper for Car Camping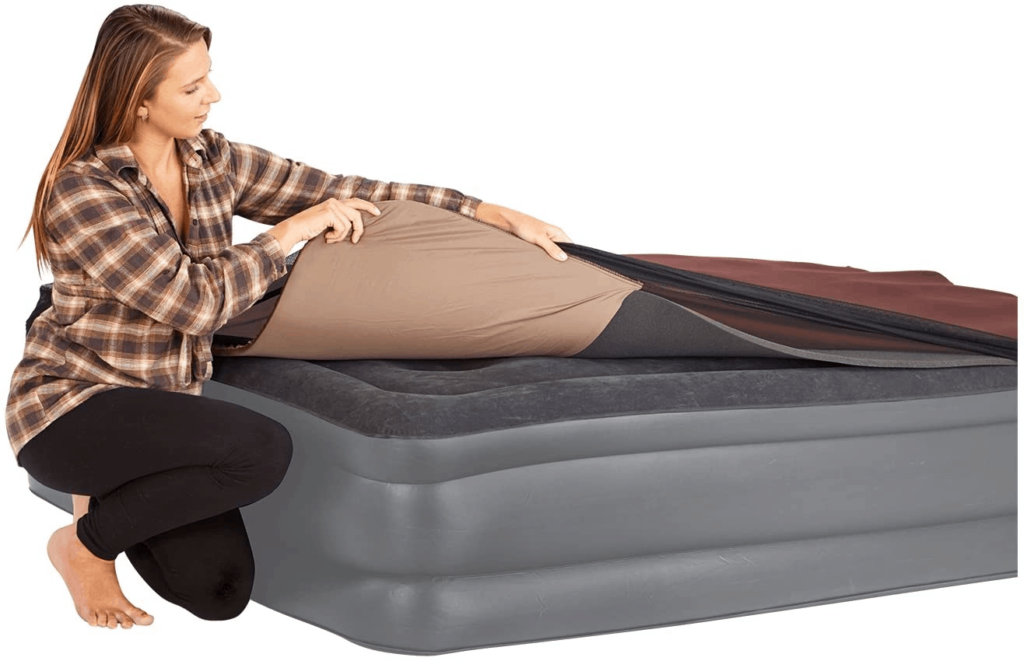 First, let's start by defining car camping. For us, car camping implies camping inside a car in the back with all the seats down. Most RVs are already equipped with beds that can hold mattresses and promote high-quality sleep for campers. Unlike RV camping, for car camping you will need to buy a mattress that fits in the car once the seats are folded down, and you'll need to account for the space that the wheel wells take up as well as ridges commonly found in car trunks. Adding a mattress topper on top of a mattress when car camping will improve comfort.
To choose a mattress topper for car camping, you should measure the space in your car, purchase a suitable air mattress, and then select a mattress topper that perfectly fits your air mattress. Finally, add a mattress protector to protect your mattress topper from wear and dirt.
Air mattresses are ideal for car camping because they can be inflated to the desired firmness and wedged into place in the car. If you can't find the right size air mattress for your car, you can also use two smaller sizes and lay them side-by-side to fit snugly in the space. We like this air mattress from Amazon because it comes with a pump and USB charging cable.
Car camping is convenient because you don't have the hassle of having to set up a tent to sleep in, you just make up your bed and relax. But sleeping in your car can still get just as cold at night as sleeping in a tent, so consider buying an insulated blanket like this one to keep out the chilly air. We recommend using a mattress topper with heat retention capabilities like this memory foam mattress topper. Wool also has fantastic temperature regulation features, so a wool mattress topper like this one from Amazon is a good choice for making a bed warmer when car camping.
Here are our tips for choosing a mattress topper for car camping.
Tip 1. Measure Your Car's Back Seat Area
Measure the backseat area in your car. You can get this information from the car's manual or search for the dimensions on the internet. To measure the space yourself, take a measuring tape and measure the width between the back doors, length from the backseat to the back of the front seat, and the height from the floor to where the seats start.
Tip 2. Purchase an Air Mattress
If you want to camp in a regular sedan or SUV, then you should buy an air mattress to ensure you sleep well. Make sure you get one that can easily fit in the backseat area of the car. Air mattresses tend to be cold to sleep on, so that's where a mattress topper comes into play.
Examples Of Air Mattresses And Their Sizes, That Could Be Used For Car Camping
| | | | |
| --- | --- | --- | --- |
| Air Mattress Examples | Inflated Dimensions | Price | Notes |
| Enerplex Twin Air Mattress | 39 in. x 75 in. x 13 in. | ~$60 | You'll notice that this mattress would need to hang out of the Honda Element above since it's too long. |
| SoundAsleep Dream Air Mattress | 38 in. x 73 in. x 18 in. | ~$95 | This one is a little bit shorter and hangs out less from the back of the car. |
| King Koil Twin Air Mattress | 38 in. x 76 in. x 20 in. | ~$95 | The King Koil is extremely luxurious but also a bit thicker and longer than usual. |
Tip 3. Select a Suitable Mattress Topper
You can take your air mattress up a notch by adding a mattress topper. If you are going camping in hot weather, you might want to get a cooling gel-infused memory foam mattress topper to prevent your body from sweating when you sleep. If you are a frequent camper, then you might consider a high-quality and long-lasting mattress topper that is more durable and hypoallergenic, like this one from Amazon.
Memory foam mattress toppers are durable and versatile. They are available in many different sizes, thicknesses, and densities, meaning that you can easily find the right one for you. Read our article about gel foam vs. memory foam to discover which type of topper will best suit your needs.
You may also find useful information for choosing a mattress topper in our 10 tips to make a hotel bed firmer and more comfortable.
Tip 4. Use a Mattress Topper Protector
Use a mattress protector on top of your mattress topper to protect the fabric against stains, dust, dirt, allergens, and moisture. Here is a pillow top mattress topper cover from Amazon, which not only protects the material from wear and tear but also offers cooling properties. The cover has fitted deep pockets, meaning that you will not have to worry about keeping it in place. Read our article about how to choose a waterproof mattress protector for your bed, where we compare various mattress protectors.
Tips to Choose a Mattress Topper for Backpacking
Prior to going backpacking, think about minimizing your luggage weight to whatever extent you can. So instead of full-size products, you should carry travel-sized items. Read this article titled, "The Influence of Backpack Design on Physical Performance," to learn how the weight and size of a backpack can restrict shoulder movement and interfere with balance. The weight, size and shape of your rolled up mattress topper needs to be carefully considered when camping.
To choose a mattress topper for backpacking, first you should select an adequate weight and size, consider a high-density memory foam topper, and finally use a vacuum storage bag to store and transport the mattress topper easily. Make sure you use a mattress topper cover to avoid any damage.
While there are no strict mattress topper weight and thickness limits in the case of car camping, you should do your best to carry the lightest and smallest mattress topper possible when going backpacking. You will still be able to receive quality sleep at night with a lightweight mattress topper. Read our mattress topper weight guide for more information about the various weights of different toppers.
Mattress Topper Properties You Need for Backpacking
Why You Need It and What we Recommend
Example and Price
Lightweight, Heat retention and insulation
When you are backpacking in colder areas, this becomes extremely important.
Choose a memory foam topper that's warmer and compresses down into a small size.
1.5-Inch Zinus Green Tea Memory Foam Topper ~$35
Lightweight, Ventilation and Cooling
When you're backpacking in a warmer area, you need a ventilated mattress topper that's cooling and lightweight.
Linenspa 2" Gel infused memory foam, ~8 lbs, ~$40
3 lbs per cu. ft. density, 2-3 inches thick
Contrary to what you think, a med-high density topper will be better for backpacking because it provides support and comfort. A fluffy mattress topper will need to be pretty thick to make any difference to the feel of your bed while sleeping.
2-3 inch toppers are thin so they are light and easy to carry.
Viscosoft Memory Foam Topper, 3", 3.5 lbs/cu. ft., 17 lbs weight. ~$120
Tip 1. Minimize the Weight and Size Of the Topper
In order to make your camping trip more enjoyable, select a small mattress topper with enough support and an adequate comfort level. Small mattress toppers are lighter and easier to move. This will also help you minimize not only the size of your backpack but also its weight. Here is a twin size mattress topper, which you can find on Amazon.
Tip 2. Select a High Density Memory Foam Mattress Topper
To make sure your body gets enough support as you sleep, you should choose a high-density memory foam mattress topper, which can cradle your pressure points. Besides providing a solid support to your body, memory foam mattress toppers are lightweight, easy to carry, and affordable. We like this high-density memory foam mattress topper from Amazon because it comes with a removable cooling cover that makes the cleaning process less frustrating. Depending on your body size and what else you're carrying a lighter weight, thinner mattress topper might be better. This single size mattress topper is ~14 lbs and still has 3 inches of memory foam.
Tip 3. Use a Vacuum Storage Bag to Reduce the Volume of Your Topper
Vacuum storage bags are ideal for storing fluffy items, such as blankets, pillows, and mattress toppers. One thing you should be aware of is that the topper might need a couple of hours to fully expand. Therefore, unpack your mattress topper as soon as you reach your final destination and allow it to get fluffy again. Read our article about memory foam mattress topper not expanding, to learn more about how to speed up the toppers expansion after it has been unpacked.
How to Use a Sleeping Bag With A Camping Mattress Topper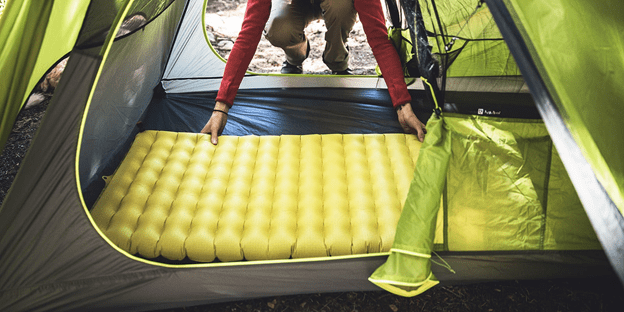 Sleeping bags are perfect to sleep in when camping because they keep you warm and cozy in a tent. While the majority of sleeping bags are made of natural or synthetic insulative materials, they are still not firm enough to provide support to different parts of our body. Because of that, you should get a camping mattress topper along with your sleeping bag.
To use a sleeping bag with a mattress topper, first you should insulate the ground inside your tent, then place your mattress topper inside the tent on a clean surface, and finally you should use the sleeping bag on top of the mattress topper.
Read this article from the book Applied Ergonomics titled, "Thermal comfort and clothing insulation of resting tent occupants at high altitude" to understand more about the effect of tent insulation on the quality of sleep in a sleeping bag.
1. Ensure Floor Insulation Inside the Tent
Instead of placing your mattress directly on the floor, you should spread a pad inside your tent and position your mattress on top of the pad - this will create a barrier between the cold ground and the mattress. Use these reflective foam insulation rolls from Amazon for about $30 to keep the inside of your tent warm and cozy.
2. Place Your Mattress Topper on the Mattress
The mattress topper should be placed on top of the mattress to assist with creating a sturdy sleep surface. This is especially important when using an air mattress because they tend to have a rolling effect with even slight movements during sleep. You might also want to consider securing your mattress topper to the mattress with straps to prevent it from shifting during the night. Our article on how to hold down a mattress topper has handy tips to prevent your mattress topper from slipping off.
Note: If you need to save on weight, it is ok to use just the mattress topper without a mattress. Your mattress topper may not last as long if you are using it this way. Consider toppers that are specifically designed for camping to maximize durability.
3. Put Your Sleeping Bag on Top of Your Mattress Topper
Place your sleeping bag on top of the topper to get sufficient comfort and support. The topper also provides warmth because it serves as an extra barrier between the bag, the mattress, and the floor. Down sleeping bags like this one from Amazon are a good choice because down has a natural ability to regulate temperature, and will retain warmth when the weather is cold.
In a Nutshell
Getting restful sleep whilst camping is far easier with the right mattress topper because of the extra cushioning and plushness they provide. Be sure to purchase a mattress topper that is easy to pack up and move around, whilst also being a warm barrier against the cold. When a mattress topper is frequently transported it runs the risk of getting dirty, so read our article on how to clean a mattress topper to prevent damage and prolong its lifespan. Also, be sure to take a look at our simple steps to make a comfortable truck camping bed for more ideas, tips, and tricks.
Disclosures
This website is a participant in the Amazon Services LLC Associates Program, an affiliate advertising program designed to provide a means for us to earn fees by linking to Amazon.com and affiliated sites.