How to Choose the Right Murphy Bed For Exercise Rooms & 5 Ideas You Can Try
A Murphy bed is a wonderful solution for small spaces and multi-purpose rooms, as it offers you an extra bed only when you need it. You can also use a Tempurpedic mattress with your Murphy bed which offers your guests a comfortable place to sleep. The bed can be easily folded away and disguised when not in use, you can even use a Murphy bed in a closet! It makes your exercise room multifunctional so that you can utilize every bit of available space.
To choose the right murphy bed for an exercise room, first make sure that your murphy bed will fit within the room's ceiling and floor space. The best murphy beds for exercise rooms also have mirrors to match room decor, plenty of storage for equipment, and are durable enough so you can keep collapsing and opening them.
Typically guest rooms are used for only a few weeks out of the whole year - for the rest of the year, the space is wasted. Not with a Murphy bed! One room can serve the dual purpose of a guest room, exercise room, and even home office with a Murphy bed. Take a look at our complete list to Murphy bed pros and cons for more information. If you are tight on space, you can convert your exercise room into your guest room just by adding a simple Murphy bed. It fits into the cabinetry discreetly, leaving you plenty of floor space for exercising.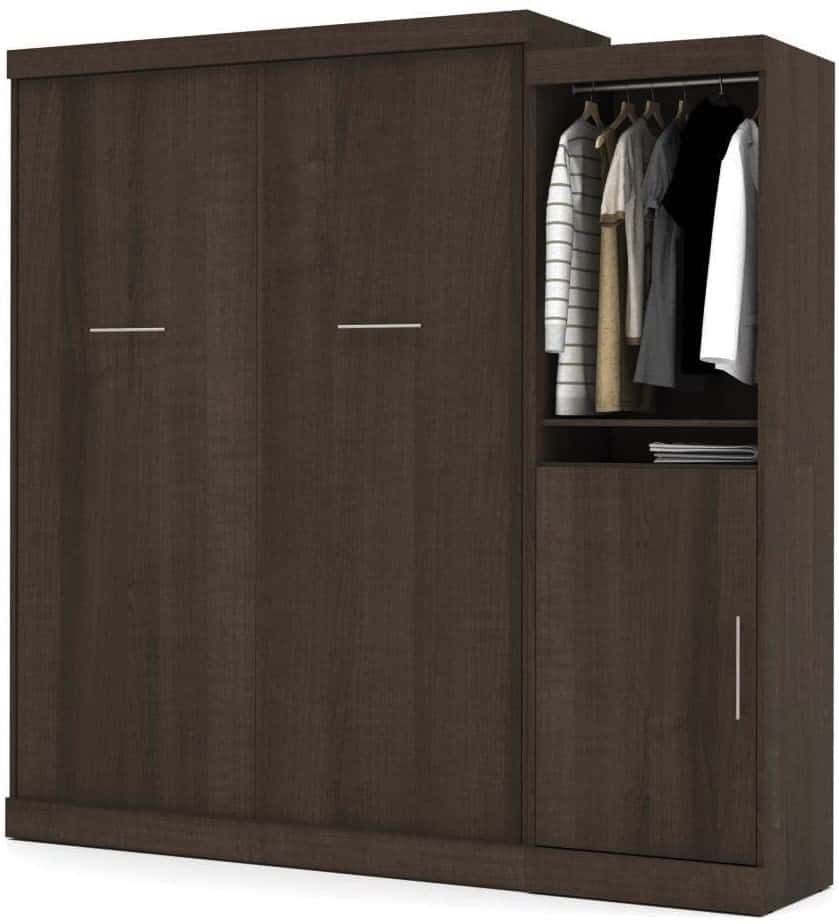 Pros and Cons of Using Murphy Beds in Exercise Rooms
Using Murphy beds in exercise rooms comes with several pros and cons.
Using a Murphy bed in your exercise room allows you to use your guest room as an exercise room, incorporate a mirror into your bed, and use cabinets to store gym equipment. However, you need to move your gym equipment to open the bed and without proper ventilation your bed will start growing mold. Make sure to match the murphy bed design to your exercise room decor.
If you only have one spare room in your home and you can't decide if a home gym is more important than a guest room, a Murphy bed is your ideal option. You can easily use a room as both a home gym and a guest room with a Murphy bed. The best part is that when you are using the room for exercise, the bed will not make the interior look odd. Additionally, if your room has a low ceiling, check out these 5 Murphy bed options for rooms with low ceilings too.
The gym equipment in your exercise room might have to be moved every time you open up your Murphy bed, to create space for it. This movement can result in damage to the equipment; however this problem can be avoided if the space in front of the Murphy bed is kept clear even when it is not open. You can also reserve that space for exercises that only require a mat or just get a murphy bed with cabinets like this one to store your equipment when you move it.
Some more pros and cons of using Murphy beds in exercise rooms include:
| | |
| --- | --- |
| Advantages of Using Murphy Beds in Exercise Rooms | Disadvantages of Using Murphy Beds in Exercise Rooms |
| Exercise mirror can be incorporated into the bed design, saving the extra wall for a painting or poster | Rubber flooring for exercise rooms won't go with the Murphy bed |
| Murphy beds designed with cabinets can provide space to store your gym mats and towels | Proper ventilation and sunlight are required |
| Wooden floor required for exercise can aesthetically complement the Murphy bed | You may need to constantly move gym equipment |
Which Rooms Should You Convert to Exercise Rooms with Murphy Beds?
Why pay heavy fees for gym membership when you can have your own gym at home? The only question is which room is best to use as an exercise room, and the options are many.
Convert guest rooms, kids rooms, studios, home offices, libraries, and studies into exercise rooms with a murphy bed.
Guest rooms can easily be converted into exercise rooms. A great advantage of converting the guest bedroom into an exercise room with a Murphy bed is that you can treat your guests to a regular mattress bed rather than a pull-out mattress or a mattress on the floor. With the right design of the side cabinets around the bed, you can perfectly decorate the room for your guests. You can also keep your exercise gear or yoga mat inside the Murphy bed's cabinets. Mount a simple mirror like this one to the cabinet on this murphy bed and you can create a guest room and exercise room with one multifunctional piece of furniture.
You could also convert your kids' bedroom into an exercise room with a Murphy bed. When your kids go to school in the morning, you can fold the bed back into the wall and use the space for your morning workout. When your kids move out for college, you can use the room for exercise, and if you don't have an extra bedroom for guests in your house you can use the same room as a guest room. A cute horizontal murphy bed like this one is great for a child to sleep in and can tuck away into the wall when your child is at school.
You can use your studio or home office for exercise by adding a Murphy bed, which can be your work desk when folded into the wall. All you need to do is to find a smart-design Murphy bed that offers both a desk when folded up and a full bed when unfolded.
Home libraries or study rooms are also great to convert into exercise rooms. You can keep all your books on the cabinet shelves of the Murphy bed, which stay in place even when the bed is unfolded. This vertical murphy bed can double as a bookcase in your study and can allow you to convert your study into an exercise room. It's a great murphy bed for an exercise room!
Related artiles:
How Do You Choose the Best Murphy Bed for an Exercise Room?
There are a number of factors that should be considered when choosing a Murphy bed for your exercise room.
The best murphy bed for an exercise room should have mirrors, fit the floor space and ceiling height of your exercise room, have plenty of storage for clothing or equipment, and be durable enough to be closed and opened every day when you exercise.
The size of the exercise room matters when choosing the design and type of the Murphy bed, because the bed should look stylish and proportionate in both the folded and unfolded positions. Choose the right wall where you want to mount the bed, according to the lighting, windows, and stud placement. Depending on if your wall is solid or not, there are different solutions to fix your bed to a solid wall or plywood partition.
Another important feature in your exercise room is the mirror. You need a large mirror, almost the size of a wall, in your exercise room to make sure that you are doing every move correctly. If you already have a large mirror installed, that's perfect; but if not, you can choose a mirrored cabinet Murphy bed that can further enhance the look of your exercise room.
Getting a Murphy bed with storage shelves on the side can help you store and display your gym equipment, while at the same time enhancing the gym feel.
Following are some examples of Murphy beds that you might like for your exercise room:
Murphy Bed Ideas for Workout Rooms
We know that Murphy beds are a great idea for multifunctional workout rooms and there are a lot of different ways in which your Murphy bed can accentuate the look of the workout room. We have compiled a list of a few Murphy bed ideas and how they can be used in an exercise room.
Murphy bed ideas for workout rooms include beds with mirrored cabinetry, beds with side storage shelves, beds with sliding doors, beds disguised as lounge furniture, and beds with desks.
1. Murphy Bed with Mirrored Cabinetry and Storage Shelves
If you are into classic, vintage dark wood interiors, this Murphy bed could be a perfect design inspiration for you.
Mirror beds with mirrored cabinetry are a great idea that give your exercise room a vintage look and blend the mirror with your wood flooring perfectly.
This bed is very compact when folded up and integrates your mirror into the design of the room. For an idea of how hard it is to install this kind of a bed, take a look at a user guide like this one.
2. Murphy Bed with Side Storage Shelves
This idea is very minimalistic, yet fully functional, and includes a lot of shelf space for your exercise gear, towels, or books.
Murphy beds with side storage shelves are a great idea for exercise rooms because they offer lots of extra storage space for your workout equipment, mats, towels, and more.
Using a white Murphy bed set-up can make the exercise space look more open and give it a fresh feeling.
3. Murphy Bed with Sliding Doors
It can be a hassle emptying the cabinets that are on the back of your Murphy bed every time you pull it down. With sliding-door Murphy beds, you don't ever have to do that!
Murphy beds with sliding doors are a perfect idea for creating a multi-functional exercise room. You don't have to remove anything from the cabinets when you open up the bed, because all the shelves and cabinets stay in place when the mechanism unfolds.
If you are an avid book-lover and exercise enthusiast, you can use the front cabinets to display your books and the back cabinet to pack up your exercise gear. When you open the bed, your exercise gear will automatically be concealed behind the sliding doors. Make sure to take a look at our related article, how to hide a bookcase bed, for some additional tips and tricks as well.
4. Murphy Bed Disguised as A Cabinet, Dresser, or Desk
Not all Murphy beds have to be mounted on a wall. The classic wooden Murphy wood shown above comes disguised as a wooden cabinet.
Murphy beds disguised as lounge furniture are perfect for exercise rooms because they are small, subtle and, unlike beds mounted to a wall, can be shifted around the room after installation.
This type of Murphy bed is great for an exercise room as it can be moved anywhere in the room. Instead of moving your heavy gym equipment, you can simply move the bed. This kind of bed also takes up less space in its folded form.
5. Murphy Bed with a Desk
Using a simple and compact Murphy bed like the one above will be a good option if you are going for a minimalistic style.
Murphy beds with desks are perfect for exercise rooms because they take up a very small amount of space when closed. These beds also allow your exercise room to serve as a home office.
If you have limited space in your exercise room and don't want it to be too crowded, this is a great option for you. The bed serves as a desk in its closed form, which means that you can use the extra room in your house not only as an exercise and guest room, but also as an office. You can refer to these instructions for an idea of how to install traditional murphy beds and you can also find our step-by-step guide on how to replace a Murphy bed mattress here.
Ideal Home Gyms for Murphy Bed Rooms
Everybody has their own fitness goals and workout motivations. Your choice of equipment and home gym station depends largely on your fitness goals.
Ideal home gyms for murphy bedrooms will provide you a total body workout and fit into the available room floor space and ceiling space. Make sure that the height of your home gym is less than or equal to the height of your murphy bed (for vertical murphy beds). This will help you ensure that your home gym will fit into your murphy bed room.
Home gyms and Murphy beds perfectly complement each other. Mirrors and storage can easily be incorporated in the Murphy bed so it can serve a dual purpose and save you extra space and money.
If you don't have a mirror in the room already, use the mirrored cabinet Murphy bed and use the extra cabinets for storage for yoga mats or towels. You can use wooden flooring instead of rubber flooring inside the exercise room so that it can match your Murphy bed.
Below are three examples from Amazon of ideal home gyms for Murphy bedrooms:
| | | |
| --- | --- | --- |
| Product Name and Link to Amazon | Why is this a Great Home Gym For a Murphy Bed Room? | Approximate Price |
| Fitness Hub Home Gym Station | Rooms with vertical murphy beds have sufficient height for this complete home gym. Plus the price tag is really nice! | $440 |
| Marcy Smith Home Gym | A Queen sized murphy bed will be approximately 85 inches tall when folded up. The Marcy smith home gym stands only 70 inches tall (so it will fit your room's ceiling height!), and provides you with all the equipment you need to exercise. Make sure that if you get a "short" murphy bed, you also get a short total gym solution like this one. | $1800 |
| Marcy Pro Smith Home Gym | The pro version of the Marcy Smith also will fit inside a room that has a murphy bed because a queen sized vertical murphy bed will be at least 85 inches tall. This total gym matches the bed and is also 85 inches tall. | $2300 |
For a complete guide to murphy bed frame, mattress, and bedding sizes, take a look at our article. Try to match your total gym's height to the murphy bed frame to ensure that it fits inside your room. Rooms with slanted ceilings are the exception to this.
If you don't have an exercise room in your home, you may also be interested to see these 15 Murphy bed ideas for studio apartments, campers, and RVs for some more ideas.
Disclosures
This website is a participant in the Amazon Services LLC Associates Program, an affiliate advertising program designed to provide a means for us to earn fees by linking to Amazon.com and affiliated sites.