Ways to Repurpose a Sleigh Bed – 9 Simple Ideas
Although it's always exciting to replace furniture, doing so can be quite expensive. However, there is a way to kill two birds with one stone. If you're replacing your old sleigh bed with a new one, check out these simple ideas for repurposing a sleigh bed. In this article, we'll show you how to repurpose a sleigh bed to create a new piece of furniture by upcycling your old sleigh bed instead of throwing it out.
It is possible to repurpose a sleigh bed by converting it into a sleigh bed bench, headboard hanging rack, dining banquette bench, lounge chair, sofa, dog bed, corner bench, storage bench, or beverage bar.
Most people aren't aware of the many ways they can repurpose old furniture, which is why they tend to dispose of it, either by selling it or giving it to someone else. Any piece of furniture can be repurposed, but sleigh beds are especially suited for repurposing because of their unique shapes. You can convert a sleigh bed into a fabulous piece of furniture and utilize its ornate curves. Read our article on how to disassemble a sleigh bed so that you can have all your pieces ready before you start your upcycle project.
What Is a Sleigh Bed?
Sleigh beds go back to the 1800s as discussed in this publication about sleigh beds, but both traditional and contemporary styles of sleigh beds are still very trendy today. A variety of sleigh bed styles are available to meet everyone's taste and to fit in with any bedroom style. For a traditional bedroom, for instance, a classic wooden sleigh bed will be the best choice. For a modern bedroom style, an upholstered or low profile sleigh bed will look perfect.
A sleigh bed is a style of bed with the head and footboards curved slightly upward in the shape of a sleigh or sled, creating a dramatic focal point in a bedroom.
Sleigh beds like this are available in different sizes such as King-size, Queen-size, Double-size, Twin-size, and Full-size. Read our detailed guide to sleigh bed dimensions to learn more about the various sized sleigh beds. How you repurpose your sleigh bed will depend heavily on its size. As we explain below, making a dog bed will require a much smaller sleigh bed than making a sleigh bed bench.
1. Sleigh Bed Bench
A sleigh bed bench is one of the most elegant pieces of furniture that can be made out of a sleigh bed. Below we tell you some general steps, but if you want a more in-depth article, have a look at this tutorial.
First, sand the headboard of your bed down and remove any damaged layers of wood to make the surface as smooth as possible. Try to remove any surface imperfections for better results when painting. You can use an electric sander like this to sand the entire bed frame.
Before the headboard is totally ready for use you'll need to cut several inches off the headboard legs.
Next, use this jigsaw to trim the footboard legs to match the headboard legs.
For the final step, give your bench two coats of paint and let it dry.
Instead of disposing of your old sleigh bed, you have now transformed it into a beautiful new piece of furniture for your home.
2. Headboard Hanging Rack
Converting your sleigh bed into a headboard hanging rack is a very practical idea. You can use your sleigh bed headboard to create this useful piece. We've covered the general steps below. You can find detailed steps in this linked article.
Start your process by preparing the headboard for painting by sanding using a sanding block and sandpaper-like this, so it is completely smooth.
Paint the headboard with a color of your choice. Check if the headboard needs more than one coat of paint for better coverage. This chalk paint provides excellent coverage and comes in many colors. Look at this preparation guide from a chalk paint supplier, The Purple Painted Lady, before applying chalk paint.
Add these hooks for hanging items. This is a very simple process, just be sure to mark the places where you want to add the hooks, keeping them all on the same level.
You can decorate the headboard hanging rack by adding a shelf as you can see in the image above, and use it for adding small flower pots or framed pictures. The headboard of a sleigh bed already has a unique, elegant shape that will look perfect on the wall even without any decoration.
3. Dining Banquette Bench
Another idea for repurposing a sleigh bed is to turn it into a dining banquette bench. A banquette adds a warm, cozy touch to any room. Instead of buying a new one, you can save money by making it out of your old sleigh bed. Read our article on 5 methods to transform a sleigh bed into a bench for even more ideas. Follow these steps to create a comfortable dining banquette bench.
Follow the same steps necessary for creating a bench out of a sleigh bed. You won't need to sand the headboard or the bed frame because the whole thing will be upholstered in fabric. A banquette won't need armrests, so the next step will be to upholster the frame. This YouTube video gives details, and we're just going to discuss the general process below.
Staple the batting to the wood frame using this staple gun. Trim the excess for a neater, more professional look.
Now you'll need to add the fabric layer on the top and staple it again to the batting, foam, and wooden base.
Repeat the same process with the headboard of the bench. You can make the headboard tufted by adding buttons using a cover button kit like this. Make a hole at each desired location in the fabric for a tufted look, and make sure the spaces between holes are equal. Add a threaded button to each hole and feed the thread through the holes into the foam until you reach the wooden base. Staple the thread to the wooden base, and repeat the process with the other buttons until you have a neatly tufted headboard.
4. Lounge Chair
A lounge chair is an elegant, sophisticated piece of furniture that will add a touch of class to any home. Imagine if, instead of tossing out an old sleigh bed, you turned it into this gorgeous lounge chair. Here is a tutorial on how to construct your own lounge chair from a sleigh bed.
First sand the headboard down for a smoother surface. Make sure to remove any bumps on the surface to guarantee that the paint looks perfect.
Using a circular saw like this, divide the headboard into three parts: a back and two side arms. You will need them to add the wooden platform which will feature an upholstered seat.
Assemble the three parts together by placing the arm pieces on either side of the back piece. Use nails or screws to keep the pieces in place.
Add the platform and upholster it using the steps in the Banquette bench example above, by adding foam, then batting, and then stapling it together.
After you have constructed the chair, give it a coat of paint with this type of paint, and enjoy an elegant lounge chair made out of a sleigh bed.
5. Sofa
You can turn your old sleigh bed into a sleigh sofa instead of dumping it into the trash. You'll just need to follow some easy steps. The process is very similar to the process of creating a bench. Read our article on how to turn a sleigh bed into a couch for step-by-step instructions.
Get the head and footboards ready by sanding them.
Divide the footboard into three parts. The headboard becomes the back of the sofa, the side rails become the armrests of the sofa, and the base is made from a platform that has the legs of the original sleigh bed screwed in.
When planning, adjust the height of the sofa because it will differ from your bed height.
As a final step, add the upholstery to the sofa, decorate it with elegant cushions like these, and enjoy a new, fabulous piece of furniture.
6. Dog Bed
It might not be an obvious choice, but you can convert your sleigh bed into a beautiful dog bed. All you have to do is to repurpose the head and footboards of your bed.
If your bed is twin size, you won't need to cut the head or footboards, you'll just need to cut the legs to lower the bed so that it is the appropriate height for your dog.
If your bed is not twin size, make the head and footboard narrower and shorter to make them suitable for your dog.
Use a wooden platform and attach it to the head and footboards to form the base.
Use foam to make a mattress for the bed. You can decorate the bed by using some of these dog toys and you'll have it all ready for use.
7. Corner Bench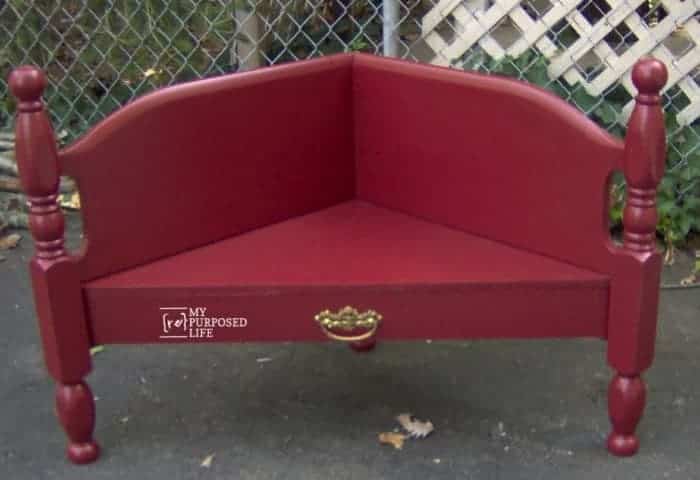 A corner bench is a wonderful piece that can be used in many places in your house. You can repurpose your sleigh bed to make it into this useful corner bench. All you need to do is to follow these steps.
First, divide the headboard into two parts.
Attach the two parts together at a right angle, using a set square like this, and then add a platform for the seat.
You'll then need to add a third leg for the bench back in the corner. You can either use one leg of the footboard or use any piece of wood that is similar in shape to the other two legs. The whole thing will be painted in the same color in the end.
Make sure that the third leg you add is the same length as the two other legs. It will also be used to support the back corner joint.
The next step is to add a seat for your bench. Make sure that you calculate the angle properly and take accurate measurements of the seat using a tape measure like this. You can also upholster the seat with foam and fabric.
Finally, give your corner bench a coat of paint and enjoy this amazing piece made from your fabulous sleigh bed.
8. Storage Bench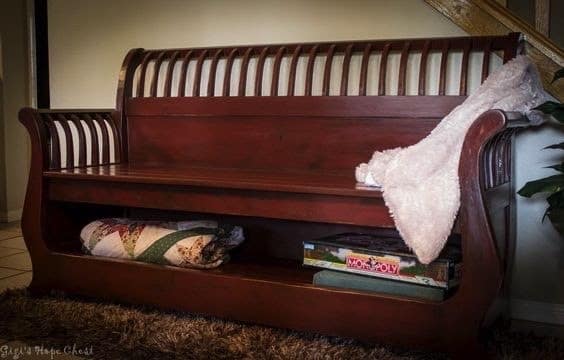 This elegant sleigh bench is made from an upcycled sleigh bed. If you want to repurpose your own sleigh bed, you too can turn it into a sleigh bench with storage by following this tutorial.
Sand the head and footboards as well as the bed frame thoroughly before you begin. This will affect the final look of the bench after painting.
Divide the footboard into suitable parts to be used both as armrests and legs for the bench. Great results depend on taking accurate measurements at this point.
Build a storage space for your bench by adding a wooden base attached to the headboard and the footboard sides. In the image above, they used a second platform and rail to create the little cubby beneath the bench.
Add the seat in the position of your choice. You can either keep the storage part open, or attach pull-out drawers, by using a drawer rail kit like this.
9. Beverage Bar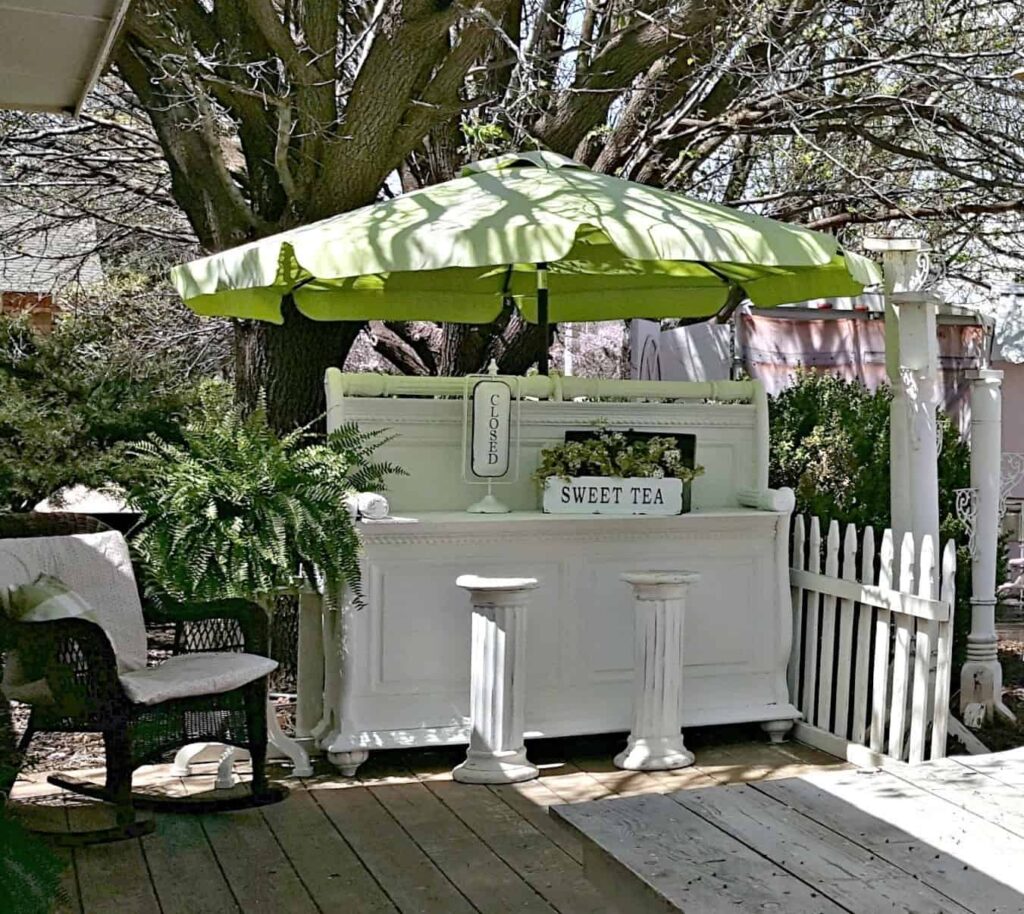 An easy and unique idea for repurposing a sleigh bed is to turn it into a beverage bar. The steps are easy because there is no need to cut any of the head or footboards. All you need to do is to attach them together and add a countertop. Then paint the whole item with your favorite color and enjoy this amazing piece.
When To Repurpose A Sleigh Bed
Sleigh bed designs can range from sleek and modern to ornate and detailed, which is why they are easily converted into fantastic focal pieces of furniture. Read our article on sleigh bed pros and cons to find out why these timeless beds are still so popular and are uniquely suited for upcycling projects.
Repurpose a sleigh bed when it is damaged, when it is being replaced, or if new furniture is needed.
Reason 1. If Your Sleigh Bed is Damaged
One of the main reasons people change their bed is because it is damaged. You can easily make use of the undamaged parts by turning them into any of the previously mentioned items. You can also give an old sleigh bed a makeover with our inspiring ideas in this article that provides methods to modernize a sleigh bed.
Reason 2. If You Are Replacing Your Sleigh Bed
If you want to replace your sleigh bed, you can repurpose your old one and convert it into the furniture piece of your choice. A repurposed sleigh bed can be used both indoors and outdoors. Read our article on how to turn a sleigh bed into a porch swing for details about using your sleigh bed outside.
Reason 3. If You Are Looking for New Furniture
Many people like to renew their bedroom furniture every now and then. In this case, the bed is usually in very good condition. You can repurpose your sleigh bed and turn it into an interesting and original piece of furniture.
How to Choose a New Sleigh Bed to Replace Your Old One
When you're replacing your old sleigh bed with a new one, you need to pay attention to the dimensions and the style of the bed.
When choosing a new sleigh bed to replace the old one, determine the correct dimensions, and select a style that coordinates with the decor of the room.
You can either choose a new bed that is the same size as your old bed or you can purchase a different size to change things up a little. Read our article on sleigh bed sizes and styles to help determine what sleigh bed suits your needs. When you consider the style, remember that the style of your bed has a huge impact on how your room looks. Choose a style that matches both your bedroom's decor and size.
Determine Sleigh Bed Dimensions
Before buying the new bed, determine the dimensions of your old bed using a measuring tape. Place one end of the measuring tape on the floor and the other on the tallest part of the headboard to measure the height. Try to get a sleigh bed that is as tall as your old sleigh bed or shorter (for a more modern look). Place the tape measure down the center of the bed from headboard to footboard to determine the length. Then measure the width by placing one end of the tape at the right edge of the bed and the other at the left edge of the bed. Write down the measurements and refer to them when choosing your new bed. It is important that your sleigh bed and mattress have the same dimensions. Read our article on how to choose a sleigh bed mattress height that will compliment the curved headboard and footboard of your bed.
A Summary of Sleigh Bed Sizes
Choose Your Favorite Sleigh Bed Style
Many think that a sleigh bed comes only in its wooden traditional form, but there are many more styles of sleigh beds made of different materials. In addition to the traditional wooden sleigh bed, there are upholstered sleigh beds and storage sleigh beds, all of which are unique and beautiful in their own way. Some of them, such as the upholstered style, are suited to a more contemporary bedroom. Others, such as the traditional wooden style, will look best with a traditionally decorated room. Read our article about six different sleigh bed styles to learn more about the modern variations of sleigh beds.
Here are the three most common sleigh bed styles:
Style 1. Upholstered Sleigh Bed
The upholstered version is a modern take on the traditional sleigh bed. It is a sleigh bed that is upholstered in fabric. The whole bed frame including the head and footboard are upholstered in luxurious fabrics like leather and suede, in addition to other materials. Buy this style of sleigh bed if you like sleigh beds but want to add a modern touch to suit a contemporary bedroom style. This tufted upholstered sleigh bed adds a touch of old-world charm to a classic bedroom.
Style 2. Storage Sleigh Bed
A storage sleigh bed is a practical style of bed that features pull-out drawers in the frame. The drawers can be very useful for storing items like pillows, blankets, etc. It adds a surprisingly modern touch to the traditional sleigh bed style. This storage sleigh bed fits perfectly in a contemporary bedroom.
Style 3. Traditional Wood Sleigh Bed
This style of sleigh bed has a simple and classic design. It doesn't usually feature any decorations and is known for the wooden material that gives it its traditional look. A traditional wooden sleigh bed fits perfectly in traditional bedrooms. It can give your room a vintage, cottage-like look that you won't regret. A sleigh bed like this can add a classic touch to a child's room.
Below is a summary of different types of sleigh beds with their prominent features:
Disclosures
This website is a participant in the Amazon Services LLC Associates Program, an affiliate advertising program designed to provide a means for us to earn fees by linking to Amazon.com and affiliated sites.