What Is a Sleigh Bed? A Guide to Different Styles and Sizes
Choosing a suitable bed for your room is important not only for a good night's sleep, but also because the bed determines the style and tone of the room. The bed is the largest piece of furniture in the bedroom, so its design is central to the overall look of the room. A popular bed design that makes a statement is the sleigh bed. In this article we will answer the question "what is a sleigh bed" and give you tips on sleigh bed styles, how to fit a sleigh bed to your room, and how to make a sleigh bed look modern.
A sleigh bed is a style of bed that looks like a sleigh or sled because it has a headboard and footboard that curves outward. The head and footboards can have exaggerated curves for a more traditional look or slightly understated curves for a more modern look.
Sleigh beds—as we now know them—were first introduced around 200 years ago. They were a neoclassical design inspired by the empire-style of ancient Rome and Greece, which was popular in the 1800s. The sleigh beds of that period were highly elaborate with elevated head and footboards that were decorated with intricate carvings.
Nowadays, wood is the most common material for traditional sleigh beds. However, sleigh beds are also made from a variety of materials like aluminum, iron, and steel—and they can be upholstered in an array of fabrics too. Choosing the material of your sleigh bed depends on your room decor and personal style, and whether you want your room to look more traditional or contemporary. Read our article on six sleigh bed styles that will help you decide which type of sleigh bed will match your bedroom's design.
Different Styles of Sleigh Beds
It's difficult to answer the question "what is a sleigh bed" without discussing styles of sleigh beds. Although sleigh beds originally emerged as a neoclassical style, they've evolved into such a broad range of variations that they can suit nearly any sort of decor or need. This flexibility is part of the reason for the sleigh bed's continuing popularity.
Sleigh bed styles include upholstered sleigh beds, British Colonial sleigh beds, traditional wood sleigh beds, traditional sleigh beds, contemporary sleigh beds, sleigh beds with built-in storage, wrought iron sleigh beds, and sleigh bed style cot beds.
The wide range of styles means that no matter what your needs or style requirements, there is probably a sleigh bed that will match.
1. Upholstered Sleigh Bed
Sleigh beds can be upholstered in a wide range of fabrics that can suit any kind of look. Upholstered sleigh beds can be sleek and modern or ultra soft and luxurious. They can be simple and clean or beautifully tufted with button studding.
When choosing a fabric upholstered sleigh bed, it is important to consider how the material covering will hold up to the daily wear and tear that the bed is subjected to. Materials such as leather may become scratched over time, and would need specialized leather treatment solutions to maintain their texture. Other materials like suede upholstery may be difficult to clean, and will require the services of professional furniture cleaners. This article from the Mugla Journal of Science and Technology discusses upholstery fabrics as a design element in interior spaces and how the textile properties hold up to continuous use and their stain proof properties.
Upholstered headboards have dampening properties that can absorb some sound in a large echoey room—which helps to create a quiet and calm environment for relaxing sleep. Depending on the amount of padding under the fabric covering, an upholstered headboard can also offer a comfortable backing to lean against while reading in bed.
2. British Colonial Sleigh Bed
The British Colonial style sleigh bed is known for its heavy and formal designs inspired by the Victorian era. It evokes the opulent atmosphere of a bygone era. A British colonial sleigh bed is a traditional style of sleigh bed made entirely of wood—usually heavy, refined wood. It has a plain but formal appearance.
This traditional style might look contradictory in a modern-day interior, but its elegant look can elevate the look of a room with more classical room decor. It can also add a romantic aesthetic in a bedroom with Victorian decor elements.
3. Traditional Wood Sleigh Bed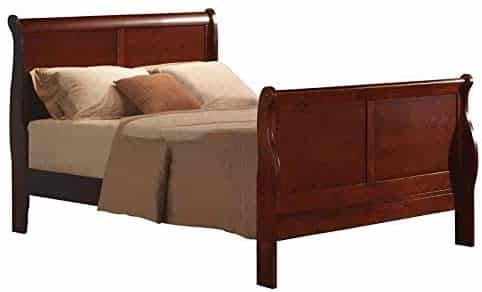 A traditional sleigh bed is quite similar to the British Colonial sleigh bed in appearance. However, the traditional sleigh bed is simpler in style because it doesn't usually feature any decorations in its design. It is made of heavy wood with a headboard and footboard that curve outwards at less exaggerated angles.
A traditional sleigh bed fits well in a traditional bedroom style. It can also give your room a vintage cottage-like look. A traditional sleigh bed will make your bedroom look simple, comfortable, and classic.
4. Contemporary Sleigh Bed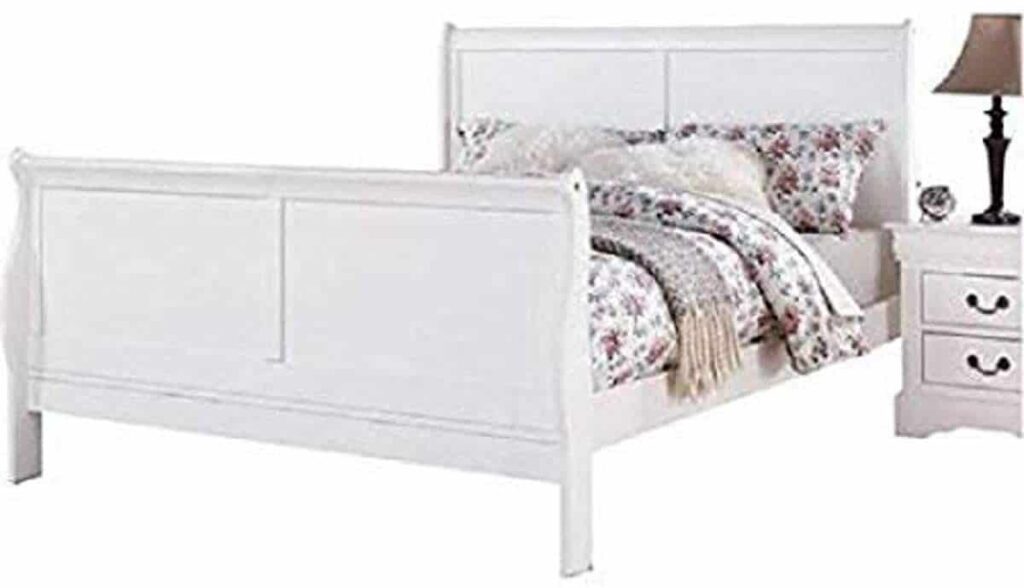 Contemporary sleigh beds can preserve the traditional look of a sleigh bed but with a slightly modern touch, resulting in a bed style that can move easily between traditional and contemporary bedroom styles. Often, the finish on the bed is what adds that contemporary touch to the traditional wooden sleigh bed. A white sleigh bed, for instance, looks equally stunning in both traditional and contemporary bedroom interiors.
5. Storage Sleigh Bed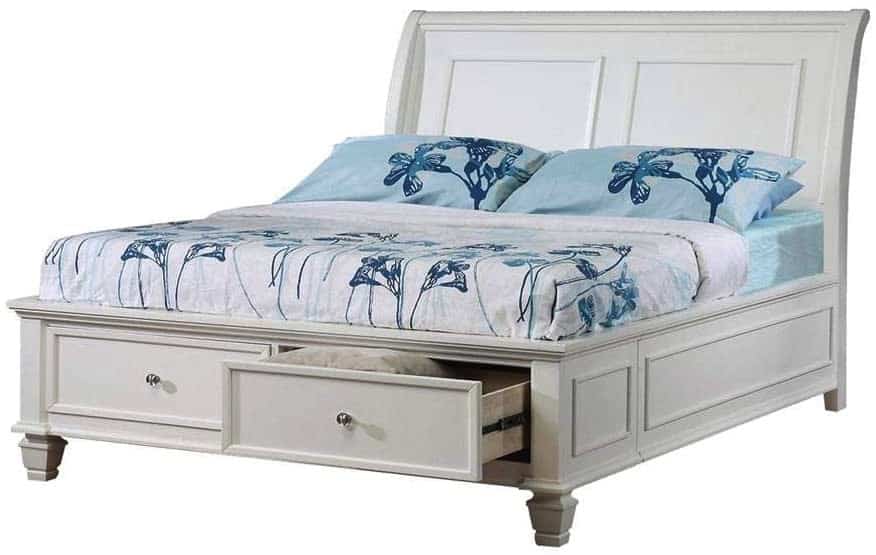 One of the issues with many sleigh beds is that the design restricts access to the potential storage space under the bed. Others expose the area under the bed but this can make the room look cluttered if there are items stored under the bed. A storage sleigh bed is a practical yet luxurious variation of the sleigh bed style that is designed to solve this storage problem. These sleigh beds have a storage system in the bed frame, featuring one or more pull-out drawers either in the side or footboard. The drawers provide you with enough space to store your extra pillows, blankets, and other bedroom items.
Buy a sleigh bed with built-in storage if you need a practical solution to make use of every single space in a smaller bedroom. Read our article on tips to use a sleigh bed in a small apartment for more ideas on maximizing your space when choosing a sleigh bed. Sleigh beds with built-in storage are a great choice if you're looking for a practical bed for storage while preserving the neat, opulent look of your bedroom.
6. Wrought Iron Sleigh Bed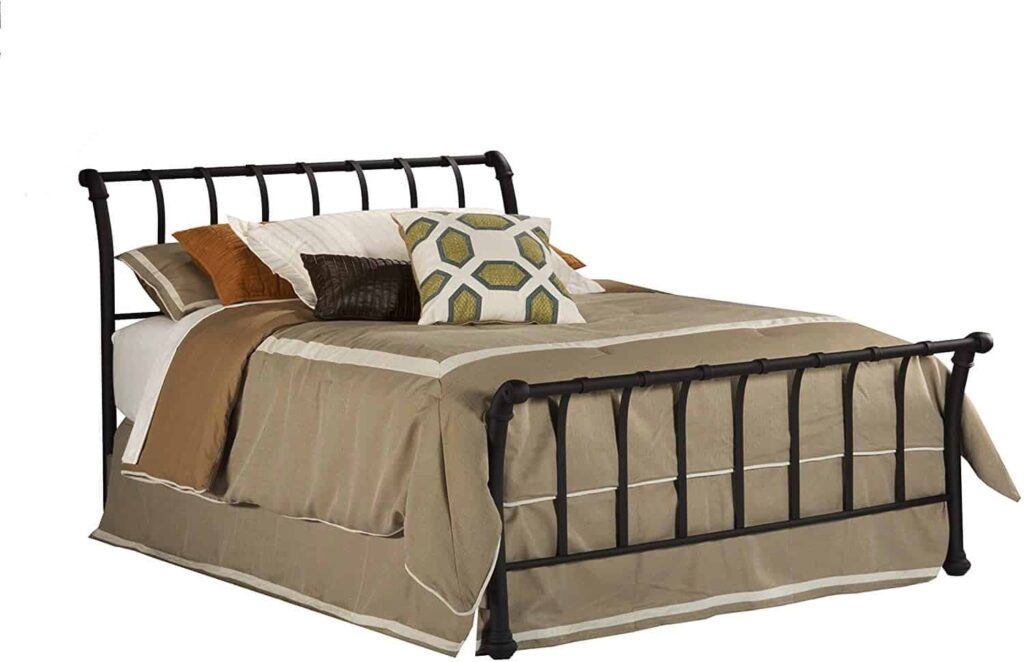 A wrought iron sleigh bed is a timeless bed style that can perfectly match both contemporary and traditional bedroom interiors. It can bring elegance and beauty to your ordinary bedroom. The construction of a wrought iron sleigh bed will maintain its luster over time because it is made of solid iron that can withstand significant weight and use. Wrought iron sleigh beds are robust and easier to clean.
On the other hand, some people may still prefer the warmth offered by wooden beds, because wrought iron looks cold. It's one of the main drawbacks of this style. But for those who truly want an industrial or rustic look, wrought iron sleigh beds can be custom molded with any design of your choice. You can choose your favorite design and get it made for you by accomplished craftsmen. This full metal sleigh bed frame from Amazon is a wonderful bed if you are interested in an industrial-look for your bedroom.
7.Crib Sleigh Bed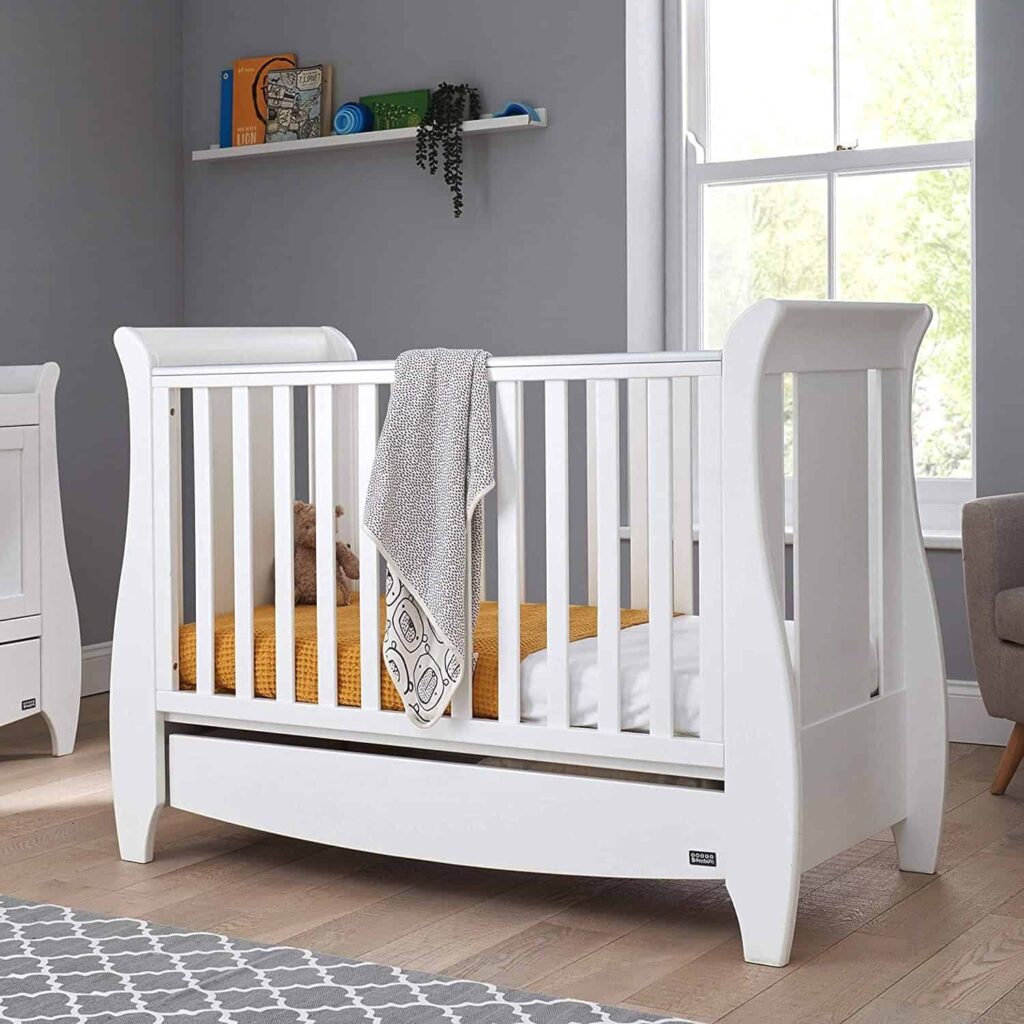 A crib version of a sleigh bed can be suitable for kids from birth up to the age of 4 years. Generally, sleigh crib or cot beds are built in a classic but still contemporary style of cot bed that can fit perfectly in a modern or a classic kid's bedroom or nursery. Read our article about cot bed sizes and their mattress sizes for more information about cot beds.
Use a sleigh cot bed if you want to add this classic look to your child's bedroom, but be careful to follow bed safety precautions as discussed in this article from Informit titled, "Safe sleeping for babies and toddlers." Do not place your sleigh crib bed near a window, and do not use more than one mattress in the sleigh cot bed even if you feel that it is a bit low. The lower the sleigh crib bed, the safer it is for your baby.
Below is a comparison between the different sleigh bed styles:
You may also find interest in our related article explaining sleigh bed pros and cons. Make sure to check that article out too. Did you know that you can also repurpose your sleigh bed when you're done with it? Take a look at these 5 methods to turn a sleigh bed into a bench and how to turn a sleigh bed into a couch. But now, back to sleigh beds!
Dimensions of Sleigh Beds - Size and Height
In the section below you'll notice that sleigh beds are much larger than their platform bed cousins. They are wider, longer and taller. The height of your sleigh bed is as important as its size. Sleigh beds come in both high and low rise versions. High-rise sleigh beds are often used in spacious rooms with high ceilings. On the other hand, low-rise sleigh beds fit perfectly in smaller rooms with low ceilings. If you want your room to look more contemporary, choose a low-rise sleigh bed. If you want your room to have a traditional look, then choose a high-rise sleigh bed.
King size sleigh bed dimensions are typically 84.5" L x 84" W x 54" H. Queen size sleigh beds typically are 84.5" L x 66" W x 54" H. Twin size sleigh bed dimensions are typically 84" L x 41.2" W x 54" H. Double/full-size sleigh beds are typically 83" L x 56.5" W x 54" H and California king sleigh beds are typically 80.5" L x 88" W x 54" H.
Use a low sleigh bed if you want your room to look more spacious and contemporary. Use a high sleigh bed if you need to use the space under the bed for storage and want your room to look more traditional.Read our detailed guide on sleigh bed dimensions for more information about what size sleigh bed would best suit your space.
If you have back problems then bending to get into and out of a low sleigh bed could place strain on your back. For more information about sleigh bed heights read our sleigh bed height guide.
1. Twin Sleigh Bed
Twin sleigh bed dimensions are typically about 84-inches length x 41-inches in width and 54-inches in height. A twin sleigh bed is the smallest of all adult sizes. It is a great choice for both children and teenagers and only fits one person. It also fits perfectly in smaller bedrooms and looks great when coupled with another twin size bed in a larger bedroom.
2. Double / Full Sleigh Bed
Double / full sleigh bed dimensions are typically 83-inches long x 56-inches wide and up to 54-inches high. Double and full sleigh beds are the same size. They are narrower than king and queen size beds but can still be ideal for two people and a small pet. They are perfect in relatively small bedrooms.
3. Queen Sleigh Bed
Queen sleigh bed dimensions are about 84-inches in length x 66-inches in width with up to 54-inches in height. Queen sleigh beds are much narrower than king sleigh beds. However, they can still fit two people comfortably.
4. King Sleigh Bed
King size sleigh bed dimensions are typically 84-inches long x 84-inches wide and up to 54-inches high. King sleigh beds are the largest in size. They are perfect for master bedrooms and for two people and a pet, with space to spare.
5. California King Sleigh Bed
California King size sleigh bed dimensions are typically 80-inches wide x 88-inches long and up to 54-inches high. A California king sleigh bed is a little bit different from a king sleigh bed. A king sleigh bed is actually wider than a California king sleigh bed while a California sleigh bed is longer, for taller people. This size sleigh bed can fit two people and a pet perfectly.
Examples Of Sleigh Beds And Their Dimensions
Did you know that many sleigh beds can be repurposed? Take a look at our related article that explains how to turn a sleigh bed into a porch swing for a detailed example.
Do Sleigh Beds Need Box Springs?
Many contemporary beds are designed to be used with a box spring. Sleigh bed designs can vary and some will have a sturdy platform to rest the mattress on. Read our article on sleigh beds and box springs for tips and tricks on when to include a box spring with your sleigh bed.
Sleigh beds generally do not need box springs because most sleigh beds have built-in frames designed to support a mattress. However, a sleigh bed will need a box spring if there are no slats or there isn't a platform to place the mattress on.
Most sleigh beds feature slats in the frame that are enough to hold a mattress in place with no need for a box spring. However, it is important to have the size of the mattress fit perfectly onto the bed frame and to ensure that the slats are not more than two inches apart from each other to ensure better support. Relatedly, you might find interest in our guide to sleigh bed lift kits to learn how to maximize the storage space underneath your sleigh bed too.
Are Sleigh Beds Out of Style?
Always a favorite, sleigh beds have been in style for several centuries, and there is no indication that sleigh beds are likely to go out of style any time soon. They have been redesigned to match contemporary bedroom styles and modern-day decor. Read our article about comforters for sleigh beds for ideas to decorate a sleigh bed.
Sleigh beds are still in style because their designs have evolved in ways that allow them to fit with modern-day interiors. The distinct silhouette of a sleigh bed lends itself to many design trends, with lower and sleeker profiles that enhance modern decor, and higher exaggerated shaped beds that compliment classic design trends.
There are many modern twists that designers have incorporated into sleigh beds styles—such as the low-foot end style and others with drawers for storage. Scandanavian designs include both metal and wood into the sleigh bed style to create a minimalist look that is very popular these days, like this one. Designs like these are indistinguishable from platform beds.
Ways to Change the Look of a Sleigh Bed
You might have a sleigh bed that looks more traditional than you would like. Fortunately, there are ways to update a sleigh bed so that it will fit a more contemporary bedroom. Simply think about color, texture, and shape when you are looking at a "dated" sleigh bed to see what might give it a new look.
To make a sleigh bed more modern, add wood, metal or other detailing, give it a fresh coat of paint, or add a bed canopy.
1. Add Wood or Metal Detailing
Typically, traditional sleigh beds are known for their plain, simple look. If you want a sleigh bed that is more decorative, you can add wood or metal detailing to it for a modern touch. It could be as simple as strategically adding some decorative metal nail heads. There are also carved wood appliques like these, that just need to be glued in place and painted a matching color to add decoration to a plain bed. There are also all sorts of textured papers and sheets from Amazon that can completely change the look of the bed.
2. Give It a Fresh Coat of Paint
The brown wood color of many traditional sleigh beds can easily be updated for a more modern look. Give your sleigh bed a fresh coat of paint in any color you like, like this Parisian grey paint. This will immediately update a traditional sleigh bed. You can also apply decorative paint finishes such as marbling for a real wow factor.
3. Add a Canopy Top to the Bed
Add a bed canopy to your traditional sleigh bed to turn it into an entirely different looking bed. Canopies can achieve almost any sort of look, from extremely traditional to exotic or ultra-modern.
Simply buy a ready-made canopy structure or drape your own custom fabric from the ceiling. Create your canopy and enjoy a cozy, warm atmosphere that will make your bedroom as comfortable and luxurious as you want. Canopies can be anything from gauzy and light fabric to heavy and ornate fabric. It can be a plain, simple gauze, a very pretty lacey confection, a sophisticated velvet cocoon, a rich royal brocade, and anything in between. Your imagination is the limit. For more ideas about sleigh bed decorating ideas read our article about unique ways to revamp your sleigh bed.
Disclosures
This website is a participant in the Amazon Services LLC Associates Program, an affiliate advertising program designed to provide a means for us to earn fees by linking to Amazon.com and affiliated sites.