A Detailed Guide to Sleigh Bed Dimensions
A sleigh bed looks similar to a sled or sleigh because its most notable design features are curved or scrolled footboards and headboards. Additionally, sleigh beds tend to have an ornate design, are made of wood, and are sturdy. Due to their curves, sleigh bed frames can be much larger than other bed frames such as platform beds. Sleigh beds are designed to be a centerpiece in a bedroom.
Sleigh beds feature tall, scrolled, headboards and footboards. King size sleigh bed dimensions are typically 84.5" L x 84" W x 54" H. Queen size sleigh beds typically are 84.5" L x 66" W x 54" H. Twin size sleigh bed dimensions are typically 84" L x 41.2" W x 54" H. Double/full-size sleigh beds are typically 83" L x 56.5" W x 54" H and California king sleigh beds are typically 80.5" L x 88" W x 54" H.
You can read our article on different sleigh bed styles to find out more about the various styles of sleigh beds. Additionally, make sure to reference our guide that answers the simple question, what is a sleigh bed?
What are the Average Sleigh Bed Dimensions?
Sleigh beds tend to be bigger than other bed frames because of their large footboard and headboard. Bed frame dimensions differ from brand to brand due to the height of the headboard and footboard. The length varies slightly as well, depending on how thick the headboard and footboard are. The width of sleigh beds is about the same as other types of beds. Another thing you should bear in mind is that upholstered sleigh beds are larger than wooden ones but still fit the same mattress sizes. Read our mattress size guide to help you find the correct mattress size for your bed.
1. Twin Size Sleigh Beds
Twin size sleigh bed dimensions are typically 84 in. by 41.2 in. by 47.5 in. This bed frame size fits one person. Due to its size, it's best for a child or a teenager. This twin size sleigh bed from Amazon is the perfect choice if you want to fit two beds in one room.
2. Full/Double Sleigh Beds
Double size sleigh beds are typically 83 in. by 56.5 in. by 54 in. They can fit 2 adults, but are probably better suited for a single adult or teenager. This full size sleigh bed is a great option for a young adult who might have outgrown their twin-size bed.
3. Queen Sleigh Beds
Queen sleigh beds are the perfect mixture between having a stunning sleigh bed while not occupying too much space in your bedroom. Queen size sleigh beds typically measure 84.5 in. by 66 in. by 54 in., and fit 2 adults perfectly. Worrying about your room not being spacious enough for a grand bed like a sleigh bed is no longer an issue with this queen size vintage-style metal sleigh bed.
4. King Sleigh Beds
A king size bed is the most popular bed size used in master bedrooms. King size sleigh bed dimensions are typically 84.5 in. by 84 in. by 54 in. It provides more personal space to a couple than a queen sized bed, even your child can crawl into your bed at night and it won't feel tight. Place a king size sleigh bed like this one in a room larger than 12 ft x12 ft.
5. California King Sleigh Beds
California king bed sizes are usually longer and narrower than a king-sized bed. California king sleigh beds are typically 80.5 in. by 88 in. by 54 in. Place California king size beds in a spacious room similar to how you would place a king size bed in a master bedroom. This California king sleigh bed is the most comfortable choice for taller people and even allows some space for your pet.
Sleigh Bed Dimension Comparison Chart
Below are examples of sleigh beds dimensions, prices, and most common users:
Did you know that you can always repurpose your sleigh bed when you're done with it too? If you're interested, take a look at these 5 methods to turn a sleigh bed into a bench.
Sleigh Bed Mattress Sizes
Sleigh beds do not require a special or customized mattress because of their extended frames, curved footboards or headboards. They utilize standard mattress sizes.
1. Twin Mattresses for Sleigh Beds
Twin mattresses usually measure 38 inches wide and 75 inches long, making them a perfect fit for a twin-sized sleigh bed.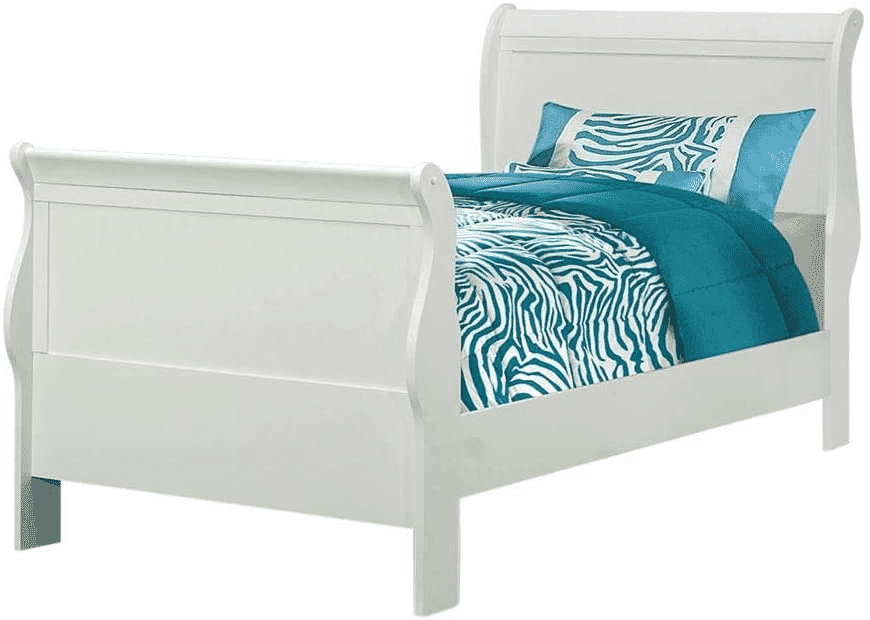 2. Full Mattresses for Sleigh Beds
Full mattresses—also known as double mattresses—are approximately 54 inches wide and 74 inches long. Full or double mattresses can be short and a bit narrow for adults, but are perfect for teenagers. The ebook, "Sleep for Success" by Dr. James Maas and Rebecca Robins of Cornell University discusses how choosing the right size and type of mattress ensures a sleeper doesn't feel cramped and restricted when sleeping.
3. Queen Mattresses for Sleigh Beds
Queen mattresses typically measure 60 inches wide by 80 inches long. Queen mattresses are slightly wider and longer than full mattresses. Compared to a king sized bed, they are smaller yet still allow couples to sleep comfortably.
4. King Mattresses for Sleigh Beds
King-size mattress dimensions are 76 inches wide by 80 inches long, and they require a large room. Most people need to hire movers to maneuver the large frame, especially if it is a sleigh bed.
5. California King Mattresses for Sleigh Beds
The California king mattress is 72 inches wide by 84 inches long, which is 4 inches narrower and 4 inches longer than a regular king. It is ideal for taller people. This California king size mattress from Amazon is a perfect fit for this size sleigh bed .
What is the Height of a Sleigh Bed?
Low sleigh beds have a modern appearance that will upgrade the appearance of your bedroom and provide an easy bed for a child or pet to reach. Conversely, this low height might be inconvenient for seniors or people who suffer from back pain. A tall sleigh bed gives that traditional luxurious look, along with a storage area underneath the bed. Standard sleigh beds combine the advantages of both beds by giving the bedroom an elegant appearance, providing a storage area, and offering a suitable height for almost all ages. For more information about sleigh bed heights read our in-depth article.
Sleigh bed heights range from 23 to 25 inches tall. Low sleigh beds are typically 8-20 inches tall, while a tall sleigh bed is typically 25-35 inches tall. Use a low sleigh bed if you want a more modern style. Use a standard sleigh bed if you need additional storage area under the bed.
1. Low Sleigh Beds
Typically low sleigh beds range in height from 8-20 inches tall. They also aren't available in traditional styles since traditional sleigh bed designs are meant to look grand. Instead, low sleigh beds have a wave-like design which makes them look modern, sophisticated, and stylish. They also come in different materials such as faux leather, wood, and upholstery. Low sleigh beds do not require a box spring to support the mattress. This modern sleigh bed with storage drawers is a great option for any size room and family.
2. Standard Sleigh Beds
A standard sleigh bed is higher than a low sleigh bed. You can find standard sleigh beds that range in height from 23 to 25 inches tall. This is a great option for people that suffer from back pain, are taller, or just prefer a higher bed. The sophisticated luxurious appeal that a standard sleigh bed adds to the bedroom is absolutely stunning, and goes with almost every bedroom style. They are available in different designs such as wood, metal, upholstery, and could be painted to change the whole look of the bedroom. Read our article on how to decorate your sleigh bed for tips on elevating the look of your room.
Sleigh Bed Height Comparison Chart
Below is a summary of low vs standard sleigh beds with examples:
| | | |
| --- | --- | --- |
| | Low Sleigh Beds | Standard Sleigh Beds |
| Height Range | 8-20 inches high | 23-25 inches high |
| List of Styles | Many low sleigh beds have contemporary wave-like designs | Traditional sleigh beds tend to be made with solid wood. Some of them have upholstery which makes them look more ornate. |
| Reasons to Choose This Bed Style | Modern contemporary look, easy for kids and pets to get on, gives more space in the bedroom. | Traditional luxury look, kind to your joints, suitable for tall people, looks grand and ornate |
| Product Example from Amazon | Hillsdale Furniture Springfield Faux Leather Sleigh Bed | Ashley Furniture Signature Design - Alisdair Full Sleigh Bed |
| Price | ~$200 | ~$450 |
You might also find interest in our difinitive article explaining sleigh bed pros and cons. Make sure to check that out as well. If your room is small then have a look at our article on how to use a sleigh bed in a small room for tips and tricks to help you achieve the opulent look of a sleigh bed without cramping your space.
Disclosures
This website is a participant in the Amazon Services LLC Associates Program, an affiliate advertising program designed to provide a means for us to earn fees by linking to Amazon.com and affiliated sites.