A Guide to Sleigh Bed Lift Kits – What They Are and Which Ones You Should Purchase
If you have a storage sleigh bed, you'll agree that the storage section is extremely useful. It can be a relatively large space, and it can hide your clutter to keep your room looking neat. However, one of the challenges that you might face is getting into the area under your bed if the storage is accessed by lifting the mattress. With the large variety of sleigh bed lift kits available, this can be easily modified. In this article, we provide you with a guide for suitable lift kits for your sleigh bed.
Different types of sleigh bed lift kits include the hydraulic lift kit, gas lift kit, and electronic lift kit. Buy a hydraulic lift kit for a safe and smooth way to lift the platform. Buy a gas lift kit to minimize costs. Buy an electric lift kit for automated access to the storage area under your bed that doesn't require physical lifting.
What Is a Storage Sleigh Bed Lift Kit?
A storage sleigh bed lift kit is a mechanism that helps lift the bed platform and mattress to provide easier access to the storage section under the bed platform. Using a lift kit for your storage sleigh bed is safer, and it takes less effort than lifting the bed platform and mattress manually.
Storage sleigh bed lift kit mechanisms can be added on beds that have integrated storage under the mattress platform. They are used to provide easier access to the storage area under the bed.
There are several types of lift kits available on the market. With a suitable lift kit, you no longer have to worry about the difficulty of lifting the mattress to store something under the bed. Read our guide to choosing the right storage sleigh bed for more information about the types of lift up storage sleigh beds.
Types of Storage Sleigh Bed Lift Kits
Bed lift kits all perform essentially the same function which is to lift the bed platform and mattress to enable easy access to the enclosed storage space beneath the bed. The key difference between the different bed lift mechanisms is the way the mechanism is powered.
There are three main types of sleigh bed lift mechanisms: hydraulic lift kits, gas-based lift kits, and electric lift kits. The primary difference is the way each is powered, but they all serve the same purpose, which is to lift the mattress platform off the bed.
Below is a summary of the three types, with their pros and cons, so that you make an informed choice.
Hydraulic Lift Kit
A hydraulic lift kit is a popular type of bed lift mechanism which is a practical way to access the area under the bed. Hydraulic lifts use a pressurized system powered by compressed liquid, which is the main difference between it and the gas-powered lift. A storage sleigh bed with a hydraulic lift kit will make lifting and lowering the mattress and the platform a smooth and effortless experience.
Hydraulic lift kits are safe to use. The mechanism allows for smooth lifting and lowering and prevents any chances of injury during the process. Hydraulic lift kits can withstand more weight than the gas-powered ones. However, they tend to be more expensive than gas-based ones.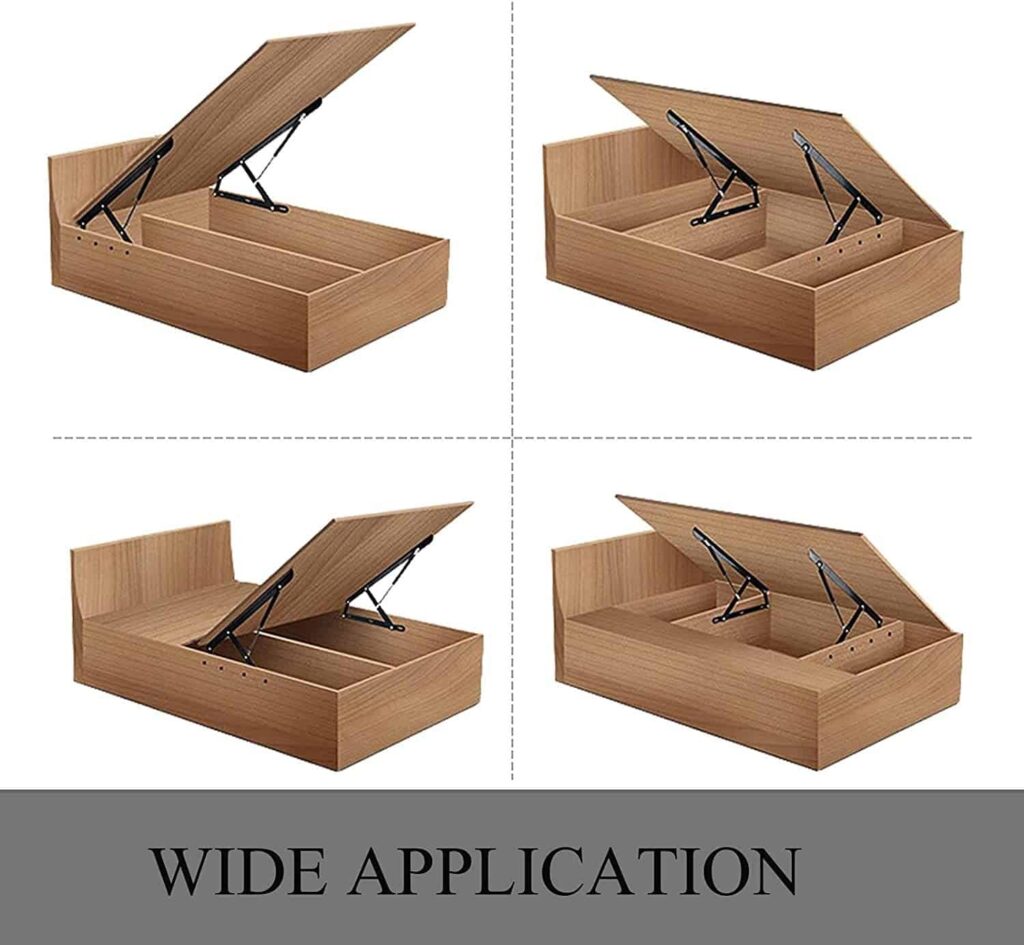 Gas Lift Kit
A gas lift kit is another type of lift mechanism that functions very similarly to the hydraulic lift. The main difference is that the pressurized system in the gas-based mechanism is powered by compressed gas whereas the hydraulic one is powered by compressed liquid. Like the hydraulic lift kit, the gas-based mechanism provides easy access to the area under the bed by helping to lift and lower the mattress smoothly instead of doing it manually.
The gas-based lift kit is less expensive than the hydraulic lift kit. They are available for retrofitting into beds and other furniture items. Beds with built-in gas lift mechanisms are also available for purchase. However, this type of lift kit requires careful use because the gas pistons are powerful, and the pressure might cause injury if not operated attentively.
Electric Lift Kit
An electric lift kit is a type of lift kit that is not as common as the first two types. This type of lift kit allows you to control your bed remotely. You can lift the mattress to reveal the storage area or lower it by remote control. This provides handy access to the storage section of the bed with the least strain or effort. It is more expensive than other lift kits, but worth the investment if you don't want to strain your back when accessing the storage area.
Summary of Lift Kits and When To Buy Them
You might also want to check out a related article explaining how do you close a sleigh bed mattress gap too.
Purchasing a Storage Sleigh Bed with a Lift Kit
The previous types of bed lift mechanisms are available for custom installation of a lift kit onto a sleigh bed with a built-in storage area under the mattress platform. However, that's not the same as purchasing a storage bed with a built-in lifting mechanism. There are some storage sleigh beds available that come with different types of lifting mechanisms already built in.
Alternative Methods to Add Storage to a Sleigh Bed
If the sleigh bed doesn't have a built-in storage space under the mattress, which can be accessed by lifting the mattress, there are other ways to add storage to a sleigh bed.
Alternative ways to add storage to a sleigh bed include adding bed risers, switching out the headboard for a headboard bookcase, or adding a bed hutch.
Just because you bought a bed with certain components doesn't mean that you are limited to keeping it that way. Your needs can change, so you may want to add storage that the bed did not originally have.
Bed Risers
If you want to add storage under your sleigh bed, you can use bed risers to lift the bed off the floor. Bed risers can be used to lift your bed up to six inches. They are safe to use and can hold up to 2,000 pounds. Use Bed risers to create a space under your bed that you can use for storage purposes. You can even add a separate storage box under the bed to make it more organized. The one thing you need to make sure of, however, is that the legs of your bed will work with the type of bed risers that you select. Read our guide on choosing the right type of bed riser to learn about the various types and sizes of bed risers so that you can choose the riser that suits your needs.
For more information, make sure to read our related article explaining how to lift up a sleigh bed and raise it too.
Headboard Bookcase
Another alternative for adding storage to your bed is to replace the headboard with a headboard bookcase. Although a headboard bookcase doesn't provide a large storage area, it does provide a section for keeping the things you might need to have quick access to in your bedroom. You can keep your favorite books there or even your favorite pictures.
Bed Hutch
Having a bed hutch is a very good way of adding more storage to your bed. It helps keep your items well organized, and provides easy access to items that you frequently use. A bed hutch also looks very elegant and can add a luxurious touch to your bedroom. So, you're not just adding storage to your bed, but you're also updating the look of your room.
Once you've added extra storage, you might also find interest in these 5 ways to modernize a sleigh bed and give it a makeover.
Retrofitting Storage with a Lift Kit into a Sleigh Bed
You may be able to retrofit a storage area and lift kit into an existing sleigh bed. However, the process is very complex. That's why it is advisable to purchase a sleigh bed with a built-in storage system and an accompanying lift mechanism. But, it's not impossible.
To add a do-it-yourself storage area under the platform of an existing sleigh bed first determine if storage can be added to the sleigh bed frame, next determine how much storage to add and how, and finally utilize DIY blogs and videos for guidance on how to do the woodwork to create the storage space that was planned.
First, you have to determine if storage can be added into the bed frame. You also need to know if you will be able to make that storage accessible by lifting up the mattress platform.
Then you will need to decide how much storage to build into the existing bed frame. This will depend on the size of your bed as well as how you want it to be organized. Read our detailed guide on sleigh bed dimensions which will help you determine the breadth and width of the sleigh bed and what proportion can be used as the storage area. You might want to have only half of the bed used as a storage place, or you might want the whole area under your bed used for storage. You have to consider how much you want to store in your bed. This will give you an idea of how to organize the area, and also help you decide if you want to divide it into sections or not.
If you are comfortable in the workshop, this blog from Addicted2diy.com explains the steps to build a bed with a storage system and add a lift mechanism to it, from scratch. Although adding a storage section to an existing bed is a different process, the blog does provide detailed steps for the process of building your own storage bed, so it can give you some ideas for adding in extra storage to your bed.
If you enjoy repurposing furniture and want to modify an old sleigh bed into a unique piece of furniture then have a look at our articles on how to transform a sleigh bed into a couch and how to remodel a sleigh bed into a bench for even more inspiring decor ideas.
Disclosures
This website is a participant in the Amazon Services LLC Associates Program, an affiliate advertising program designed to provide a means for us to earn fees by linking to Amazon.com and affiliated sites.