Do Wool Mattress Pads Keep You Cool?
When you think of wool you don't usually think of it as a temperature regulating material. However, wool can do just that! This natural, versatile fabric can regulate your temperature depending on the type of wool. Wool is commonly associated with being extremely warm and scratchy but that is not always the case. In the following article, we discuss the different types of wool, its usage in mattress pads, and especially the topic of whether wool mattress pads keep you cool.
Wool is a temperature regulating material. Wool mattress pads keep a person cool when it is hot, and warm when it is cold. Wool is also naturally moisture-wicking because of the molecular structure of wool fibers.
What Is a Mattress Pad and Where Do You Place it on a Bed?
A mattress pad is a layer of material added on top of a mattress in order to improve its comfort and thermoregulation as well as to protect the mattress.
A mattress pad can protect from moisture, dust, allergens, and typical wear and tear. As a matter of interest, read our article that compares mattress pads vs. mattress covers to learn about their differences and similarities. Mattress pads are easy to care for and can even be machine washed. They are placed over the mattress, under the bedding which helps the bedding stay in place. Mattress pads cost about $40. A more expensive and cumbersome option of the mattress pad is a copper mattress pad. We explain more about this in our article about copper mattress pad benefits and disadvantages.
A mattress pad can be used to protect your mattress from normal wear and tear. Image from Wayfair.
If a mattress pad does not provide enough comfort and support you might want to consider a mattress topper. Mattress toppers are thicker but also more expensive than mattress pads. See our article about how to choose a mattress topper for a lumpy bed, for tips to make your bed more comfortable.
Related Articles:
Can you use a mattress pad to make a bed firmer?
Mattress Pads vs. Mattress Toppers: How Are They different?
If you are looking to protect or improve the comfort of your mattress, there are two solutions you can try before purchasing a new one - mattress pads and mattress toppers.
The main differences between mattress pads vs. toppers are that mattress pads are light, easy to care for, add a little comfort, and are more affordable. Use a mattress topper if something thicker, more comfortable, longer-lasting is needed.
As stated earlier, mattress pads are light, easy to wash, and provide some extra comfort for uncomfortable mattresses. They also protect your mattress from damage, dust, and stains. Conversely, mattress toppers are more expensive, made with thicker material, and can be used for longer. We explain a little bit more about the thickness and density of mattress toppers in our mattress topper density guide.
Here are some of the main differences between these two pieces of bedding:
Pads like these are usually less than 1 inch thick, while toppers are much thicker. Therefore, the weight is different as well.
Toppers are much more durable as they are thicker and denser. On the other hand, pads tend to wear out after some time.
While pads are usually softer and provide extra comfort, toppers like these can alter the feel of your mattress.
FactoryMattress explains these differences further.
As you can see, there are plenty of differences between toppers and pads. In this article about choosing a mattress topper vs. a mattress pad for college, we take a closer look at the difference between these two mattress products. Furthermore, the materials that they are made of also differ. Mattress pads like these, are usually made from wool and memory foam while toppers like these, are mostly made from wool, feathers, and latex.
How Does Wool Work?
Wool is a complex biological fiber consisting of proteins called keratins and consists of many layers of materials that are produced by sheepskin cells.
Wool fibers are made up of the "matrix" which traps air and water molecules to provide temperature regulation, the "fibrils" that provide strength, and the "coils" that make wool flexible and elastic.
There are no synthetic fibers that can match the properties of wool. Unlike cotton, which is derived from plants, wool is designed to regulate the temperature of sheep. It provides protection against the elements, regulates temperature so the sheep doesn't feel too hot or cold, it doesn't get wet or catch fire easily, and is lightweight. This is why wool mattress pads keep you cool.
This is why it's an excellent material for a mattress pad. It's incredibly resilient and durable due to its "fibrils", its "matrix" traps water and air and regulates the temperature of the bed, and it feels soft, elastic, and light-weight because of its "coils". Shepherd's Dream, a manufacturer of wool mattress pads, provides more information in their article about ecowool and natural organic wool.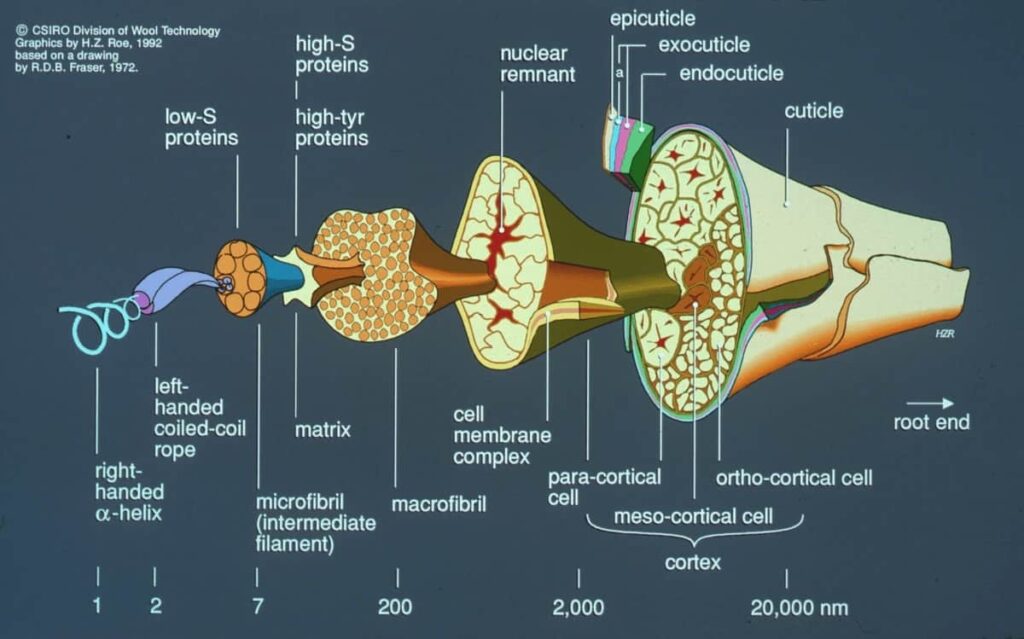 Different Types of Wool and How They Work
Mohair Wool
Mohair is lustrous but durable wool, sheared from the angora goat. It drapes well and is often woven into a plain weave. It has strong insulation to keep you comfortable despite being relatively lightweight. Mohair is commonly used in skirts, coats like these, baby clothing, sweaters, and scarves. It is warmer than other fibers, even when used to make a lightweight garment.
Cashmere Wool
Cashmere, which is sheared from Kashmir and other breeds of goats, has a strong natural crimp, is one of the most luxurious natural fibers, and is extremely smooth and lightweight. Cashmere is expensive because each Kashmir goat only produces a small amount of cashmere fiber for shearing, annually. Cashmere is not as robust as wool from sheep and is used in the textile and clothing industry. The natural properties of cashmere make it perfect to balance out warmer temperatures during the day and cooler temperatures in the evening.
Merino Wool
One of the softest types of wool, this superfine, glossy wool is ideal for controlling body temperature in both cold and hot weather, making it a common choice for athletic apparel like this. Merino wool comes from the Merino sheep, which is native to Australia and New Zealand but now has the biggest flocks in Spain. Merino wool does not wilt or wrinkle like cotton and linen in hot humid weather.
For more information on the different types and sources of wool, check out ShepherdsDream.
Does A Wool Mattress Pad Keep You Cool in Summer?
Wool has air circulating and moisture absorbing fibers that regulate temperature and dampness. In other words, wool will keep you from getting too hot in summer.
The air and moisture-absorbing fibers in wool regulate body heat released during sleep, keeping the sleeper cool in summer.
Each fiber is covered with tiny cuticles which are actually opening and closing due to exposure to temperature, as explained clearly in this article from Science Learning Hub. This means that fibers in the wool will regulate the heat coming from your body, keeping you warm in winter and cool in summer. And, most importantly, wool doesn't absorb any smells or make you sweat, so you don't have to wash it very often. In our article that answers whether you can put a mattress pad on top of a foam mattress or not, we explain how using a mattress pad over a foam mattress can help to regulate temperature and make your bed more comfortable.
Wool is such a great material when it comes to maintaining the temperature, that a wool mattress pad will always provide optimal temperature, no matter the season.
How Does A Wool Mattress Pad Keep You Warm in Winter?
According to SpringTextile, a manufacturer of wool products, wool bedding can keep you warm and snug during a cold winter. Wool in the natural world keeps animals such as sheep and goats warm, so you can expect this from a woolen sweater or mattress pad as well.
The cuticles that cover wool fibers allow for trap air and warmth in the wool mattress pad, which provides warmth in winter.
Wool maintains our body temperature and provides comfort and warmth even during winter. The answer lies in the tiny flexible cuticles covering the fibers, that allow absorption of air and moisture. Wool can regulate fluctuations in body temperature due to the tiny pockets of air inside the fibers through which heat circulates to provide warmth and comfort.
This means that wool will keep you warm when your body is cold and cool when it is hot. These air pockets are actually the core of the wool material. They will keep the warm air that comes from your body inside the pad and regulate the temperature at an optimal level.
What Are Some Other Cooling Mattress Pad Materials?
Gel Memory Foam
A mattress pad made out of memory foam like this will contour your body for comfort and support. Memory foam also limits the transfer of motion, which is perfect for those who sleep with a partner or a pet. Cooling gels or beads in the foam, disperse heat keeping you cool.
Gel memory foam mattress pads work in the same fashion as wool mattress pads - they contain small air pockets. But, the difference is in the process of heat absorption. Once the warm air from your body comes into contact with the gel memory foam, the gel beads absorb the heat and this helps to regulate your body temperature.
Wool allows hot air to circulate through a mattress pad which will keep your body at the optimal temperature while also enabling air circulation.
Gel memory foam absorbs heat and releases it. This means that it can keep you warm in winter and cool in summer.
Latex
Latex is a natural and breathable fabric great for layering on top of your mattress to provide additional comfort. It breathes because of air channels that run through the mattress pad. The process of heat absorption is similar to wool mattress pads. But, latex is much more efficient when it comes to keeping you cool.
When compared to wool, latex is not as durable and it also has some other downsides. For example, wool always feels comfortable, while latex is not suitably comfortable for everyone since it is usually combined with memory foam in order to make a mattress pad. Here's an example of the blended mattress pad.
Cotton
Cotton mattress pads like these are lighter, machine washable, and quilted. These pads are best used to protect the mattress from stains and everyday wear. They also do a good job of regulating temperature. Even though cotton is not as great as wool when it comes to temperature regulation, it's still a good choice. Since it's easy to wash and maintain, people usually go for cotton mattress pads.
However, wool mattress pads offer much more in terms of comfort and heat regulation because wool is able to maintain optimal temperature even when it's wet, unlike cotton. So if you sweat at night, you'll start feeling cold in cotton whereas in wool you'll feel comfortable.
Here's a summary of cooling mattress pads made of other materials:
Disclosures
This website is a participant in the Amazon Services LLC Associates Program, an affiliate advertising program designed to provide a means for us to earn fees by linking to Amazon.com and affiliated sites.