Orthopedic Mattress Sizes – How to Choose The Correct Mattress For Your Needs
In addition to texture and feel, the size of your orthopedic mattress is a crucial consideration. Choosing the right mattress size is one of the most important aspects of achieving a good night's sleep. When comparing orthopedic mattress sizes, the first thing to consider is their length and width. Keep in mind that the height/thickness of a mattress varies by manufacturer and model, so there is no standard thickness for any mattress size.
Orthopedic mattresses come in a variety of sizes. A twin orthopedic mattress is 38 inches x 75 inches. A full-size orthopedic mattress is 54 inches x 75 inches in size. A queen-size orthopedic mattress is 60 inches x 80 inches, and a king-size orthopedic mattress is 76 inches x 80 inches in size.
Choosing the proper size from a myriad of alternatives while shopping for a new orthopedic mattress can seem tough because many manufacturers have sub-categories for their mattresses. Read our detailed guide on orthopedic mattress materials to learn more about the mattress composition and how it affects your sleep. Getting the proper fit for yourself might be difficult due to the small differences in measurements between different sizes.
Twin Size Orthopedic Mattress
This is the smallest of the standard sizes and one of the most popular. The twin-size mattress is suitable for both children and teenagers since it accommodates youngsters at various stages of development.
The dimensions of a twin-size orthopedic mattress are 38 inches by 75 inches. The minimum recommended room size for a twin size mattress is 7 feet by 10 feet
A twin orthopedic mattress is a wonderful size for tiny rooms, and it's also great for bunk beds like this Perfect Cloud Kids Plush. An adult, on the other hand, may not be able to sleep on a twin or single mattress since it is so narrow and hence it is difficult to roll around.
| | | |
| --- | --- | --- |
| | Inches | Centimeters |
| Length | 75 | 188 |
| Width | 38 | 96.5 |
Full-Size Orthopedic Mattress
A solitary sleeper will benefit from a full-size mattress. A full-size mattress may not be the best choice for a decent night's sleep for a couple, but for an individual, it provides enough space to sleep comfortably while still fitting into most rooms without looking cluttered. The minimum room size for this mattress accommodates the mattress and gives space around it for walking around.
The dimensions of a full-size orthopedic mattress are 54 inches by 75 inches. The minimum recommended room size for a full-size orthopedic mattress is 9 feet 6 inches by 10 feet 6 inches.
A full-size mattress is also suitable for use as an extra bed in a guest room. Read our article for the ultimate list of guest bed ideas, and ways to set up a relaxing guest room. A good example of a full-size orthopedic mattress is this cooling memory foam mattress which provides excellent sleep comfort at a reasonable price.
| | | |
| --- | --- | --- |
| | Inches | Centimeters |
| Length | 75 | 190.5 |
| Width | 54 | 134.5 |
Queen-Size Orthopedic Mattress
A queen-size mattress is popular amongst couples who don't have a lot of space, as well as single adults who like more room to stretch out when sleeping.
A queen-size orthopedic mattress is 60 inches by 80 inches in size, and a 10 by 10-foot room is the minimum acceptable room size.
The normal queen size is intended for couples, so it's a nice bed for the master bedroom or guest room, and it can easily accommodate extra sleepers in the house. This is the most popular regular mattress size, which fits into practically any room and can sleep more than one person.
If you're searching for a queen-size mattress, this Novilla queen mattress is a good option. A split queen mattress is also available for the queen-size mattress, where the queen-size is divided into two equal parts in this configuration to accommodate couples with differing mattress preferences, allowing them to share the bed while having individual mattresses. If you are considering a split queen then read our article on how to choose a bedskirt for an adjustable bed for ways to conceal the base of the bed and enhance the room decor.
| | | |
| --- | --- | --- |
| | Inches | Centimeters |
| Length | 80 | 203.5 |
| Width | 60 | 152 |
King-Size Orthopedic Mattress
Sleeping in a king-size bed is a luxurious experience. There is enough space for two people to stretch out and sleep unencumbered. Its breadth is 4 inches wider than the California King, but its length is 4 inches shorter. The king mattress is the largest regular size mattress available, making it a suitable choice for families because it can accommodate parents who wish to sleep with their children.
The dimensions of a king-size orthopedic mattress are 76 inches by 80 inches. The minimum recommended room size is 12 feet by 12 feet
A split option is available in the king size, which consists of two Twin-XL mattresses laid side by side like this one. Couples with varied mattress preferences can choose the split king option, which allows them to have two different mattresses in one bed to meet their specific needs. This design works well with adjustable beds that have split-side capability.
| | | |
| --- | --- | --- |
| | Inches | Centimeters |
| Length | 80 | 203.5 |
| Width | 76 | 193 |
How To Choose The Best Orthopedic Mattress Size For You
Buying an orthopedic mattress is a long-term investment in your health, and there are various things to think about while shopping for the perfect orthopedic mattress size.
When choosing an orthopedic mattress size, buy one that suits your budget, the user, and the number of people that will be sleeping on it. The orthopedic mattress must be suitable for the user's height and sleep position, the bedroom dimensions, where the bed will be placed, and it should give the user enough time as part of a trial period.
Almost all mattress types are available in conventional sizes. However, while choosing a mattress size keep in mind the size of your bedroom and who will be using the mattress. Read our guide on shopping for an orthopedic mattress for pros and cons that will help you make the right choice for your needs.
Here are some helpful tips to help you make this choice:
Tip 1. Budget
A new, high-quality mattress can cost anywhere from $400 to more than $3,000, depending on the mattress size and manufacturer. While we don't advocate scrimping on a new mattress to save money, the entire cost of a new bed is still an important factor. It's also a good idea to factor in the cost of accessories in addition to the initial investment. Sheets like these, blankets, and bed frames like these, for less common sizes (primarily California king and twin XL), will be more expensive than accessories for popular sizes.
Make sure to take a look at our orthopedic mattress price guide for more information to help you meet your budget.
Tip 2. Number Of Sleepers
Couples will almost certainly want a queen-size mattress like this, while families sharing a bed with children will probably want a California king-size mattress like this. Even dogs are taken into account—if you let your pets sleep at the foot of your bed, having a bed with plenty of legroom will be much more comfortable.
Tip 3. Your Height & Sleep Position
Users who are under 6 feet tall should be fine with any mattress, while those above 6 feet tall should look for a bed with at least 80 inches in length like this orthopedic mattress from Casper Sleep which comes in a full range of sizes. The size mattress you choose is also influenced by your sleeping position— back and stomach sleepers are fully stretched and require more legroom than side sleepers. This article from Wiley Online discusses the relationship between sleeping positions and bed length that affect comfort when sleeping.
Tip 4. Bedroom Dimensions
When placing a bed in a room you should allow at least 24 inches of space on either side of your bed for easy movement around the bed and to avoid feeling cramped.
Before you buy a new bed, first measure the size of your room and then determine which mattress size will fit into it comfortably. Read our article on choosing the best mattress size for a platform bed for handy tips to ensure your bed frame and mattress size are compatible.
Tip 5. Versatility
A new mattress may be an expensive investment, so you'll want to be sure you pick a versatile mattress that will last a long time. This entails planning forward for your future bedding requirements. If you are purchasing a bed for a child and want to future-proof your purchase then consider getting one size larger like this full-size mattress. If you're purchasing your first bed as a single person, then consider going one size higher like this Queen-size mattress to accommodate potential partners and pets.
Tip 6. Location of the Bedroom
When looking for a new bed, keep in mind that a king-size mattress may be difficult to move around in tight spaces. Consider the breadth of the stairwells and how difficult it will be to move the mattress from one story to another if your bedroom is not on the first level. Mattresses in a box options like this, provide a solution to this problem as shown in this product introduction video.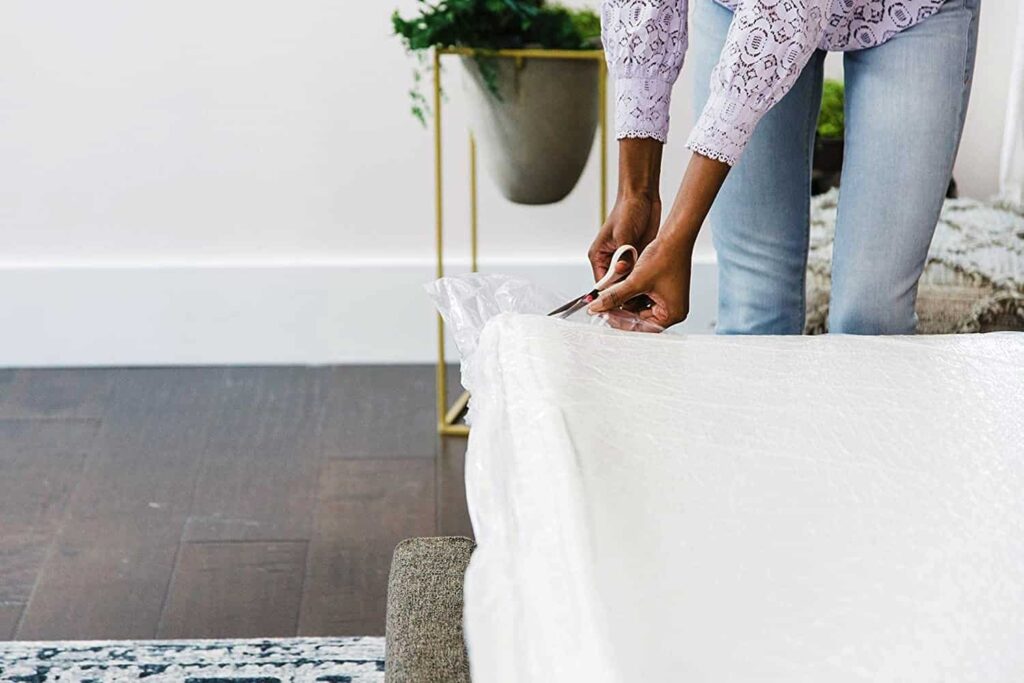 Tip 7. Research the Trial Period and Warranty Information
When shopping online, it's tough to check out a mattress before purchasing it, which is why picking a mattress with a long sleep trial, as discussed in this article by Sleep Foundation, is a good idea.
This will enable you to determine whether the mattress is the appropriate size or whether you would prefer something smaller or larger. You should also ensure that the mattress comes with a reliable warranty in the event that it has any faults or other problems.
Summary of Orthopedic Mattress Sizes and Their Uses
You might also find interest in learning how to choose an orthopedic mattress for an adjustable bed as well.
Mattress Sizes Comparisons
Choosing a mattress size should be based on your existing bed frame size.
Smaller adults or teenagers should choose a twin mattress, while adults who are sharing a bed might prefer a full-size mattress. Large people who need more room should choose a Queen-size mattress, those who prefer more space because they are taller can purchase a King-size mattress, and very tall people should opt for a California King because of its extra length.
Read our guide on mattress foundation thickness and size, to find out more about the various sized bed frames.
If you are changing your bed and mattress then the following mattress size comparisons will help you choose the right size:
Twin vs. Full
Smaller adults sleeping alone should be able to save money by choosing a Twin-XL mattress like this. It's also more appropriate for smaller rooms. Average-sized people and certain smaller couples will benefit from a full mattress.
Queen vs. Full
A full mattress should be enough for people of average size who sleep alone. Larger individuals, as well as certain couples, may want a Queen-size mattress like this, for the extra sleeping space.
King vs. Queen
The Queen mattress is better for singles, younger couples, and people with a smaller bedroom than the King, while a King-size bed like this, is a better choice for couples who enjoy space or those who have a larger bedroom.
FAQs About Mattress Sizes
Which Mattress Size is Best?
There is no such thing as an "optimal" mattress size. Once you've decided on the style of mattress you want, figuring out the optimum mattress size for you is as simple as determining the size mattress that will fit on your bed frame. The size of your bedroom, your sleeping position, and the sleeping companion that shares your bed are all factors to consider.
What is the Biggest Size Bed?
A California King bed like this, is the largest mattress size, measuring 72 inches wide by 84 inches long. You will need to purchase all your bedding, especially these king-size pillows, in this larger size so that your bed looks proportional.
Is a Full-Size Bed Big Enough For Two?
A full-size bed is not big enough for two people to sleep on. A couple sharing a bed with a full-size mattress will have around 27 inches of space each, so unless you plan on cuddling up all night, this will most likely be an uncomfortable sleeping experience in the long run. There's plenty of room if you're sharing your bed with a smaller sleep buddy, such as a child or a cat. Though, according to this article from Springer, there is a danger of suffocation when co-sleeping with an infant, so you should rather consider using a bedside bassinet like this.
What Size Bed Do Most Couples Have?
The mattress size most couples choose is largely determined by the size of their room. If you have a large master bedroom, a king or California king-sized bed like this will provide plenty of room and a restful night's sleep. If you have a smaller master bedroom, we recommend going with a Queen-size mattress so you don't end up with your space being too cramped.
How High Should a Bed Be?
The best bed frames should allow you to easily get in and out of bed. Standard bed heights can range from 11" to 36", based on your personal preferences and the thickness of your mattress. You should avoid low-profile bed frames or box springs like this, that sit closer to the floor if you struggle with knee or back pain.
Conclusion
Finding the proper size mattress is just as important as the hardness and style of mattress you pick for your overall comfort. Space, not just the space of the bed, but also the aesthetics of space in your bedroom, are critical for maximizing your comfort level while sleeping. To get the most out of your mattress, you must strike a balance between your requirements, the room size, and how much money you want to spend on an orthopedic mattress.
Disclosures
This website is a participant in the Amazon Services LLC Associates Program, an affiliate advertising program designed to provide a means for us to earn fees by linking to Amazon.com and affiliated sites.