You have to take into consideration a lot of factors before investing in a good mattress. Should the mattress be a soft one or a hard one? Should you opt for a medium-firm mattress? All these factors depend on your sleeping style and body weight.
If you want to buy a soft mattress, go through this guide, and select the right one (also check the top rated soft mattresses).
Best Soft Mattress Toppers to Get the Right Firmness
Upgrade your living style with the amazingly soft BedStory mattress topper.
BedStory products are known for their excellent quality, and their mattress topper is no exception. They are made from the finest materials to ensure you a quality night's sleep. The medium firm topper makes your uncomfortable mattress more supportive.
This topper comes with gel-infused technology to ensure an appropriate airflow throughout your slumber time. It keeps you cool throughout the night and prevents you from excessive sweating (check 10 amazing cooling mattress toppers).
The foam contours your body and cradles your sensitive pressure points. It comes with a removable zipper cover. The fabric of the cover is light with an exquisite look. Moreover, it has non-slip straps to keep the mattress topper in place.
Setting up the topper consists of simple and easy steps. First, unpack your new mattress topper, cut the plastic, and roll it out on the mattress. Just allow the compressed gel memory foam mattress topper to expand by leaving it for 42 hours. It will help scatter the minor smell of the new foam.
If you want more firmness, new pillows can be a good idea. You can pair the StoryBed mattress topper with firm pillows to make your sleeping experience more extravagant. The pillows will add the right amount of cushioning. It will help relieve you of your persisting backaches and stiff joints.
In a nutshell
The BedStory mattress topper is a smart investment for your family (also check 10
great mattresses for kids
). It is affordable and adds the right amount of comfort and support to your soft mattress. The design will make your mattress just plush enough to enjoy a good night's sleep without being too firm or soft.
A mattress topper designed for your restful night's sleep.
FlexPedic is known for providing quality products to its customers. The two-inch mattress topper is no different from the amazing products FlexPedic has launched. The natural products used in this mattress topper make it a healthy choice for your lifestyle.
The embedded temperature regulation technology is the most amazing feature of FlexPedic mattress toppers. The enhanced cooling gel is made using advanced processing technology. As a result, the solid gel particles fuse gracefully with the memory foam.
The mattress topper is made up of many comforting layers. These layers relieve any pressure from your body and evenly distribute the body weight.
The Anti-slip and the washable top cover are light and antistatic knitted fabric. It has adjustable elastic straps and an anti-slip bottom which prevents sliding. The premium zipper is for easy removal and machine washing.
The relieving camouflage memory foam conforms to your curves. It aligns the spine and helps alleviate your pressure points (check the best selling mattress toppers for pressure points).
The amazing Polyurethane foam consists of bamboo charcoal fiber. It helps remove moisture from any sweating and absorbs it. The foam helps promote blood circulation throughout the body resulting in healthy metabolism.
The FlexPedic toppers are double-sided, with a gel-infused firm on one side and an extra firm on another side. No need to waste your money on a new mattress. Moreover, you can easily pair your FlexPedic mattress topper with a mattress protector.
In a nutshell
If you are confused about choosing the right amount of firmness for you or your family, worry no more. The FlexPedic mattress topper is made from organic materials. It is made of green material and has no negative effects on the body. It comes in all bed sizes and is perfectly healthy for people of any age or gender.
How Do I Know If My Mattress Is Too Soft?
If you love the feeling of sinking in a soft mattress, think about it again. Some visible red signs show that your mattress might be too soft. It can cause serious issues to your both mental and physical health.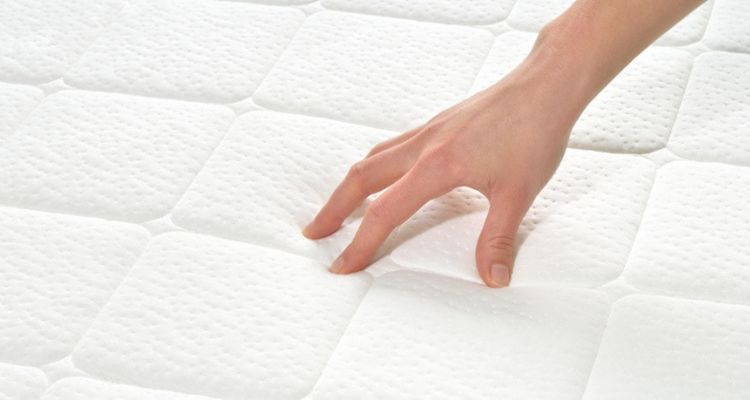 Sign One
When you wake up and have a stiff and sore lower back, this might be due to a soft mattress (also check the 10 top rated mattresses for back pain). A soft mattress does not give appropriate support to your back and hips. This causes spinal unalignment and persistent aches in your lower back and hips.
Sign Two
The perfect mattress makes you comfortable right away (also check the most comfortable mattresses). It might be due to extra softness if it takes too much time to adjust and feel relaxed on your mattress.
Sign Three
People who sleep on their stomachs need a firmer bed to sleep on. If you choose a soft mattress, it might put a strain on your neck, jaw, and back. This is due to no support from your mattress and unnatural twisting of the joints.
Sign Four
If you struggle to get in and out of your bed, it might be your too soft mattress. It is because you are sinking too much into your mattress and not getting enough support.
What Can I Put on Top of My Mattress to Make It Firmer?
Here are some budget-friendly suggestions on how to make your mattress harder.
Mattress Topper
A mattress topper is a cost-effective option for you. Many quality toppers in the market will give your mattress the right amount of firmness. A dense or memory foam is a firm and responsive topper. It will help align your spine and give your body the right support.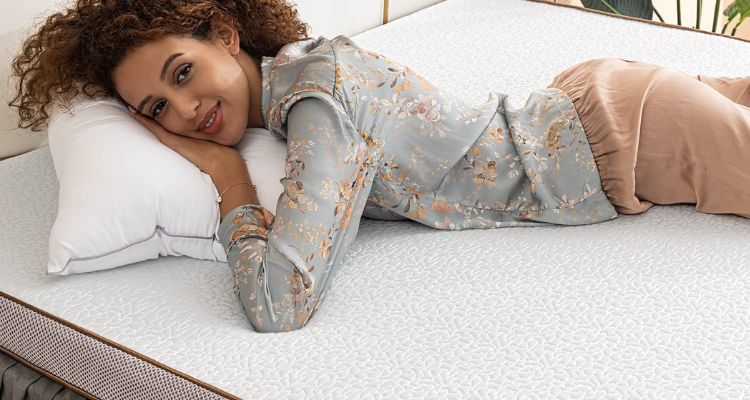 Flipping The Mattress
Sometimes flipping the mattress can be a good solution for obtaining the right amount of firmness. Just flip or rotate the mattress regularly to prevent it from sagging.
Plywood Or Bungie Board
The plywood is a good option to add extra firmness to your mattress. Just put the board in between your mattress and bed frame. It will help support the mattress and make it firm.
What Happens If Your Mattress Is Too Soft?
You Can Feel the Bottom Layer of Your Mattress
Mattresses of high quality often consist of three layers. These layers are the top comfort layer, the middle transitional layer, and the bottom last layer. They provide comfort and contouring to the curves of your body. In a soft mattress, you can feel the bottom support layers of your mattress as you sink right through the cushioning.
Feeling Draggy During the Day
A night of good sleep is required to start a productive day ahead. It might be your mattress if you wake up feeling tired and draggy throughout the day. A soft mattress affects your daily sleep routine, shifting you towards an unhealthy life approach.
Persistent Morning Backaches
It might be due to your soft mattress if you are having a night of restless sleep and get a persistent backache in the day. Soft mattresses often do not provide spinal alignment like a firm mattress. This lead to pain in your spine and back muscles.
How Do You Make a Soft Mattress Harder?
Before investing in a new mattress, try these easy hacks to harden your soft mattress.
Get a mattress topper
Flipping your mattress
Replace the worn-out layers of the mattress
Place the mattress directly on the floor
Add plywood under the mattress
Sun drying the mattress to let trapped moisture and air out
Is It Good to Sleep on a Soft Mattress?
A mattress might be soft like your ideal sleep dream, but that's not the actual cause. A soft mattress is good for you or not; it usually depends upon some factors.
Your Sleeping Position
If you are a back or stomach sleeper, a mattress that is too soft might cause problems (check 10 amazing mattresses for stomach sleeper). Your sleeping position will cause extra strain on your shoulders and neck. A soft mattress might not support your weight evenly, and you will wake up with stiff muscles.
Your Body Type
People on the healthy side might not want to invest in a soft mattress. The heavier body parts (also check the top rated mattresses for overweight person) may sink into the mattress without ample support to your spine. This will cause you to wake up with a sore body and aches.
Your Sleeping Partner
If you and your partner have different body types, a soft mattress won't help you get a good night's sleep (check 10 great mattresses for couples). Even a small movement will disrupt your or your partner's sleep. If one is heavier, the mattress might sag more from one side, making it tough to sleep.
What Firmness Is Best for Back Sleepers?
A slightly firmer mattress is ideal for back sleepers. It benefits them as their hips and shoulders do not sink when they sleep. They are on the same level as the rest of their bodies. Level 6 to 7 firmness in a mattress should be ideal for them to sleep.
What Firmness Is Best for Side Sleepers?
Side sleepers should opt for a mattress that is softer than firm (check the best selling mattresses for side sleepers). The softer mattress helps align the curves of the body better. As a result, when they wake up from a deep slumber, they don't have a stiff back.
Can A Too-Soft Mattress Cause Shoulder Pain?
A shoulder joint is the most delicate joint and can often become painful. A wrong mattress can imbalance the muscles and the joints of the shoulder, leading to pain. A soft mattress provides insufficient support to your waist and lower body. This uneven lying posture results in back and shoulder pain (also check 10 amazing mattresses for shoulder pain).
Can A Too-Soft Mattress Cause Hip Pain?
If you have a too-soft mattress, it might trigger your sensitive pressure point. This happens when your body sinks into the mattress and fails to properly support your muscles and spine. This leads to sore hips with persistent pain.
Our Recommendation
Some people are light sleepers who like to sleep on soft mattresses. But, if your mattress has too soft symptoms, it might be a good idea to invest in a mattress topper. If you are health conscious and want a topper made of natural green materials, you can opt for the FlexPedic mattress topper.
If you don't want to invest too much in a new mattress, you can always pair it up with the StoryBed mattress topper. They both come with Infused Gel technology and keep you cool throughout the night. Those mattress toppers give the right amount of firmness to your too-soft mattress.
Mattress too soft FAQs
Can A Soft Mattress Cause Lower Back Pain?
Yes, soft mattresses can cause severe back issues. A soft mattress might not be a good choice if you are on the healthier side or prefer to sleep on your back. It fails to give appropriate spinal alignment and causes your back and hips to sag. The strain on your spine could lead to permanent back issues.
Who Benefits from A Softer Mattress?
Light sleepers: People who are light sleepers do not like firmness in their mattresses. A softer mattress is an ideal choice for these light sleepers. They can easily go into a deep slumber on these mattresses.
Helps relieve joint pain: People who suffer from back and joint pain from sleeping on a firm mattress can switch to a soft mattress. It will help them provide ease from a stiff back.