There are people that have medical conditions that don't allow them to sleep on a regular mattress, and that's when orthopedic mattresses become a necessity. The problem is that orthopedic mattresses are expensive and sometimes unaffordable. There are, however, some situations where you can get 80% of your orthopedic mattress cost covered by health insurance. So, if you are wondering, are orthopedic mattresses covered by insurance? We'll help you answer your questions and give you some tips and tricks.
Some orthopedic mattresses are covered by insurance. 5-zone support orthopedic mattresses are covered by Medicare insurance if prescribed by a doctor. Additionally, spinal alignment orthopedic mattresses are covered by BCBS insurance if they meet certain criteria.  
For you to get a mattress like this that can be covered by Medicare insurance or private health insurance, you need to know about the conditions under which orthopedic mattresses become eligible for coverage and which types of mattresses are approved by Medicare and health insurance providers. Read our article about choosing the right orthopedic mattress size once you're ready, for more information about the various mattress choices available to you. Also, you might find interest in the 7 benefits of an orthopedic mattress and how to choose the right one. So be sure to check that out too.
Which Orthopedic Mattresses Are Covered by Insurance?
A medical insurance company will consider covering the partial cost of an orthopedic mattress when the mattress is deemed necessary for medical reasons and is prescribed by the patient's doctor. 
There are two types of Orthopedic mattresses that are covered by insurance, the 5-zone support and spinal alignment orthopedic mattresses. An orthopedic mattress can be covered by Medicare, Aetna's, and BCBS' health insurance if it is classified as durable medical equipment "DME". In order for an orthopedic mattress to be classified as DME, it needs to be an essential part of the patient's life according to a doctor's prescription.
Both Aetna and BCBS insurance cover the orthopedic mattress only when it is considered as part of medical equipment and when a hospital bed is medically necessary. Have your doctor call Blue Cross/Blue Shield to determine if the orthopedic mattress is considered durable medical equipment (DME) or if it is not covered. This list from BCBS shows a number of mattresses and orthopedic support devices that are not covered. The designation as a covered medical equipment Aetna covers pressure-reducing support surfaces in this document. As for Medicare, the orthopedic mattress can be covered by insurance when it meets certain criteria and is classified as DME. You can read more about the durable medical equipment classification here. The orthopedic mattress must be used for medical purposes only, be used at home, be prescribed by a doctor, and be utilized only by a sick or injured person. 
As you're doing your research, be sure to take a look at our related article comparing orthopedic mattress side effects and disadvantages for more information. You might also find interest in learning how to choose an orthopedic mattress you can flip and why you need one.
Will Insurance Pay For A Tempur-Pedic Bed?
For people with back or spinal injuries, a Tempur-Pedic mattress is a great choice. A Tempur-Pedic mattress is designed for spinal alignment and pressure relief. It has the ability to contour to the shape of the body, keep the spine and neck aligned, and help prevent the build-up of pressure points on the back and joints. Hence, it can be medically prescribed for patients with back and spinal injuries. 
Medicare, Medicaid, Aetna, BCBS insurances will cover a Tempur-Pedic bed. In order for the bed to be covered, a physician must supply evidence of spinal injuries, back injuries, or any other medical condition that justifies a Tempur-Pedic bed. United Healthcare and CIGNA will not cover a Tempur-Pedic bed. 
This type of bed is expensive, therefore, being covered by insurance can help many patients afford it. Read our article about tips for choosing an orthopedic mattress for sciatica pain to help you choose the correct pressure-relieving mattress. 
Not all health insurances cover Tempur-Pedic beds like these. If your doctor has prescribed a special type of mattress for your medical condition, Medicare insurance can cover that for you as long as you have the necessary documents from your doctor recommending that mattress. Medicaid also covers DME including beds or mattresses for medical purposes, as long as they are considered necessary by a physician. However, this is not the case with private health insurance companies, as they do not all cover Tempur-Pedic mattresses. 
United Healthcare does not consider mattresses as DME, which they discuss on their list of coverage exclusions on their website. CIGNA also only covers medical beds and not mattresses. However, Aetna considers mattresses as medically necessary only when a hospital bed is necessary. The same goes for BCBS who cover the mattress only when a hospital bed is a medical necessity. 
Under certain conditions, some medical insurance companies will cover a Tempur-Pedic mattress with proper medical evaluation from a physician. Image Source: Tempurpedic.com.
You might also find interest in our related article comparing an orthopedic mattress vs. Tempurpedic mattress to find out which one is right for you. And be sure to read our article on how to choose an orthopedic mattress for elderly sleepers for additional information.
Is A Pressure Relief Mattress Covered By Medicare?
Pressure relief mattresses are medically prescribed for immobile patients or for people with injuries that cause them to be bedridden. Because of the lack of mobility, the pressure on the patients' skin and joints increases and creates pressure sores. 
A pressure relief mattress is covered by Medicare, Medicaid, BCBS, and Aetna's insurance. To have a pressure relief mattress covered by insurance a person must produce proof of immobility or injury that hinders mobility. 
You can read more about pressure relief surface coverage in this document by Medicare or this document by Aetna. Blue cross' guidelines are provided in this document. 
A pressure relief mattress like this helps in reducing pressure and preventing pressure sores. Read our article on the types of air beds that are used in hospitals that can assist with pressure relief, to learn more about this type of medical bed. Most medical insurance companies cover pressure relief mattresses because they meet all the necessary criteria to be covered. They are used only for medical purposes and only by patients. All the patient needs is a medical prescription or proof of their reliance on this type of mattress for their recovery. 
Note that pressure relief mattresses need specialized installation. The installation of an Apex pressure relief mattress is explained in this video tutorial.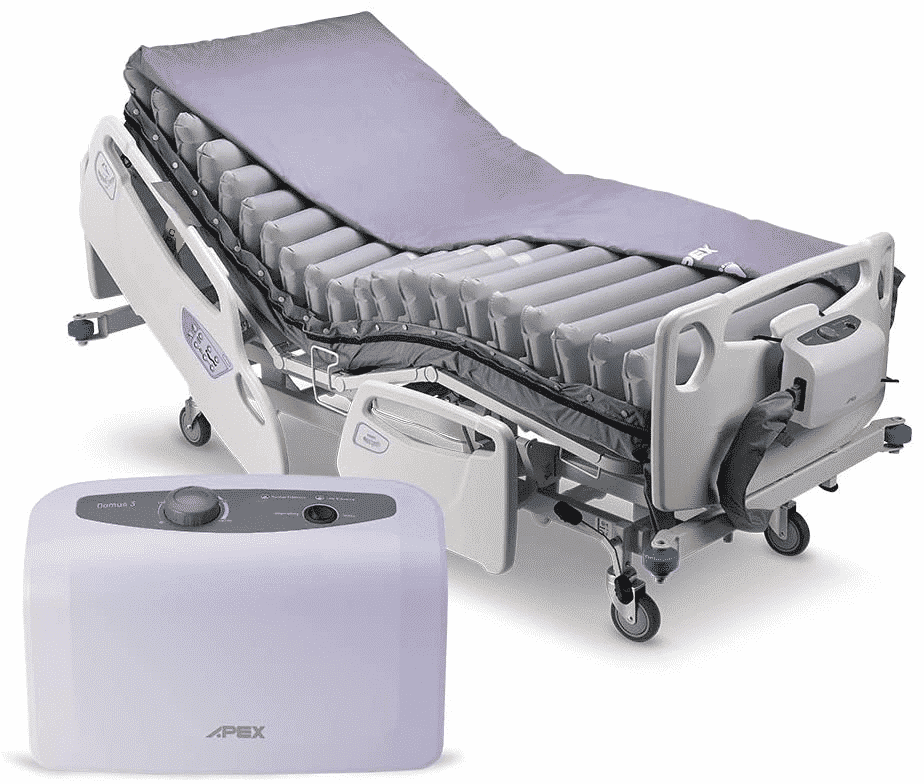 Be sure to take a look at our related article explaining the difference between an orthopedic mattress vs. a spring mattress. This detailed comparison will give you a lot of additional information.
Will Medicaid Pay For An Adjustable Bed?
Some patients need adjustable beds because of an injury or disability that requires them to sleep in a certain position, in these instances an adjustable bed is considered a medical necessity. 
Medicaid, Medicare, Aetna, and CIGNA all cover adjustable beds as long as the person can substantiate why they need the bed by providing proof of their medical condition or a physician's prescription. 
Adjustable beds like these can be configured into various positions according to a patient's needs, and are helpful for post-operative recovery. Read our article on using an air mattress on an adjustable bed to learn more about the benefits of using these mattresses. Most health insurance companies cover adjustable beds including Medicare, Medicaid, Aetna, and CIGNA. The only conditions under which adjustable beds are covered by insurance are when the user can produce proof of their medical condition, or if prescribed by a physician. They also need to be purchased from approved suppliers as discussed in our article about how to choose an orthopedic mattress for an adjustable bed.
Medicare-Approved Mattress Suppliers
For a person to get a medical mattress covered by Medicare, it is important to purchase the mattress from a Medicare-approved mattress supplier. Medicare has developed a new tool to make it easy for people to find approved suppliers near them. This search engine for DME on the Medicare.gov website will help you find a reputable supplier in your area. Examples of Medicare-approved suppliers are DMG Wellness Inc, Revive Medical Supplies, Vermont Medical Supply Inc, and Hometown Medical Supplies. 
Summary of Other Mattresses Covered by Insurance