Regarding mattress firmness, the overall thickness of the comfort layer in a sleep surface has a significant role. A comfort layer is a top layer on a mattress, which you will directly feel underneath you as you lie on your mattress.
Plush mattress come with thicker comfort layers, while a firm mattress has thin comfort layers (check the top rated mattresses).
On a mattress firmness scale from 1 to 10, 1 is softest, and 10 is firmest. Choosing between these two firmness levels is based on the sleep position and overall body weight.
Which one of these two different firmness levels is better for you? Let's find out!
Firm Vs. Plush Mattress – Which One is for You
What's a Plush Mattress?
A plush mattress is a soft cushion that allows a sleeper to sink in whenever you lie down. It comes with a low firmness scale and cradles your body. The plush foams and other materials are used in its construction for fluff and comfort. This type of mattress comes with a softer surface but provides enough support.
There are different types of plush mattresses that give you different comfort. Those mattresses are plush innerspring (check the top-quality innerspring mattresses), plush memory foams, plush hybrid, and plush with pillow topper.
All types of plush mattresses give you an extra soft feel. Some of them provide balanced support and are cushy. Other mattresses contour around your shoulder and hips according to your sleeping position.
Who Should Use a Plush Mattress?
Various factors tell the usage of plush mattresses (check 10 amazing plush mattresses). However, these mattresses are also categorized under sleeping positions, pain areas, and other elements.
A side sleeper needs proper alignment of their shoulders and hips (check the best selling mattresses for side sleeper), and with the plush mattress, you will be thankful. This soft, firm mattress offers cushiony support and relieves pain from your sore muscles.
If you are a back sleeper, plush mattresses are the perfect target mattress that avoids sagging. This is because it distributes body weight evenly and delivers enough support to your spine.
On the other hand, a stomach sleeper can feel sag and discomfort while sleeping on the plush mattress because stomach sleepers want medium to firm mattresses for support and comfortable sleep (check 10 great mattresses for stomach sleeper).
What's a Firm Mattress?
A firm mattress comes with a thin foam layer called a comfort layer. These mattresses are durable but stiff. The best thing is that your body will not sink much into the mattress. Additionally, these mattresses come at a higher rank on the firmness scale, which makes them firmer.
A thin comfort layer makes the mattress firm. The firm mattresses are also unsuitable for all sleeping positions and body pains.
Who Should Use a Firm Mattress?
Most firm mattresses come with a thin comfort layer that is less supportive for some of you. Many sleepers get excellent support, and for others, it delivers less support.
A firm mattress provides enough support throughout the night if you are a stomach sleeper. For the back sleeper, firm mattresses are an ideal option.
These mattresses prevent your body from sinking and provide outstanding relief to your lower back pain (also check 10 amazing mattresses for back pain). Back sleepers feel supportive and comfortable sleeping on a firm mattress.
Furthermore, a firm mattress is also a brilliant choice for overweight people. Heavyweight people need proper support for their lower back, shoulder, and hips (check 10 great mattresses for overweight sleeper). A thin comfort layer of a firm mattress provides additional comfort and support.
What are the Benefits of a Plush Mattress?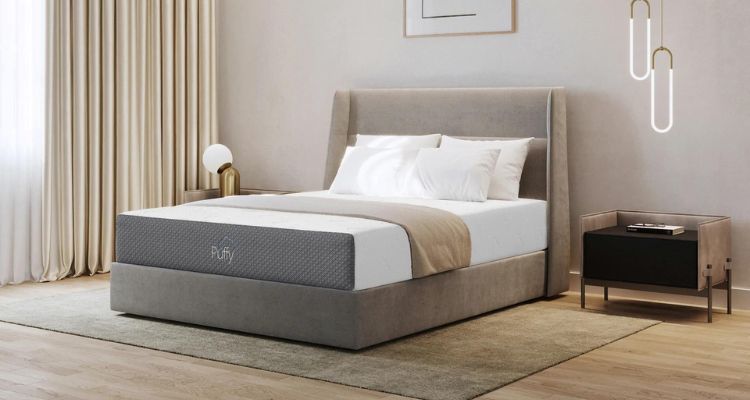 What Are the Disadvantages of a Plush Mattress?
What Are the Benefits of a Firm Mattress?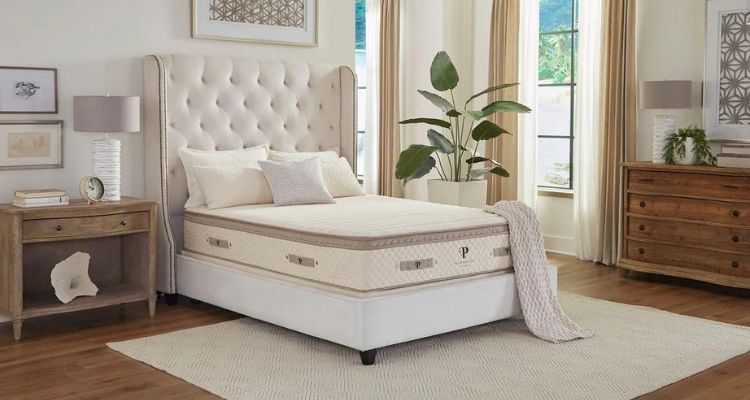 What are the Disadvantages of a Firm Mattress?
What's the Difference Between Plush & Firm Mattresses?
| | | |
| --- | --- | --- |
|   | Plush | Firm |
| Configuration | Thicker comfort layer | Thinner comfort layer |
| Value | More expensive | Less expensive |
| Feel | High in comfort and low in support | High in support and low in comfort |
| Body Weight Suitability | Lighter people | Heavier people |
| Sleep Position Preferences | Side sleepers | Stomach and back sleepers |
| Durability | Tend to lose shape | Tend to last longer |
| Pressure Relief | Good to excellent | Poor |
| Thermal Regulation | Somewhat poor | Good to excellent |
Configuration – Ultimate Winner is the PlushBeds Luxury Bliss
Plush and firm mattresses might be front the same brand or manufacturer, but they will be different. They both have their comfort layers on top, the support layer, the base layers, and some additional layers. But the overall configuration in both these types of mattresses will be different.
Plush mattresses come out with thicker comfort layers, which is why they sleep softly. You will notice that they will provide plenty of contouring and conformance.
The comfort layer on a firm mattress is much thinner, which is why the overall effect of the sturdiness of the base layer underneath the comfort layer is much more evident.
For instance, the Luxury Bliss mattress features natural latex in its top layer, which is the comfort layer. Where the Puffy Mattress features a memory foam comfort layer.
Plushbeds Luxury Bliss hybrid latex mattress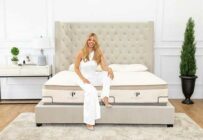 - 365 nights trial
- Organic
- Perfect for sensitive backs
Value For Money – Luxury Bliss Mattresses
These mattresses have different constructions, but their overall value for money is not far from one another (check 10 amazing mattresses under $2000). Still, firm mattresses tend to last longer because they can maintain their shapes much better.
In this regard, the Medium-Firm option in the Luxury Bliss Mattress by PlushBeds is better. It is harder than Puffy Mattress and can maintain its shape for longer.
On the other hand, Puffy Mattress is a pretty decent option when it comes to firmness level, and it can also handle heavier people.
Puffy Mattress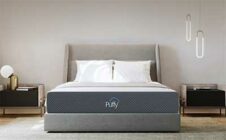 - Best selling USA
- All Sleep position
- Hotel comfort
But the medium configuration available in Luxury Bliss mattresses is better suited for lighter people, and it has a tendency to lose its shape faster, too, due to its softer sleep surface.
Feel – Here's a Tie
Regarding feeling, plush mattresses are better in comfort, but firm mattresses are better in support. Now, it doesn't mean that plush mattresses don't offer support or firm mattresses don't offer comfort.
You will notice that plush mattresses are more conforming and contouring according to your body shape. You will have that dipped feeling when you lie in them.
But this is not the case with firm mattresses because they are pretty flat, and you won't get that contouring feeling when you lie on them. However, they provide good support to your lower back and are great for spinal alignment.
The medium-firm PlushBeds mattress is an excellent exponent if you are looking for better spinal alignment. But Puffy Mattress is a better choice if you are looking for pressure relief and contouring feel, and so is the medium Luxury Bliss Mattress.
Body Weight Suitability – Luxury Bliss Mattress Is a Winner
When it comes to heavier people, of course, the better option is a firm mattress because it will be able to handle the body weight effectively. A thinner comfort layer will lose shape pretty fast when exposed to heavier bodies.
The medium Luxury Bliss Mattress is a better choice for lighter couples because it is medium firm (check 10 best selling mattresses for couples). It will lose its shape much quicker if exposed to heavier bodies.
The medium-firm option in the Luxury Bliss mattress and the Puffy Mattress is good for heavier people because they are sturdier and won't lose their shape over time even if heavy people sleep on them.
They tend to maintain their shape and return to their original form. So firm mattresses are better for heavier bodies, while plush mattresses are suitable for lighter sleepers.
Sleep Position Preferences – Here's a Tie
Another important factor to consider is sleeping position preferences. Side sleepers prefer more pressure relief because they sleep on their sides and their pressure points are more exposed. So they will need a softer surface to sleep on. If you are a back sleeper, you can consider both (also check 10 amazing pillows for back sleepers). They both offer medium-firm configurations.
On the other hand, stomach and back sleepers need more spinal alignment because their mid-section is more content with the sleep surface than anything else. So it needs more support and comfort. In such a scenario, a firmer surface would be a better choice for better signal alignment.
Durability – Plushbeds Luxury Bliss Mattress Lasts Longer
Firmer mattresses are better in terms of durability because they can retain their shape for a long period of time. Firm mattresses have studier comfort layers and don't lose their shape as quickly as the softer and thicker comfort layers do.
But you have to notice that firmer mattresses tend to have thinner comfort layers, which can lose their shape faster than the thicker comfort layers of plush mattresses. It is all about the overall construction of the mattresses. For example, memory foam top layers are pretty good, but latex is even better.
In such a scenario, the Puffy mattress does come with a medium-firm configuration. Still, it has memory foam, so it will not last longer than the latex comfort layer of the Luxury Bliss Mattress.
A lot will depend upon how much you use your mattress. For example, do you use it for sleeping, read books, watch TV, or doing other activities in it too. With more exposure, the overall lifespan of a mattress will significantly deter.
Pressure Relief – PlushBeds Offers Good Pressure Relief
When we talk about pressure relief, without a doubt, plush mattresses are a better option. It is much softer and will go according to the shape of your body. Your neck, your hips, and your shoulders will be at ease (check the top rated mattresses for shoulder pain).
On the other hand, firm mattresses don't offer much pressure relief because they don't conform to your body. You are almost lying on a flat surface. And in this case, you will need more support than anything else.
The medium firm Luxury Bliss and Puffy Mattress are pretty good options when it comes to supporting. But the medium Luxury Bliss is a better choice for pressure relief because it contours well to your body.
Thermal regulation – Puffy is a better choice
Another critical feature to consider is thermoregulation. It means that the sleep surface or your mattress must be able to dissipate heat effectively, especially if you are a hot sleeper (check the top-quality cooling mattresses for hot sleepers). Firmer mattresses are flatter and don't contour, so you don't have the dipped feeling. It will offer better thermal regulation because it won't store your body heat.
Plush mattresses have that dipped feeling. As a result, a softer surface is more prone to storing your body heat. Therefore, it will make your sleep hotter.
The Puffy mattress is pretty good due to its firmer feel. They offer better thermal regulation than the medium Luxury Bliss.
Conclusion
Plush mattresses are better if you are a light sleeper who prefers to sleep on your side. While firm mattresses are better for back or stomach sleepers, who tend to sleep hot. In either case, both these mattresses are ideally suitable for different types of sleepers.
So, to get the best value for your money, it is better to go for medium to medium-firm mattresses because they offer the best of both worlds and are suitable for all sleepers. That is precisely why you have more medium and medium-firm mattresses in hotels catering to all types of sleepers.
Plush vs firm mattress FAQs
Is it better to sleep on a hard or soft mattress?
Soft mattresses offer a luxurious sleeping solution for petite sleepers, side sleepers, and sleepers with pain. Meanwhile, a hard mattress gives better sleep to those who are back sleepers, stomach sleepers, and heavyweight sleepers.
What is better: a firm or plush mattress?
A plush mattress is a better option as compared to a firm mattress. Because a firm mattress comes with a hard topper layer that is unsuitable for all types of sleepers, it can sometimes generate aches and pains. However, a plush mattress cradles your body and provides proper support throughout the night.
Do hotels use plush or firm mattresses?
Most hotels use only medium-firm mattresses because they have to focus on all types of sleepers. And medium-firm mattresses are suitable for combination sleepers. But, few fancier hotels provide you with additional bedding accessories for your comfort, like pillow and mattress topper.