Scoliosis is a medical disease characterized by a sideways curvature of the spine. Even though there is no known treatment for scoliosis, certain lifestyle modifications can help manage discomfort and provide you with a good night's sleep. This is why it makes sense to look for a comfortable orthopedic mattress to alleviate any stiffness and pain, especially in the lower back. In this article, we'll help you choose the right orthopedic mattress for scoliosis.
To find an orthopedic mattress for scoliosis, choose a mattress that has adjustable firmness, includes memory foam layers, is thick enough to support the entire body, has high density, provides pressure point relief, and enhances spinal alignment.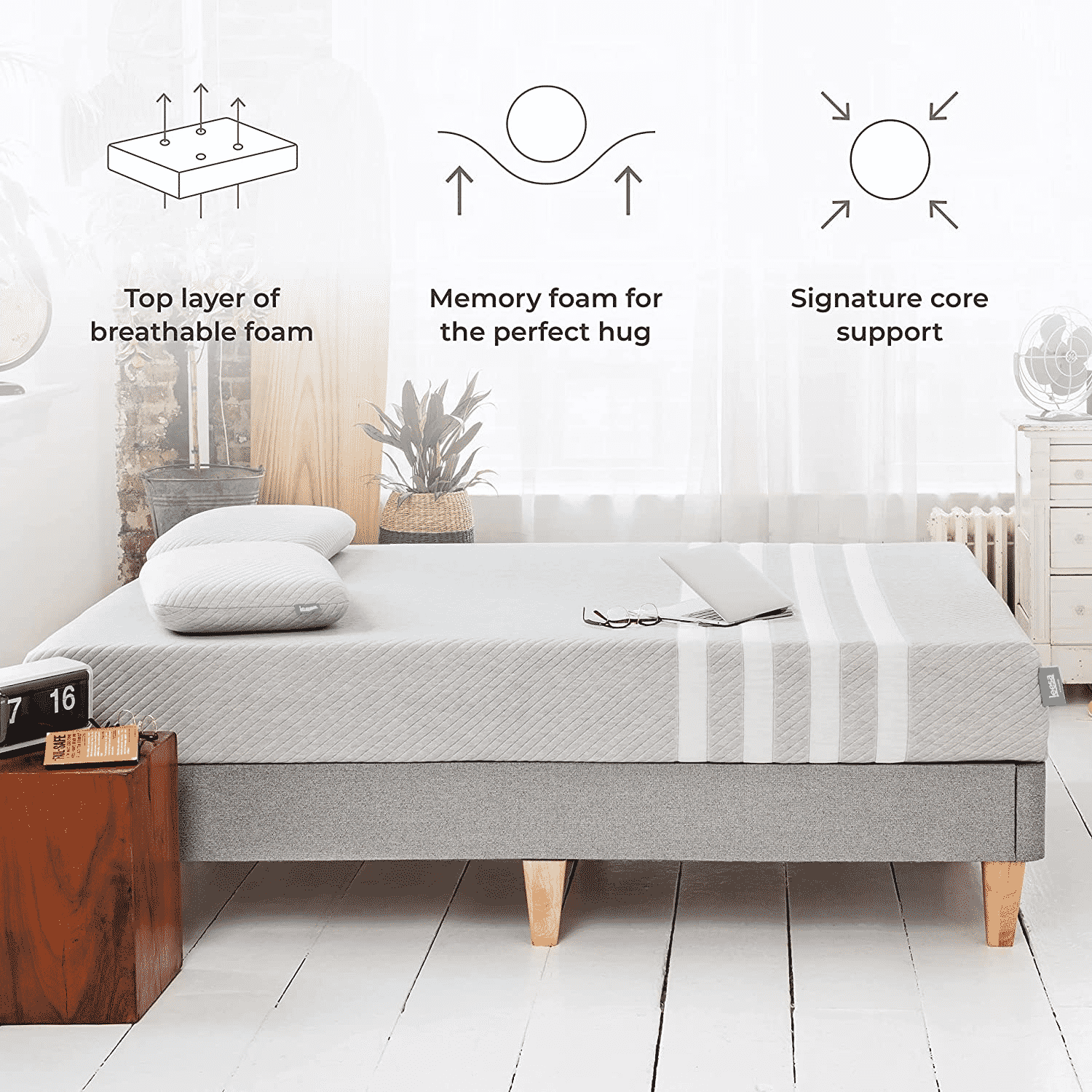 What Mattress Features Help for Scoliosis?
Selecting the incorrect mattress can dramatically affect your sleep quality. Even if you have an orthopedic mattress, there are still things to keep in mind to make sure it is the right fit for you. 
To choose a mattress for scoliosis, buy one that offers medium-firm support, relieves pressure points, includes foam layers, and comes with a protection policy. 
Read our article about the 7 benefits of orthopedic mattresses to help you choose the right one for your needs. Bear in mind that a mattress for someone suffering from scoliosis must include a number of essential components that may not be found in all available orthopedic mattresses.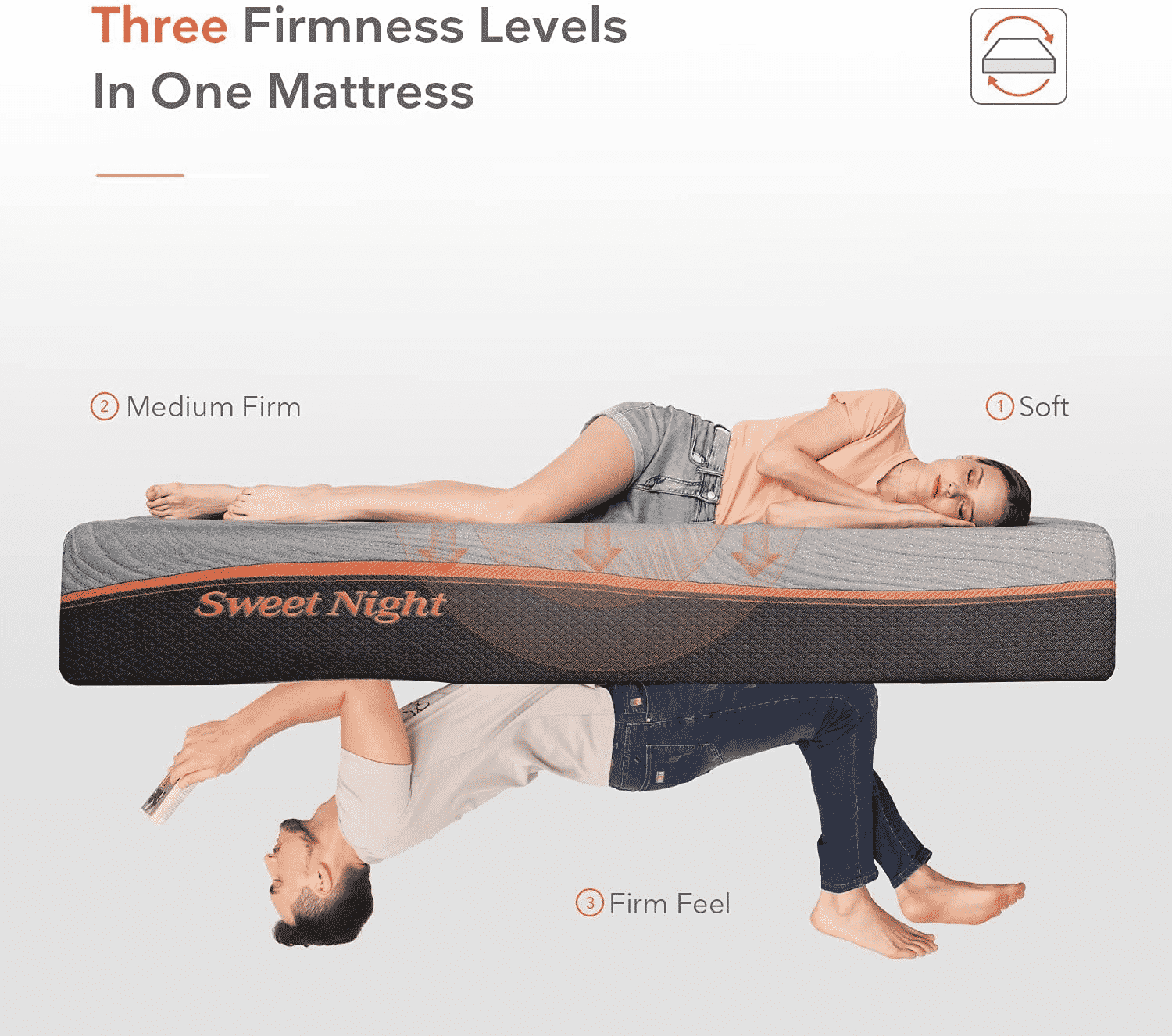 1. Medium-Firm Support
Medium-firm mattresses are optimal for relieving back discomfort and offering premium support for people of all ages, heights, and weights. In this article from the Journal "Computer Methods in Biomechanics and Bioengineering", an analysis of 30 different patients showed that medium-firm mattresses were the best for most patients with back problems. An orthopedic mattress that has a medium soft and a firm side is great for a person that has scoliosis, as it can be flipped when the sleeper needs different levels of firmness. The soft side will cradle your spine, while the firm side will provide additional support if you need it. With this Layla Sleep Mattress, you get two mattresses in one, providing optimal comfort and restful sleep on both sides. Our article about orthopedic mattresses that you can flip, offers some handy tips about how and when to choose these types of mattresses.
2. Pressure Point Relief 
Mattresses that provide pressure point relief and spinal alignment may be the most effective for those with scoliosis. This Leesa Mattress provides cooling, contouring, and pressure-relieving support to reduce pressure and lower back pain.
3. Foam Layers
The majority of the greatest mattresses for scoliosis are foam or foam hybrids. Almost all modern foam mattresses are layered—providing the various benefits of foam without sacrificing the support that scoliosis patients need. Latex mattresses are a more recent innovation and are becoming more popular as a result of the support they provide, as well as the fact that latex stays cooler than other materials. 
Memory foam mattresses have long been popular because they mold to the curves of your body. Read our memory foam mattress shopping guide for more information about the various types of memory foam mattresses that are available. Memory foam is also much warmer to sleep on. In this article entitled "Anesthetic problems and postoperative care in the surgery for scoliosis", it was found that a warmer bed can reduce hypothermia-related symptoms in patients after scoliosis surgery. Hybrid mattresses, like these, have both foam and insulated springs to give you the best of both worlds, combining the softness of foam with the durability of metal coils.
4. Protection Policy
A sleep trial is essential when considering the benefits and drawbacks of different mattresses for people with scoliosis. Just because you like the mattress on the first night doesn't mean it will be suitable in the long run. If you have scoliosis, you'll need a bed that can aid in long-term spinal alignment and pressure reduction. A 90-day trial is the minimum—however, the longer the trial the better—with a 100-day trial or longer being preferred. The more time a company is willing to give you to try out a mattress, especially a memory foam one, the more confident you can be in their product.
You might also find interest in learning what the orthopedic mattress layers are used for. Take a look at our related article to find out.
Is A Firm Mattress Good For Scoliosis?
While a mattress won't cure scoliosis, it can help with support, spinal alignment, and pressure relief. Mattresses come in a variety of firmnesses, ranging from soft to firm with some variances on each end, depending on the manufacturer and the type of mattress. 
A firm mattress is not good for scoliosis because it won't conform to the shape of the body or adjust to changes in sleep positions. This could worsen the pressure on joints and other sensitive areas, and cause extreme discomfort.
When you lie down on a mattress that is overly soft like this, you will sink into it, resulting in more aches and pains when you wake up, and a mattress that is too hard will cause pressure on joints and sensitive areas of the body. According to this article from the Journal of Chiropractic medicine, medium-firm mattresses provide adequate support for the spine and help to keep it in a neutral position. This applies to scoliosis patients as well – they require a supportive mattress, but one that is soft enough to conform to their body to help them sleep through the night, like this one. 
This study published in 2015 by the Journal of Sleep Health explains that custom-inflated or adjustable mattresses are beneficial if you struggle to achieve optimal firmness. Read our article about air bed benefits to learn more about the advantages of using an air bed for customized mattress firmness.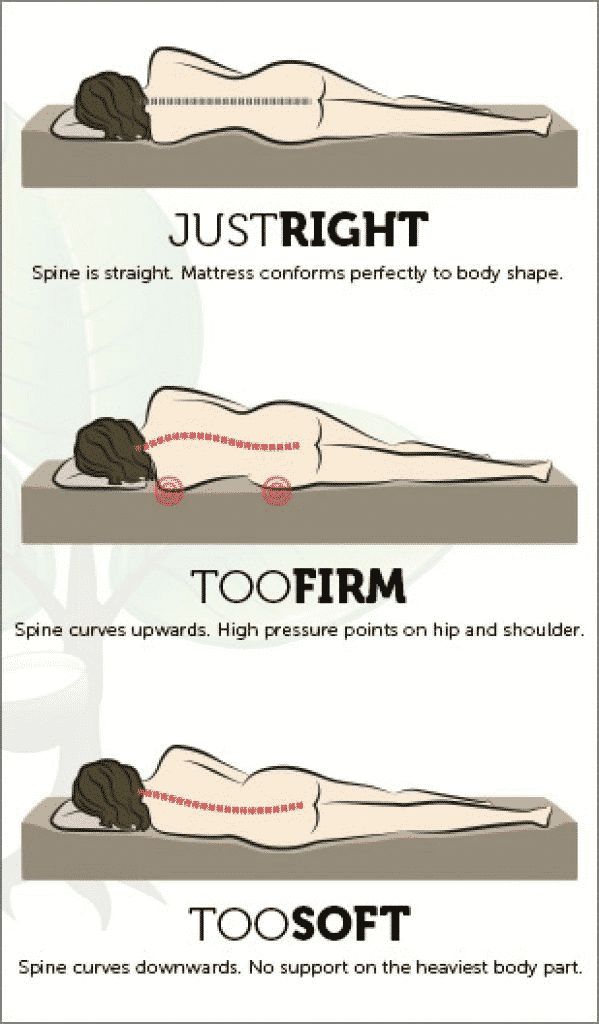 Is It Good To Use An Adjustable Bed For Scoliosis? 
Ron Miller, a physical therapist, writes that adjustable beds frequently help patients with back pain or chronic back problems. People suffering from scoliosis have found that using an adjustable bed has helped them sleep better at night.
People suffering from scoliosis have found that sleeping on an adjustable bed is beneficial because it supports the back muscles and spine. 
Scoliosis patients can also use an orthopedic mattress topper on top of an adjustable bed to help relieve discomfort and pain. Read our article about using an orthopedic mattress on an adjustable bed for tips on choosing the right one.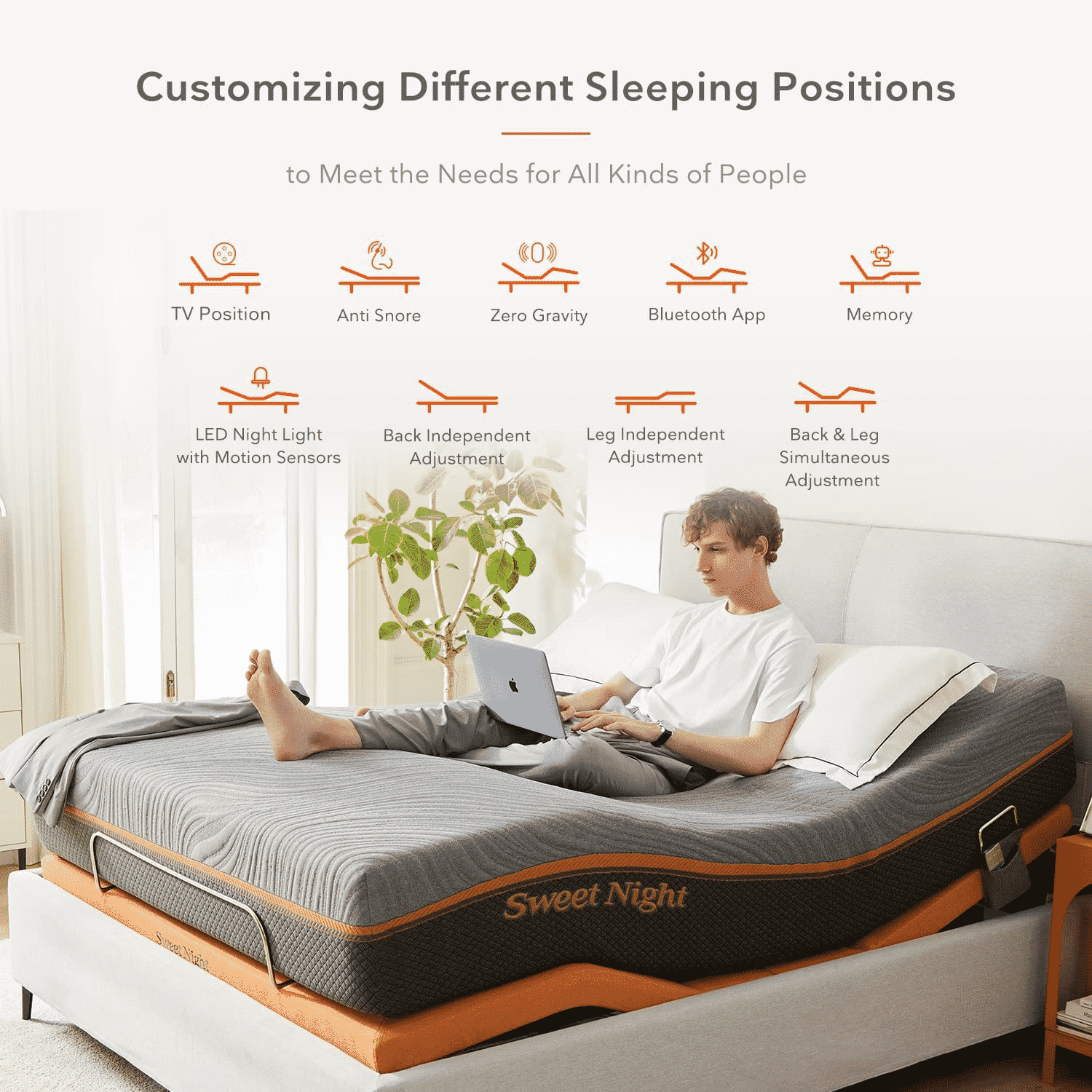 Tips For Finding The Best Orthopedic Mattress For Scoliosis
When purchasing an orthopedic mattress for scoliosis, there are various factors to consider and research thoroughly before making a purchase. 
The best orthopedic mattress for scoliosis needs to have adjustable firmness, should be made from materials that provide pressure point relief, and must be relatively thick compared to ordinary mattresses. An orthopedic mattress for scoliosis patients should also be made of high-density materials and have a height of around 12-14 inches for easy accessibility. 
Read our orthopedic mattress size guide to learn more about the dimensions of orthopedic mattresses. The information discussed could help you to choose a mattress that is suitable for your needs. 
Here is a list of factors to consider when choosing the right orthopedic mattress for a person with scoliosis:
Tip 1. Pick a Mattress with Adjustable Firmness
Most people consider mattress firmness to be really important when it comes to orthopedic mattresses for scoliosis. According to Sanchita Sen, a certified sleep coach, medium-firm mattresses are the most beneficial for scoliosis. Some people, on the other hand, may like to modify the firmness and choose their own level. In that case, the ideal option would be a mattress with adjustable firmness like this one. 
Tip 2. Select Materials That Can Provide Pressure Point Relief 
You may have uncomfortable pressure points in particular areas of your body depending on your sleeping posture and the type of scoliosis you have. Memory foam or latex could cushion these pressure points and alleviate pain. 
Memory foam mattresses have long been a popular choice because they conform to your body. However, they have a tendency to absorb heat, resulting in an uncomfortable sleeping surface. Latex mattresses are a more recent innovation that can provide support and help regulate heat. Check out our article on whether wool mattress pads can keep you cool for advice on different materials and how they affect our body temperature while sleeping.
Tip 3. Choose a Relatively Thick Mattress 
To give the correct amount of support for the back and joints, the orthopedic mattress for scoliosis should be relatively thick. This thickness will include all the layers of foam that provide different benefits including support, contouring, and comfort. Also, a thicker mattress is less likely to sag. A heavier sleeper may need a more specialized bed to prevent such sagging, as explained in our article that provides tips and tricks to find an orthopedic mattress for heavier people. 
Tip 4. Choose a High-Density Mattress
High-density orthopedic mattresses are strongly recommended for someone with scoliosis. Because they are likely to be more firm the sleeper will not sink too far into the mattress. That means that their spine is aligned and lower back pain is minimized. Read our article on orthopedic mattress materials for a detailed explanation of the materials used in orthopedic mattress production including high-density materials. 
Tip 5. Select the Right Mattress Height
Another significant factor to consider when buying an orthopedic mattress to assist with scoliosis is mattress height. You don't want one that is too high, but you don't want one that's too low either, as this can strain the spine and joints. According to Sleep Foundation, your mattress should be roughly 12-14 inches high to give the required support and comfort.
Suggested Orthopedic Mattresses For Scoliosis
Have you ever wondered what mattresses orthopedic doctors recommend? If so, take a look at our related article to find you answers!